A Dish A Day: 30 Things To Cook In April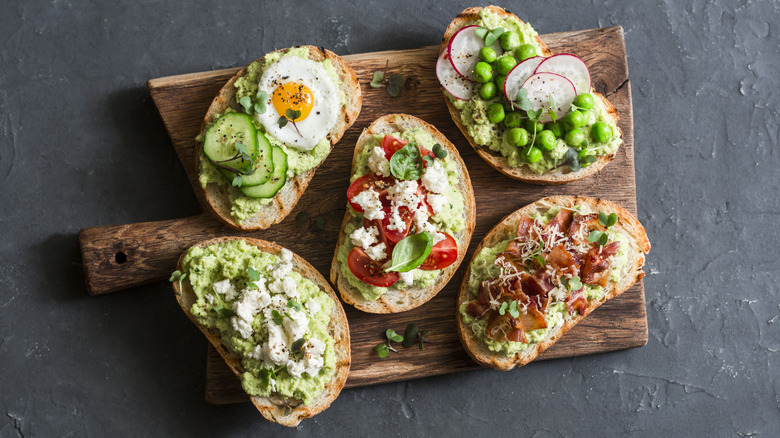 Kiian Oksana/Shutterstock
Here's a specially curated list of 30 things to cook in April! We've finally breached spring vegetable season — asparagus, baby greens, morel mushrooms, tender alliums and the like — so go at this fresh spread like a produce-starved winter warrior! Harvest a bounty of greenery, and while you're at the farmers market, pick up eggs and milk infused with the happiness of chickens and cows who can finally free-range again. That's where it's at.
Recipe: Egg Crostini
Fancier than your typical mayo-slathered egg salad, these open-faced sandwiches get a pungent, saline smack from anchovies and capers and a little crunch from the radish. I love to trot out this combination as an hors d'oeuvre, piling the eggs et al onto small, thin slices of baguette. But for a light supper, late-night snack, or lunch, a crusty country loaf is a better, heartier option. In either case, it's important to use really good ingredients here since the flavor completely depends on them. Seek out farmers' market eggs, imported anchovies packed in olive oil, and good high-fat butter. Although all of this might seem overly precious, these details really matter when you're serving them practically naked. Try it and see.
Recipe: April Bloomfield's Pot-Roasted Artichoke
One of the reasons I go giddy about springtime is artichokes, particularly the small ones with tips closed tightly, like a flower at night. Some home cooks are reluctant to fill their totes with artichokes, but here's what to know: The artichokes need to be turned — the barbed leaves plucked off and the other inedible bits trimmed away. I quite like the process. It's meditative and satisfying once you get the hang of it. In this dish, the fleshy artichokes get browned and crispy tops and look like strange, beautiful roses. The acidity in the white wine cuts through the rich, dense veg and, along with the salty pops from the capers, highlights the artichokes' unique herbaceousness.
Recipe: Prosciutto Pizza With Roasted Asparagus And Fresh Peas
Okay, time to pay homage to one of my favorite cooks, Nigella Lawson. No, her food isn't fussy. No, I don't love all her recipes. But damn if she isn't happy in the kitchen and sexy while she cooks. Long before I went to culinary school, I'd learned more than a few really useful kitchen tricks from Ms. Lawson, including how to make fantastic risi e bisi. If you're not familiar, risi e bisi is an Italian risotto with peas. Most recipes I've seen are basic white risottos that rely on just-picked fresh peas to bring them to life. Not so with Nigella's: She makes a rich pea sauce that she then adds to the risotto at the end, resulting in a vivid green pot of rice dotted with plump peas and alive with flavor. I took this concept and used it as a pasta sauce for years, until one day I had some left over and smeared it on a pizza, with delightful results. Some extra peas, a few torn slices of prosciutto and extra Parmesan and you have my version of pizza e bisi.
Recipe: Grilled Radish Crostini
Not so long ago, radishes were only eaten raw, on a salad or as a crunchy crudité. All kinds of creative ways have been discovered to coax out their naturally sweet flavor with heat by roasting, braising — and now grilling.
Recipe: Ember-Roasted Salt Potatoes With Scallion Cream
The salt potato is a wonder to behold. Those who think that they have experienced the true essence of earthy starchiness that is the potato but have not tried this method are in for a surprise. The secret is to not be afraid of the salt. A true salt potato is boiled in water salted in a ratio of 1 pound salt for every 4 pounds of potatoes. Yes, that is a lot of salt. It's so much salt that it crystallizes on the skins of the cooked potatoes, making them look like something dug up on a paleontological excavation. But, boy, do they taste great.
Recipe: Charles Phan's Famous Chive Cakes
These chive cakes are a classic Chinese dim sum dish that has proved extremely popular at the Slanted Door. They're great served as hors d'oeuvres at a party, especially because you can make them ahead and simply reheat as necessary.
Recipe: Fava Bean Salad With Pickled Ramps And Goat Cheese
Ramps have a pretty short season, but when they're here come spring, they're on every restaurant menu. Its leaves are versatile, adding a garlicky heat to pesto, vinaigrettes and other sauces. They can also be wilted in a sauté pan with other seasonal goodies like morels, which are also out around about now. The ramp's bulb is even more pungent than the leaves. Even though they lack the leaves' gorgeous emerald green color, their texture makes for a fabulous pickle.
Recipe: Dutch White Asparagus
One of the great things about spring menus is all the tender, fresh green vegetable dishes. Longstanding Midtown dining spot Michael's New York, owned by restaurateur Michael McCarty, boasts a Dutch recipe we had to try: citrus-steamed Dutch white asparagus (they actually do a mix of white and green) with a wine-spiked butter sauce, a runny poached egg and a little Parmesan cheese. A little prosciutto never hurt anyone, either.
Recipe: Teriyaki Tofu Broccolette On Wild Rice
With homemade teriyaki sauce, pan-fried tofu, sautéed red bell pepper, broccolette and hearty wild rice, this stir-fry has it all. This recipe makes extra teriyaki sauce, because I love to have this sauce in my fridge to serve over veggies or rice. Broccolette is a delicious, hearty vegetable that is packed with vitamins and minerals. A cross between broccoli and Chinese kale, it's subtly sweet and tastes almost like asparagus. It's also known as broccolini and baby broccoli. If you've never tried it before, this is a perfect introduction to the magic of broccolette.
Recipe: Spring Onion Pizza
Pizza is the ideal showcase for the green onions of spring. It cooks quickly, allowing these tender shoots and their bulbs to meld with oozing mozzarella and fresh garden herbs. A pizza stone allows for the ultimate crispy crust, whether you're using your grill or oven. I like to make my own half-whole-wheat crust, but there are plenty of good premade versions available if you don't have the time to make pizza dough from scratch.
Recipe: Chard Salad With Artichoke Hearts And Kalamata Olives Vinaigrette
Artichokes are essentially two vegetables in one. In this recipe we use the heart, which is tender with a texture somewhere between a really creamy potato and a roasted turnip. But you can also eat the bottom part of the leaves; dip them into some homemade lemon aioli or melted butter with lemon juice mixed in. Serve the leaves as a snack while you're getting the rest of the meal ready. It's like the Tootsie Pop of vegetables. As Lil' Kim once said while singing about artichokes: How many leaves does it take to get to the center?
Recipe: Vegan Sesame Noodle Bundles
It can't get any cuter or more delicious. Perfect for picking up and shoving into your face or, if you prefer, you can serve it on a plate like a princess. Long noodles mean long life, so don't go breaking your noodles before boiling them. Use the longest noodles you can find in the biggest pot of boiling water. You can make these a few hours ahead and keep them on a serving tray covered in plastic wrap until ready to serve.
Recipe: Asparagus Frico
When it comes to the crisp factor, few things match up to a well-made frico. Little more than grated cheese piled onto a baking sheet and heated into a lacy, crunchy round, it's an Italian-restaurant staple that does double duty as a cracker. With spring (in theory) sprung, I wanted to integrate the freshness of young asparagus for a classic touch. What emerged was a combination of tender green spears with the bonus crunch of peppery toasted cheese. Eat it alone, pile some greens on top, or layer a piece of prosciutto on top. Frico-licious.
Recipe: Marrow Beans With Swiss Chard And Zesty Lemon
I treasure the salty and faintly metallic flavor of Swiss chard, and both the plant's leaves and stems can bring a different flavor and a different texture to cooking. I like to use them separately, sautéing the tough stems in olive oil, as you might do with celery or onion. The stems soften a bit, losing their tough texture. The leaves, by contrast, grow dull with extended cooking, so I prefer to add them at the very end so they wilt in the heat of the warm beans and chicken broth but maintain their bright color. A bit of lemon helps to brighten the otherwise earthy flavors of beans and greens.
Recipe: Radish, Mâche And Arugula Salad
This salad pairs sweet mâche with peppery arugula and radishes in three hues for a vibrant taste of spring. Chinese green radishes are shaped like a daikon, but with bright-green flesh. Watermelon radishes are green on the outside, with striking magenta flesh, and are also related to daikon. The idea here is to make your salad colorful, so Easter Egg and French Breakfast varieties are options too if green or watermelon radishes aren't available.
Recipe: Chinese Chive And Pressed Tofu Turnover
These chewy-crisp pockets of goodness are fun to make and even better to eat. They are a popular Chinese snack filled with the slight garlicky bite of Chinese chives and the savory depth of seasoned pressed tofu. Clear cellophane noodles add body and egg binds the ingredients together. Some cooks add dried shrimp, but I prefer to avoid muddling the flavors.
Recipe: Couscous With Leeks And Lemons
I like leeks. They are different, they taste amazing, they are easy to cook, and they are not too expensive. Often, they are merely a component in a recipe, but here they take center stage on the salad plate. To add a little more substance I have teamed them with plump pearls of Israeli couscous, some seeds for crunch and taste, and fresh herbs. Simple, tasty, striking.
Recipe: Crab-Stuffed Morel Mushrooms
Crab-stuffed fresh morels are one of my favorite hors d'oeuvres. You'll find many variations on the theme. They can be made ahead and then baked just before serving. I think Dungeness crab is the best because I'm a West Coast boy, but use whatever crab you like. Be sure to thoroughly wash and dry the morels after cutting them in half. They are notorious for harboring insects and debris. Unlike other mushrooms, morels don't soak up a lot of water and as a result keep their texture.
Recipe: Artichoke With Baked Brie Sauce
I'm not so sure this recipe is really Italian, having brie as a main accompaniment to the artichokes, but it turned out so well that I wanted to share it with you anyway. Rather than dip your artichoke leaves in butter, aioli or other sauce, bake a creamy-crunchy brie-spiked sauce right on top and let the goodness ooze all over. Sound like a plan?
Recipe: Swiss Chard With Shiitake Butter
Swiss chard isn't exactly a bitter green, but it's not candy either. To bring out its fresh, mild, spinach-like flavor, I braise it with earthy mushrooms and thyme.
Recipe: Cracked Wheat Pilaf With Spring Peas
I came up with this dish one spring when I wanted to create a showcase for a lot of peas: a pressing issue, since they were pouring out of my garden faster than I could cook them. I also wanted to make sure that the sugar snaps were prepared in such a way that there was minimal risk of overcooking them, which I think is too often their unhappy fate. Peas are very nice paired with cracked wheat, an ingredient that I once thought of only in the context of breakfast. The nutty flavor and chewiness of the cracked wheat complements the sweet sugar snaps and English peas. Pureeing some of the peas and stirring the puree into the wheat underscores that fresh, green flavor that tells us spring is here.
Recipe: Creamed Spinach With Leeks With Cheddar
This is a beautiful way to enjoy spinach and leeks, and it makes a homey and satisfying lunch. The addition of mustard, white pepper and apple butter gives it a very British character. Serve this with an egg on top and toast on the side for an extra-special midday meal.
Recipe: Spring Radishes With Bacon Butter
We could wax on and on about the complexity and finesse of this compound butter, but really, the name says it all: Bacon Butter. Serve it with radishes in the spring and homemade bread all year long.
Recipe: Asparagus Polenta With Burrata
A soft mound of polenta is a blank canvas of a meal, ready to absorb whatever you're in the mood to put on top. I'll often cook up a potful as a landing pad for all kinds of leftovers that aren't quite substantial enough to be called dinner on their own—those couple of tablespoons of last night's braised short ribs, a container of sautéed veggies, that small amount of cooked beans that have no other destination. In this recipe, the polenta is a bed for roasted asparagus and burrata cheese—a kind of mozzarella that oozes cream when you poke it. It's a meal both comforting and company-worthy, especially if you serve it with a juicy rare steak or pork chops. I usually make my polenta with water. But if you want a richer flavor and have some good stock in the freezer, feel free to substitute it for all or part of the liquid in any of the recipes in this chapter.
Recipe: Swiss Chard Oshitashi
Thin flakes of dried bonito, a fish that's related to mackerel and tuna, have been used as a briny, faintly smoky seasoning in Japan for centuries. Bonito flakes are available at Asian markets, many supermarkets and Asian Food Grocer.
Recipe: Roasted Beet Sandwiches With Chive Ricotta Cheese
When first assembled, these sandwiches are big, magenta-and-white tasty tumbles. Overnight, they set up nicely and the creamy ricotta gets a pretty pink hue from the beets. Chives are delicate and enhance the ricotta, but green onions would make a tasty, slightly more robust substitution.
Recipe: Sweet And Sour Leeks With Goat Curd
I have done it before, and I am doing it again here, that is, placing leek right in the center of a substantial stand-alone dish. This is not trivial for a vegetable that is normally given the side job of flavoring other things, like stocks and soups. I find the creaminess of leeks and their sweet oniony flavor very satisfying. This dish, with its jewel-like currants, makes an elegant starter. Use long, relatively thin leeks if you can find them; otherwise, just halve their number.
Recipe: Asparagus And Almond Salad With Spiced Quail Eggs
This is a really pretty, elegant salad full of popping tastes and contrasting textures. Quail eggs are tricky things to peel — use your fingernails and a small, sharp knife — but well worth the effort. If you can't get them, then use hen's eggs and serve one per person.
Recipe: Lemon Spring Peas With Seared Scallops
Scallops are incredibly quick to cook but really need a skillet that's large enough to give each of them plenty of breathing room to sear. To ensure a golden crust on each scallop, wipe the skillet between batches. The moisture left from the first batch will keep the second one from searing properly. If you can find pea shoots at the farmers' market, this is a perfect time to show them off as a garnish.
Recipe: Fava Bean Falafel
Spring is the perfect time to sub in abundant, seasonal fava beans for all your legume needs. Like chickpeas, fava beans make a delicious purée, and, when dried and reconstituted, an equally delicious falafel. Because they're similar in texture, fava beans and chickpeas can usually be substituted for each other. A blend of dried favas and seasonings will hold together as a fried ball better than fresh fava beans, but keep in mind they need to soak and rehydrate for a full 24 hours.