Check Out Our Stacked And Loaded Brunch Recipes!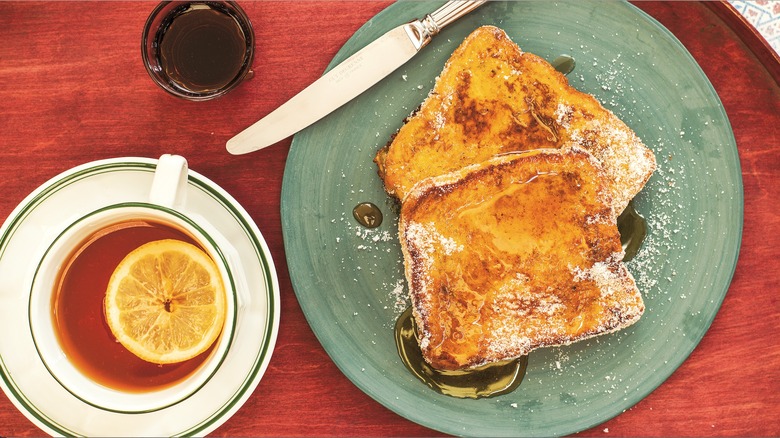 Did you know that we have hundreds of brunch recipes that need a new home in your kitchen? And we've got even more for our granola and pancake fans: toads in holes, tacos, innovative uses for your waffle iron, handy egg-cooking techniques and in-depth guides about our favorite ways to combine bread and cheese (a winning morning combo if there ever was one). Take a deep dive into our colorful brunch section for dishes from award-winning chefs and cookbook writers, and freshen up your repertoire for the lazy weekend morning. Here are a few of our recent favorites:
Recipe: Cardamom Doughnut Brioche French Toast
Doughnuts are a weakness of mine. Mind you, not just any old doughnut will do. I like mine without any filling, rolled in sugar, and no strong flavors. For me, simple is always best. This dish was inspired by domestic goddess Nigella Lawson's doughnut French toast recipe from her book Nigella Express, which became a family favorite. While I love ordinary French toast, I tend to alternate between cinnamon and cardamom flavors for this recipe, so if you want to go with the cinnamon version, omit the cardamom and add 2 heaping teaspoons of cinnamon to the superfine sugar instead.
Recipe: Herby Egg And Blue Cheese Soufflés
Tangy blue cheese and plenty of fresh herbs keep these light, simple soufflés on their toes, though if you're not a blue cheese person, crumbled feta or Parmesan could happily stand in. I love that these do equally well as festive brunch fare and quick, weekday breakfast — if you make a batch on Sunday and store the leftovers in the fridge, you'll have easily grabbable egg cups all week long.
Recipe: Bacon And Scrambled Egg Onigiri
This onigiri is a little fatty from the eggs scrambled in butter and the bacon. If you like, you can hold it all together by wrapping it like an envelope.
Recipe: Red Velvet Waffles With Cream Cheese Sauce
Red velvet cake is understandably everywhere with its brilliant red color and subtle chocolate flavor. Instead of having to make an entire cake, you can make these red velvet waffles, which offer the same flavor, in a fraction of the time. The cream cheese sauce is a sweet alternative to maple syrup.
Recipe: Roasted Tomatillo And Poblano Shakshuka
Remember that leftover challah from Friday night? Pull it out along with every other carb in the house. This is the ultimate family-style brunch dish. You'll find so many versions of this dish all over Israel and now, the United States. Every blogger is making it, and there's a reason for it: IT'S THE BEST BRUNCH DISH ON EARTH. If you break it down, shakshuka is a dish of eggs poached in (usually) a spiced tomato sauce. This version is made with a few changes to the classic-style shakshuka. The main difference is that I use tomatillos instead of tomatoes, which makes the whole thing green instead of red. I char them under the broiler with a poblano pepper to give more flavor depth in a matter of minutes. This will become a favorite of yours.