Oktoberfest Ready: Make This Wild Boar Schweinebraten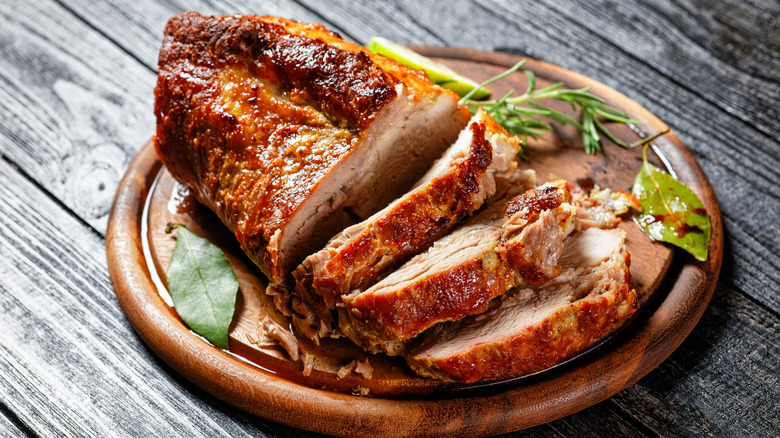 from my point of view/Shutterstock
Game on! While wild boar can be lean and dry, cooking it sous-vide can rid you of that worry in just a day! Our friends at ChefSteps teamed up with wild game expert and hunter David Draper to bring us this recipe for schweinebraten (that's German for "roast pork") just in time for Oktoberfest. Plan ahead because you'll want to let this hog bathe for 24 hours total. Cook up some sauerkraut and sausages in the meantime. The results will be something to prost to.
Wild Boar Schweinebraten (Roast Pork)
45 minutes active, 24 hours total; serves 4-6
Ingredients
1.5 kilograms wild boar shoulder
5 grams kosher salt
1 gram black pepper
Grapeseed or vegetable oil, as needed
170 grams brown ale
50 grams ground mustard
5 grams paprika
5 grams caraway seeds
3 grams ground cloves
7 juniper berries, whole
10 grams cornstarch
15 grams water
Equipment
Sous-vide setup
Butcher's twine
Whisk
Plastic wrap
Directions
For incredibly moist and tender wild boar, we recommend cooking at 

167 °F / 75 °C

 for 1 day. Preheat the Joule.
Begin with a wild boar shoulder that looks like the picture above. To help it keep its shape as it cooks, you can secure it with a few pieces of butcher's twine.
Add an even coating of kosher salt to the entire boar shoulder, then sprinkle on plenty of black pepper.
Presearing the meat before it goes into the bag builds an added layer of flavor. Heat a heavy skillet over medium-high to high heat, and add a bit of grape-seed or vegetable oil. When it just starts to smoke, lay the boar in the pan. Sear all sides for about 1 minute each.
Pour the brown ale into a small bowl, and whisk in the ground mustard. Add the paprika, caraway, ground cloves, and juniper berries, then stir to combine well.
Add your boar and the sauce to a heavy-duty ziplock-style bag or sous vide bag, and seal.
Lower the bagged boar into the water with Joule. Now you have a whole day to drink the rest of that six-pack of brown ale and recover before dinnertime tomorrow. Since this is a longer cook, be sure to cover your pot with a lid or plastic wrap to reduce evaporation, and check the level of the water, adding more as needed to keep the roast covered.
After your cook time is up, remove the boar shoulder from the bag and set aside to rest while you make the gravy. Pour the remaining liquid from the bag into a pot, and set it over medium heat. Whisk in a little bit of cornstarch mixed with water, and simmer until the pan sauce thickens to your liking.
Time to go hog wild on your plate of wild hog! Smother your boar shoulder with gravy and serve with sides of sauerkraut and boiled potatoes, or whatever else you're craving.
ChefSteps comprises a team of award-winning chefs, filmmakers, scientists, designers and engineers focused on revolutionizing the way people cook by inspiring creativity and encouraging expertise in the kitchen. You can also get access to all of ChefSteps' Premium content — including paid classes and dozens of recipes available only to Premium members for a onetime fee of $39. Classes include Sous Vide: Beyond the Basics, Fluid Gels, French Macarons and more!