Get In The Game! Make These Duck Legs.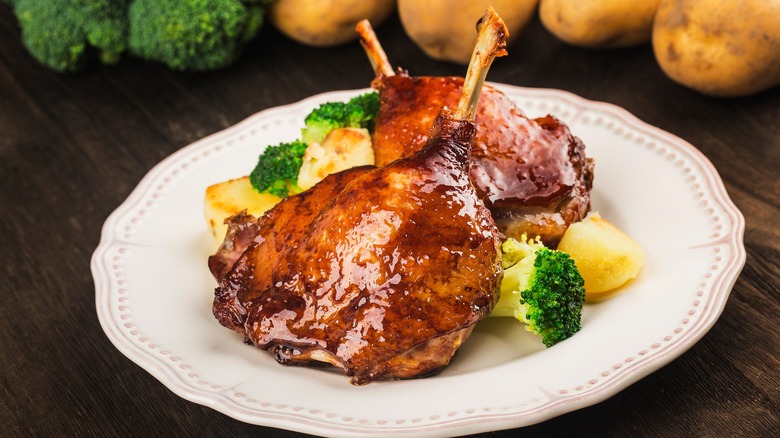 yuda chen/Shutterstock
Sticky, sweet, with a bit of a kick: that's what chicken wing dreams are made of. Tired of wings? Try duck legs on for size. To get those gamey limbs super-tender, our friends at ChefSteps suggests cooking them sous-vide. They tapped game expert David Draper for the recipe below. After he cooks the legs, Draper sends them to the broiler to crisp up the skin, then glazes them with a spicy, zingy soy-based sauce. Say hello to a hearty new game day classic.
Ginger-Chili Duck Legs
30 minutes active, 16 hours total; serves 2-4
Ingredients
12 duck legs, skin on
5 grams kosher salt
75 milliliters Thai chili sauce
30 milliliters soy sauce
15 milliliters hoisin sauce
30 milliliters rice wine vinegar
15 milliliters honey
1 gram fresh grated ginger
Sesame seeds, as needed
Chives, diced, as needed
Equipment
Sous vide setup
Broiler
Directions
For très tendre—just how the French like it—we recommend cooking at 

158 °F / 70 °C

 for 16 hours. Preheat your Joule.
Season the duck legs with kosher salt.
Place 5–6 legs in each of two sous vide bags, making sure not to crowd them—you want a single layer in each bag so they have enough room while they cook. Remove all the air from the bags, and seal. Now you're ready to cook!
Lower the duck into the water and secure the sealed bags to the side of the pot. To help reduce evaporation, place a lid on the pot or cover it with plastic wrap (making sure the top of Joule remains uncovered). Now go on about your life. Joule will ensure those duck legs come out perfect, and remember, you can check in on their status from anywhere using your Joule app.
When the legs are done cooking, start the spicy ginger-chili sauce by whisking the Thai chili, soy, and hoisin sauces together in a small pot. Stir in the rice wine vinegar, honey, and freshly grated ginger, then bring to a fast simmer. Cook for 5–7 minutes, or until the liquid thickens into a glaze.
Turn your oven's broiler to high, and let it preheat for a bit. Arrange the duck legs skin-side up on a foil-lined pan. Slide the pan under the broiler, and cook for 3–5 minutes, or until the skin gets crisp.
Pour the chili-ginger glaze over the legs, and toss to give them a sticky, spicy coating. Sprinkle the legs with sesame seeds and diced chives, then dig in with your fingers. Be sure to have plenty of napkins on hand—along with a cold beverage to cool the burn.
ChefSteps comprises a team of award-winning chefs, filmmakers, scientists, designers and engineers focused on revolutionizing the way people cook by inspiring creativity and encouraging expertise in the kitchen. You can also get access to all of ChefSteps' Premium content — including paid classes and dozens of recipes available only to Premium members for a onetime fee of $39. Classes include Sous Vide: Beyond the Basics, Fluid Gels, French Macarons and more!