Braise Pork Shanks With Apple For The Ultimate Fall Dish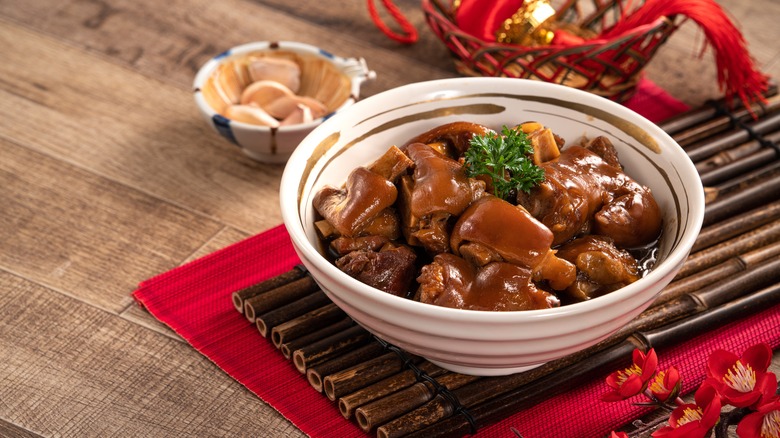 Romix Image/Shutterstock
Fall is officially here (even if it is 70°F in New York City) and to celebrate, we're hunkering down with sweaters, scarves, squashes — both decorative and edible — A Charlie Brown Thanksgiving and a hearty recipe for apple-braised pork shanks. Our friends at ChefSteps wrote in this week with this recipe that requires 24 hours of sous vide cooking. Why so long? You want that succulent, porky goodness falling off the bones, don't you? Upgrade the classic pork chop with applesauce dish and braise these bones with apple juice, apple cider, brown sugar, thyme and garlic. Master this recipe and enjoy making it over and over again all season long.
Hearty Apple-Braised Pork Shanks
24 hours; serves 4
Ingredients
2 pork shanks, about 10.5 ounces each
Salt, as needed
Black pepper, coarsely ground, as needed
Oil, as needed
5 garlic cloves
100 grams Dijon mustard
400 grams apple juice, or concentrate
150 grams apple cider vinegar
100 grams brown sugar
5 fresh thyme sprigs
Equipment
Sous vide
Sous vide bags
Fine-mesh sieve
Directions
Cooking your pork at 

158 °F / 70 °C

 gives you a tender yet firm piece of meat — think of the texture of an awesome steak. That's exactly how we like it, but if you prefer some other degree of doneness, check out the Joule app for other options.
Sprinkle the shanks all over with salt and pepper.
Put a pan over high heat—when it's crazy hot, add some oil and sear the shanks until they look brown and beautiful, about two minutes per side. When the shanks are browned, remove them from the pan.
Prepare the glaze. Lightly smash garlic cloves. Put the pan you used to sear back over medium-high heat. When it's hot, add a little oil, the smashed garlic, apple juice, cider vinegar, mustard, and brown sugar. Reduce the mixture until you get a thick glaze. Your glaze will thin out a little bit over the cook, so reduce like crazy now for a thick, even glaze.
Let the pork and glaze cool. Once they're cool, add the shanks, glaze, and thyme to the bag. Feel free to throw in any other fresh herbs and spices that tickle your fancy!
Cook sous vide for 24 hours. Remember, it's important to cover your pot to reduce water evaporation over long periods of time. Use a lid or some high-quality plastic wrap — then go enjoy your life while Joule takes care of the pork.
Remove shanks from the bags and set aside. Pour all the liquid from the bag through a fine-mesh sieve into a pan or saucepan. Place the pan on the stove and simmer until the glaze has turned into a thick, sticky sauce.
Pour the finished sauce all over your pork shanks — they deserve it!
ChefSteps comprises a team of award-winning chefs, filmmakers, scientists, designers and engineers focused on revolutionizing the way people cook by inspiring creativity and encouraging expertise in the kitchen. You can also get access to all of ChefSteps' Premium content — including paid classes and dozens of recipes available only to Premium members for a onetime fee of $39. Classes include Sous Vide: Beyond the Basics, Fluid Gels, French Macarons and more!