A Master Sommelier Shares His Favorite Fall Food Pairings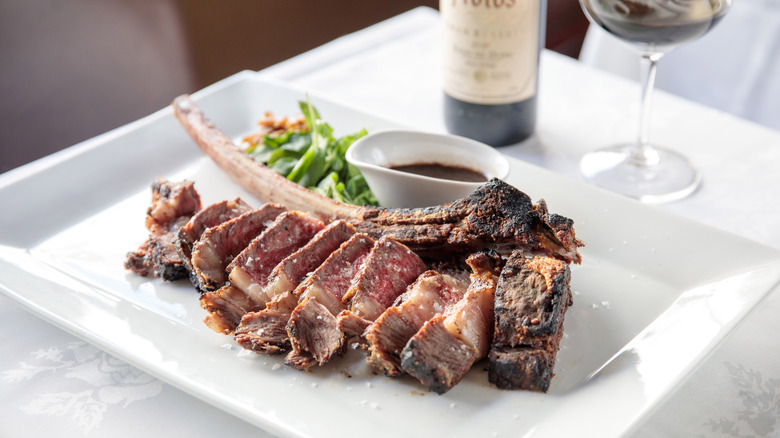 (Photos: Brian Samuels
Brahm Callahan is a Master Sommelier and Beverage Director at Himmel Hospitality Group Boston. Join him on a tour of Ribera del Duero and Rueda, winemaking regions of Spain well-worth a visit. When it comes to fall food pairings for wine, take the guesswork out of entertaining your thirsty guests — with his help, of course.
In the cold months I crave heartier dishes, and while they may take more time to prepare, the delicious smell in my house makes it totally worth it! I'll often choose wines that can be enjoyed while cooking (and waiting for) these dishes such as Rueda Espumoso, a sparkling wine made from Verdejo grapes that is a sophisticated alternative to Cava. The chicken is a play on a childhood favorite, and the halibut a fresh take as we often don't think of fish in the winter. And for the tomahawk...it might be too much for one person, but not me!
Adds Brian Kevorkian, Executive Chef at Grill 23 & Bar in Boston, MA: "Both the chicken and the halibut are my go-to dishes for the fall and winter seasons. They are hearty and soul-warming, each with a thick broth that warms you up."
We did a deep-dive into the details and these delicious recipes so you can put them into action at home.
What is it about fall weather that makes wine and food pairings so appealing?
When it's cold outside it is all about how food can make you feel, whether its cozy, warm, nostalgic, etc...and a great wine pairing will only enhance that experience!
How does aging beef affect the way you pair a wine? 
There are a lot of "umami" flavors in aged beef so you can often pair off those flavors with a wine that is more earth driven or showing characters of secondary or tertiary development
What's a great go-to bottle to keep on-hand for the entertaining season? 
A big red is never going to do you wrong this time of year — I love the Hacienda Monasterio from Ribera del Duero.
Which of these dishes below is your favorite?
I would say the Tomahawk. I am a carnivore for sure.
What appetizer and wine pairings do you go for in the fall, versus other seasons?
Soup and bubbles: a wonderful and often overlooked pairing
What's an underrated wine you can bring to Thanksgiving to impress everyone?
Cru Beaujolais is the way to go. It's reasonably priced and always over delivers
Are classic fall scents like "pumpkin spice" and "decaying leaves" ever a tasting note in wine?
Decaying leaves yes (think Barolo or old Bordeaux). Pumpkin spice not so much...
Rye-Aged Tomahawk Steak with Tempranillo Sauce (photo at top of page)Pair with: Protos Gran Reserva from Ribera del Duero
Serves 4
For the steak:
1 2-bone unbutchered Prime packing house rib steak
2 2x1-foot pieces of cheesecloth
4 ounces fresh thyme
2 bottles Sazerac Rye whiskey
For the Tempranillo sauce:
1 pound beef scrap cut into 1/2 inch dice
1/2 bottle Tempranillo
1/2 bottle port
1 quart veal demi-glace or rich beef broth
1 teaspoon juniper berries
1 teaspoon fennel seeds
1 teaspoon coriander seeds
1/2 onion, cut into 1/2-inch dice
1/2 fennel cut into half-inch dice
3 cloves garlic
2 stalks celery cut into 1/2 inch dice
For the steak:
Wrap the Tomahawk steak in the first piece of cheesecloth one time around. Place the thyme on top of the first cheesecloth layer and continue to wrap to make a neat package.
Soak the second cheesecloth with about ¼ bottle of Sazerac. Place on a tray and place both the steak and the soaked cloth in the driest part of your fridge.
Once a week for the first four weeks add about 1/8- 1/4 bottle of Sazerac to the cheesecloth. Massage the steak to help break up dry areas and allow rye to penetrate. You might see some mold grow — this is okay and a normal part of the aging process.
On the sixth week, remove the cheesecloth wrap and herbs from the steak and place the meat back in the same dry area of the fridge for another two weeks.
After a total of eight weeks of rye-aging you are ready to enjoy this amazing piece of meat.
Grill for about 15 minutes per side for total of 30 minutes, rotating every 3-4 min to avoid burning.
For the sauce:
In a very hot pan, sear beef until golden brown all around.
Add fennel, onion and celery and cook quickly for about 3 minutes, add spices and cook for another minute to lightly toast.
Deglaze with Tempranillo and reduce by half, then add port and reduce until it sticks to spoon like a glaze.
Add demi-glace and reduce to a thicker sauce consistency.  Strain through a chinoix and season with salt, pepper and a little splash of Cabernet vinegar.
Reserve until needed.  This will hold for 3 days cold and can be warmed up on low heat on stove top when needed.
Chicken Pot Pie Pair with: Shaya Verdejo from RuedaServes 4-6
Stock:
1 3-pound whole chicken, breasts cut from the thigh, cooked separately and reserved
2 carrots, rough chopped
4 onions, rough chopped
2 fennel bulbs, rough chopped
3 stalks celery, rough chopped
2 ounces thyme leaves
2 bay leaves
1 ounce whole peppercorns
Roux:
1/4 cup extra-virgin olive oil
1/4 cup flour
Salt
Ground black pepper
Pinch of Aleppo pepper
Splash of Banyuls vinegar
Filling:
3 carrots cut into small dice
1 pound celery, diced
4 heads of fennel, diced
4 onions, diced
5 Yukon potatoes, cooked and diced
Reserved chicken leg meat
Finely chopped fresh herbs and baked puffed pastry rounds, to garnish
For the chicken:
Place all stock ingredients in pot and cover with water. Bring to a simmer and cook for 1 ½ hours.
Strain liquid.
Pick meat from chicken and discard bones. Save the meat until ready to prepare the pies.
For the roux:
Make a roux by stirring the flour into the olive oil over medium heat, then thicken with the chicken stock, and adjust salt to taste.
Add pepper, pinch of aleppo pepper, and splash Banyuls vinegar reserve and until needed
To assemble the pies:
Sweat all diced vegetables (except the potatoes) and add to thickened chicken liquid.
Stir in diced potatoes and heat all the way through.
Add the cooked chicken meat to finish, divide among shallow bowls and top with the breast.
Garnish with puff pastry round and chopped herbs and serve immediately.
Halibut in Cream SaucePair with: Naia Verdejo from RuedaServes 4-6
For the halibut:
2 pounds halibut fillet cut into 8-ounce serving sizes
Neutral oil for cooking
White beans, cooked and drained
For the cream sauce:
2 liters heavy cream
1 liter veal demi-glace (or rich beef stock)
Parsley stems from 1 bunch
¼ bunch thyme
1 bay leaf
4 grams fennel seeds
6 grams black peppercorn
Salt and pepper to taste
Dash (I mean a small dash) cayenne pepper
Splash of Banyuls vinegar
For the cream sauce:
Put all ingredients in a pan and reduce to between 1 ½ -2 liters. This depends on how reduced veal stock is.
Strain through chinois and season with Banyuls, salt, pepper and cayenne.
Stir the cooked beans into the sauce.
For the halibut:
Heat neutral oil in a sauce pan. While the oil is heating, pat the fillets completely dry with paper towels.
Sear fish in batches (don't crowd the pan) for 4-5 minutes on the first side, and 3-4 on the second side.
Plate the fish on top of the creamy beans and serve.