How To Smoke Brisket Indoors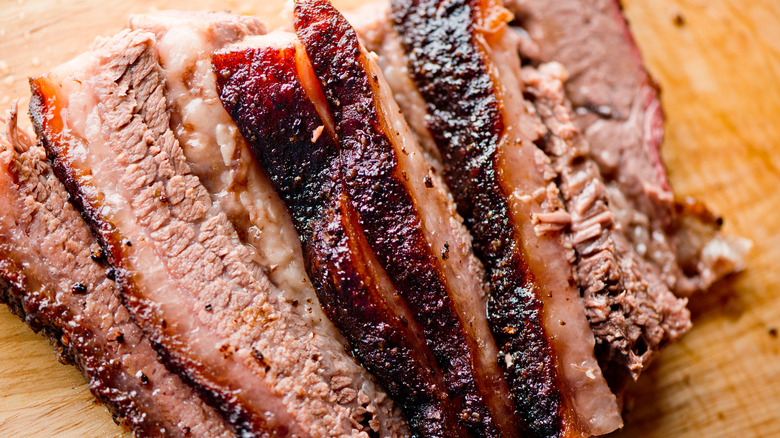 Marie Sonmez Photography/Shutterstock
Tender, smoky brisket can be achieved all year round, indoors and without a smoker! What kind of barbecue sorcery are we using to make this possible? Liquid smoke, Prague Powder No. 1 and a sous vide set up. Our friends at ChefSteps share their brisket secrets in this recipe. Check out the video below and clear your weekend schedule to take on this cooking project. Every minute will be totally worth it.
Smokerless Smoked Brisket
48 hours minimum, mostly unattended; 6 kilograms brisket
Ingredients:
8 kilograms water, cold
540 grams smoked salt, divided
360 grams brown sugar, divided
240 grams liquid smoke, hickory or mesquite, divided
6 kilgrams brisket
20 grams Prague Powder No. 1, optional
240 grams molasses
60 grams liquid aminos, or soy sauce
120 grams chipotle powder, or smoked paprika
100 grams black pepper
45 grams mustard powder
30 grams onion powder
15 grams garlic powder
Equipment:
Syringe (optional)
Sous vide setup
Spice grinder
Directions:
Make the brine. Pour water into a container and add 240 grams smoked salt, sugar, and 120 grams liquid smoke. Whisk until ingredients are fully dissolved in the water. Store brine in the fridge until you need it.
Trim your brisket as you typically would. Some people like to remove all the fat, some like to trim none. We fall somewhere in the middle, removing the larger pieces but not cracking out and removing all the fat.
We like to transfer brine to a syringe and inject it directly into the meat, then allow the brisket to brine for 24–48 hours. You can brine it the old-fashioned way too—simply transferring the meat to the brine and letting it rest there—but if you do, you'll need to brine for five to seven days. Either way, brine the brisket and let it hang out in the fridge.
This is totally optional but, you know, fun. If you want to create a smoke ring—the pink rim at the outer edge that forms when you cook meat in a smoker—here's how you do it: Ladle a small amount of brine into a small bowl and add Prague Powder No. 1—also known as Insta Cure No. 1 or curing salt. Whisk until incorporated, and return mixture to the brine. Return the brisket to the brine, and allow it to rest there two to three more hours. (Note: If you leave it longer than that, you'll get a very thick smoke ring.) IMPORTANT: Before you modify the brine to include pink salts, be sure to read our note in the intro. Pink salts must be used thoughtfully.
In a medium-sized bowl, mix molasses, 120 grams liquid smoke and liquid aminos together for the glaze.
Heat your sous vide to 155°F/68°C.
Brush half of the glaze evenly onto the surface of the meat. Make sure you reserve leftover glaze! We're going to do this a second time. Transfer brisket to a heavy-duty plastic sous vide bag.
Cooking the brisket at 

154 °F / 68 °C

 for 24 hours will result in tender yet juicy meat.
Make the brisket rub. Scale 300 grams smoked salt, 200 grams brown sugar, 120 grams chipotle powder, 100 grams black pepper, 45 grams mustard powder, 30 grams onion powder, 15 grams garlic powder and grind to medium coarseness.
Once brisket has finished cooking, remove it from the bag and pat dry. Brush on the other half of the glaze. Why glaze a second time? To create a tacky surface to which the rub will stick.
Preheat oven to 257°F/125°C.
Apply a liberal coating of rub to the surface of the meat, and transfer to a baking rack. Allow meat to cook for until a nice crusty bark develops, about 3–4 hours. Let the meat cool for a few minutes before you slice into it. TIP: If you are short on time, you can roast meat for an hour at 

302 °F / 150 °C

, then crank the oven up to 

390 °F / 199 °C

 and roast again for an additional 5–10 minutes to help the bark develop.
Serve!
ChefSteps comprises a team of award-winning chefs, filmmakers, scientists, designers and engineers focused on revolutionizing the way people cook by inspiring creativity and encouraging expertise in the kitchen. You can also get access to all of ChefSteps' Premium content — including paid classes and dozens of recipes available only to Premium members for a onetime fee of $39. Classes include Sous Vide: Beyond the Basics, Fluid Gels, French Macarons and more!