What Are The Most Googled Recipes Of 2017?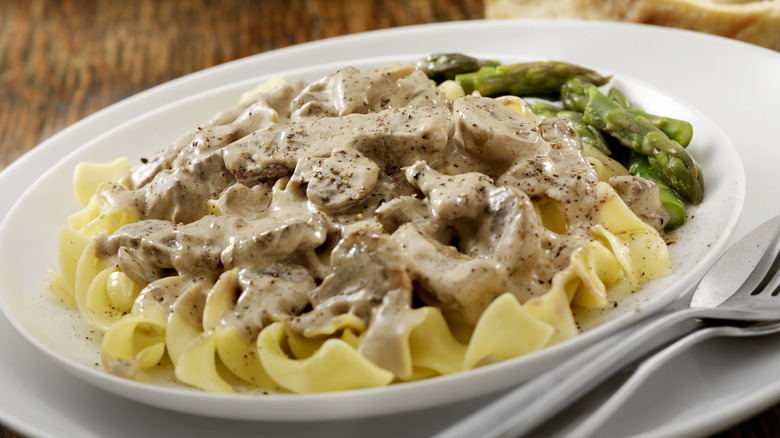 Lauripatterson/Getty Images
Wherever you were, 2017 was a tumultuous year. One of the best ways to de-stress and celebrate at the same time is to cook for people you love, and it looks like people have been looking for comforting dishes all year long. Search engine authority Google released its annual Year in Search Data report, and found that these were the top 10 searched recipes:
Beef Stroganoff
Apple Crisps
Corn Casserole
Brine Turkey
Zucchini
Chicken Parmesan
Pork Chops
Hard Boiled Egg
Yams
Hashbrown Casserole
If these are in fact the recipes you're looking for, we'd like to suggest some that may satisfy whatever you're craving for.
Grilled Veal Chops With Chanterelle Mushroom Stroganoff
Some people love veal for its flavor and tenderness and the fact that it's a little less fatty than cuts like a beef rib eye. Others disdain it for being a little less intense in flavor than beef. We like to pair something with it that adds to the meat's impact without diminishing its delicateness.
Pomegranate-Brined Roast Turkey
Here's the deal with turkey: the bird itself is a cinch to prepare — the brine is cumbersome and time-consuming. However, the bird must be brined (all the chefs we interviewed say so), therefore roasting a turkey has developed a reputation for being harder to pull off than it is. In short: learn to brine, finagle your fridge to accommodate a brine bucket and rest easy not only because you're in a turkey coma and your football team won, but because you know tomorrow's leftovers are guaranteed to be as succulent and juicy as they could possibly be.
Zucchini Shoestring Fries
When you are in the mood for meat, there is nothing more delicious than a veal chop cooked simply — a good sprinkle of sea salt, a little olive oil, and a squeeze of lemon is all that is needed. And almost any accompaniment will work alongside. In the summer months, I like to serve it with tender sweet batons of zucchini veiled in a light batter and deep-fried for a moment or two. They act in the same way as perfectly cooked thin fries. The unctuous garlicky dollop of aioli on the side is perfect for dipping.
Chicken Parmesan
While some pound out a thinner cutlet before breading, for this chicken parmesan recipe we like the meaty texture and protein-to-carb ratio of a whole, unadulterated chicken breast. Please note that it'll just take a little longer in the oven. You can adjust the breadcrumb seasoning to your liking, a spoonful of cayenne pepper adds some heat and flavor, or try a handful of grated parmesan for a cheesier, more savory crust. A few minutes under the broiler gets you the crispy brown bubbly look you're going for.
Cheese-Stuffed Fried Pork Chops
These cheesy, crunchy pork chops are the most popular kid-friendly meal in Spain. They're usually thrown together with cheap, rubbery cheese, so I've decided to elevate it for discerning kids and all adults. I shave the cheese fresh from a block of Cordobés or Manchego and add piquillos to cut through the richness and bring some brightness in taste and appearance. Plus, vegetables. I like the pork-on-pork action with the chops and ham, but the same technique can be applied to skinless, boneless chicken breasts, too.