Sweet Cheaters' Sopapillas Recipe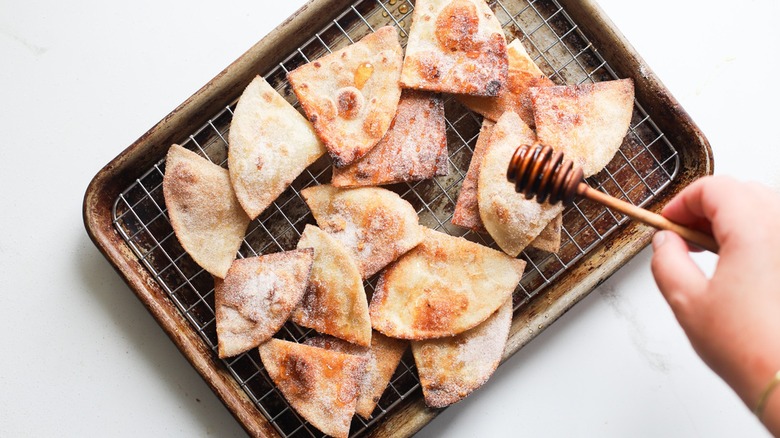 Taylor Murray/Food Republic
For those looking to relish the delightful taste of sopapillas without the time-consuming process of crafting dough from scratch, using store-bought flour tortillas is a game-changing hack. Sopapillas are a popular Southwestern and Latin American treat, often eaten as a dessert or snack. Traditionally, they are made from a simple dough comprising flour, baking powder, salt, shortening, and water. Once the ingredients are combined and kneaded, the dough is rolled out and cut into square or triangular shapes. These cut-outs are then deep-fried in hot oil, where they puff up into light, airy pillows due to the reaction of the baking powder with the hot oil.
By using ready-made flour tortillas, we can recreate a similar treat in much less time. Recipe developer Taylor Murray breaks down this easy but satisfying "cheaters'" recipe for homemade sopapillas, which makes a mean afternoon snack or the perfect sweet treat to follow taco night.
Gather the ingredients for cheaters' sopapillas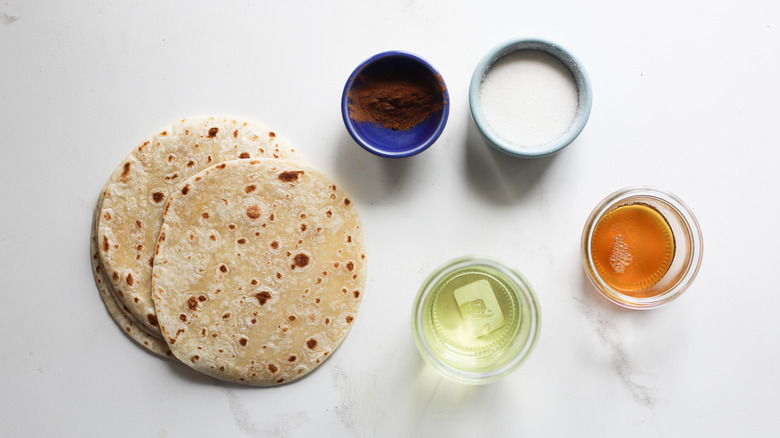 Taylor Murray/Food Republic
Instead of making a dough, this recipe begins with flour tortillas. You can choose to buy these at the store or make the tortillas from scratch, which is not much different from making homemade sopes or gorditas. While most flour tortillas are not as thick as scratch-made sopapilla dough would be, they still produce a satisfying result that's a bit crispier. To fry them, you'll need about ⅓ cup of vegetable oil, such as canola or peanut. To finish them off, you'll use a blend of cinnamon and sugar, along with a drizzle of honey.
Prep the tortillas and make the cinnamon sugar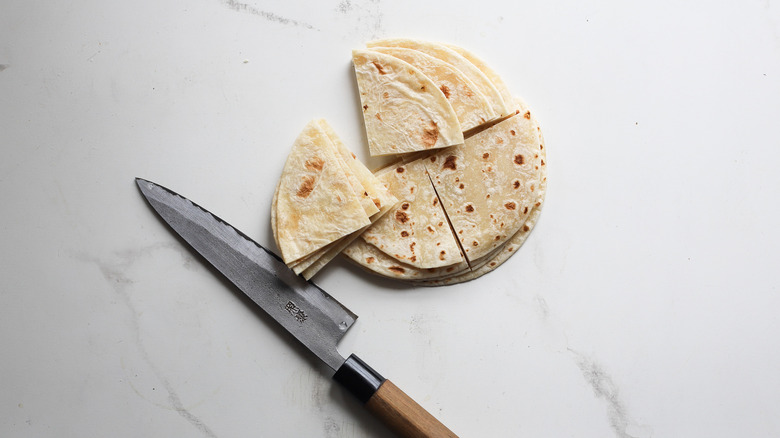 Taylor Murray/Food Republic
Start by cutting each tortilla into 4 wedges, which makes them the right size and shape for easy snacking. Next, whisk together the cinnamon and sugar, doubling or tripling the recipe quantity if you think you'll want a bit extra. It's important to do this step now and to choose a big enough dish for the job, as you'll transfer the tortillas directly from the hot frying oil into the cinnamon sugar mixture for coating.
Fry the tortillas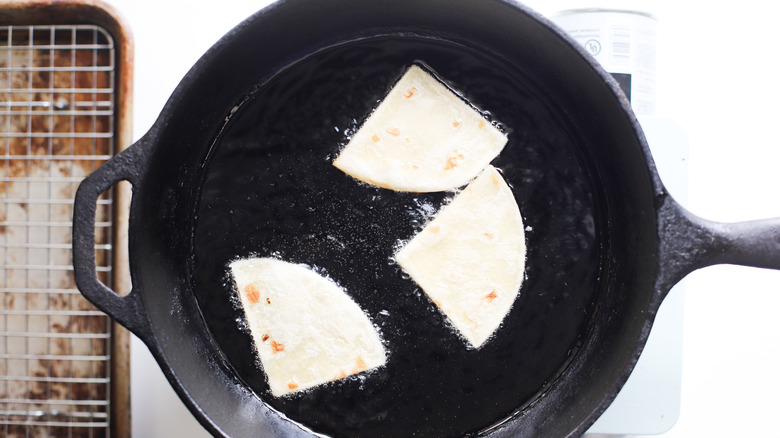 Taylor Murray/Food Republic
Heat the oil (about ⅓ cup should be plenty) over medium heat in a cast iron pan. While it's not necessary, you can absolutely increase the amount of oil and do a true deep-fry. And if you don't have a cast iron skillet, you can use a Dutch oven or another heavy-bottomed pan — what you're really looking for is something sturdy enough to handle the hot oil.
Check if the oil is ready (about 350 F) by dropping one tortilla piece in. If it lightly sizzles around the edges, the oil is hot enough. Fry 2-3 tortilla pieces at a time until they are golden brown on both sides, using tongs to flip them as needed and shake off excess oil while transfering them to the bowl of cinnamon sugar.
Coat the sopapillas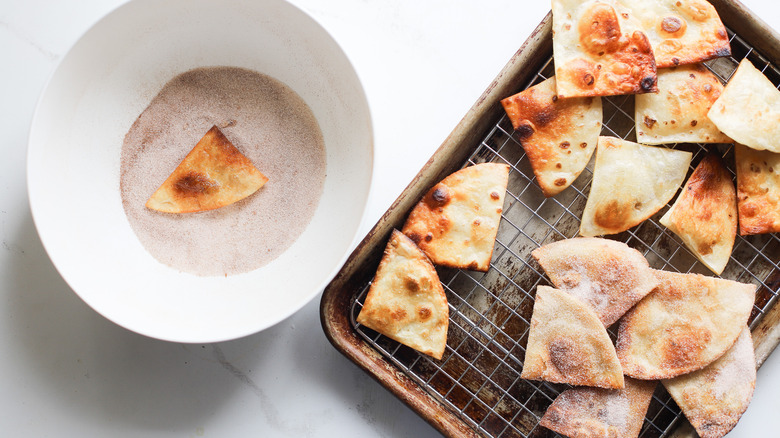 Taylor Murray/Food Republic
As the sopapillas come out of the fryer, transfer them directly to the bowl of cinnamon sugar. Doing it this way, as opposed to waiting until they are all fried, ensures the best results because the sugar will stick to the still-wet oil on each sopapilla. Toss the sopapillas in the bowl until they are coated in crunchy, cinnamony sugar all over, then remove them to a plate or wire rack until you finish the rest of the batch.
Finish the sopapillas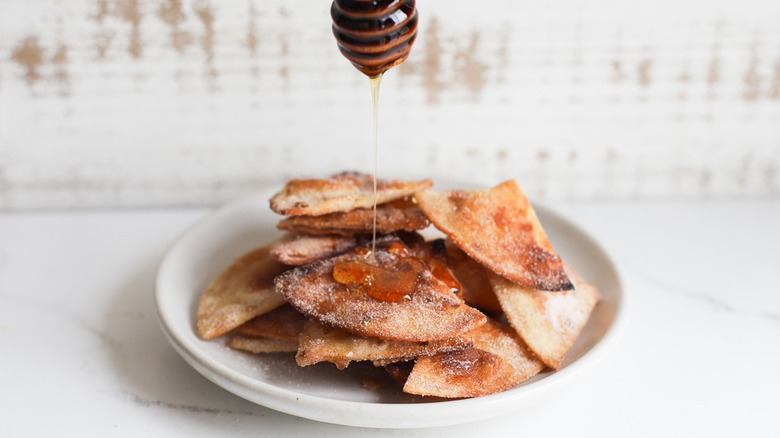 Taylor Murray/Food Republic
To finish the sopapillas, drizzle them with the honey. Some people like to dust them with powdered sugar, which is also an option. Like all fried foods, the crisp texture of cheaters' sopapillas tends not to last beyond a few hours. For best results, enjoy them immediately. 
If you do have leftovers, put them in an airtight container and store at room temperature. You may want to add a paper towel to the inside to soak up any excess moisture and keep your sopapillas from becoming soggy and stale.
Sweet Cheaters' Sopapillas Recipe
If you're craving the sweet, cinnamony taste of sopapillas but don't have time to make dough, this is the cheaters' recipe for you.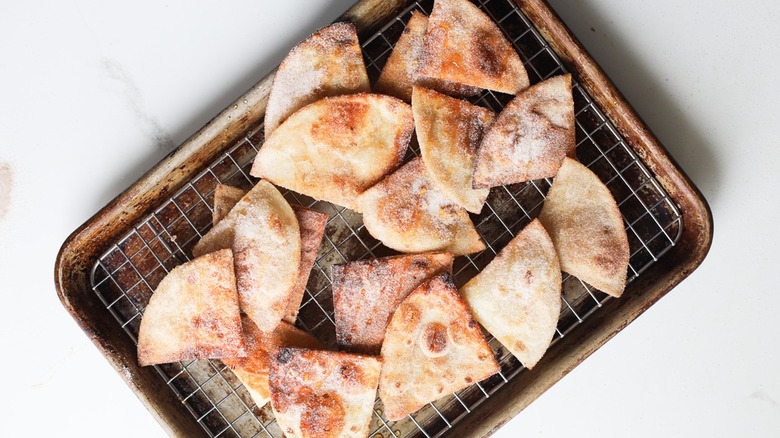 Ingredients
Neutral oil, for frying (about ⅓ cup)
2 tablespoons granulated sugar
1 teaspoon ground cinnamon
4 medium-sized flour tortillas, cut into quarters
1 tablespoon honey
Directions
Heat the oil in a cast iron pan over medium heat.
Meanwhile, whisk together the sugar and cinnamon in a medium-sized bowl or dish.
When the oil is hot (around 350 F), drop in 2-3 tortilla pieces at a time. Fry until golden brown and crisp on both sides, flipping once.
Transfer the sopapillas directly from the oil to the cinnamon sugar and toss to coat. Remove to a plate and repeat this process until all the pieces are cooked and coated in sugar.
Drizzle the sopapillas with honey and serve immediately.
Nutrition
| | |
| --- | --- |
| Calories per Serving | 134 |
| Total Fat | 6.4 g |
| Saturated Fat | 0.6 g |
| Trans Fat | 0.0 g |
| Cholesterol | 0.0 mg |
| | |
| --- | --- |
| Total Carbohydrates | 17.6 g |
| Dietary Fiber | 0.8 g |
| Total Sugars | 5.9 g |
| Sodium | 182.0 mg |
| Protein | 2.0 g |