The Artisanal Salt Giada De Laurentiis Swears By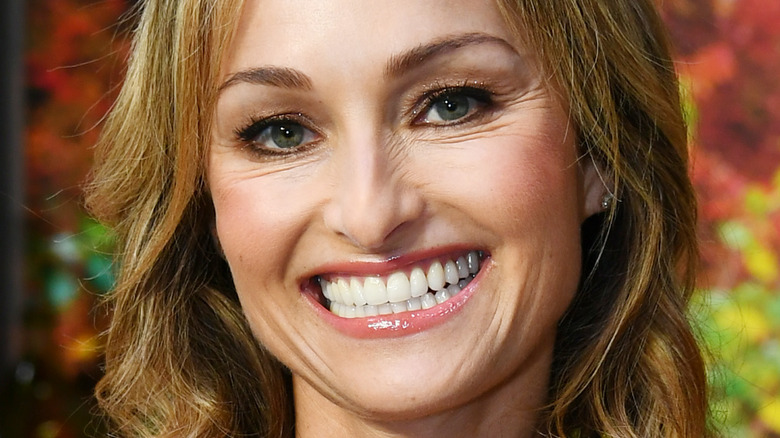 Dave Kotinsky/Getty Images
Italian-American chef Giada De Laurentiis has shared a recipe for delicious-looking skinny chicken Parmesan on her TikTok page, and beyond just the final cheesy dish she presents in the end, she also entices viewers by giving away the secret for her favorite artisanal salt. 
In the video, De Laurentiis can be seen generously spooning the salt into an oil marinade before coating the mixture on top of some chicken breasts and pan frying them, making everything look delectable. While there are so many different types of salt available (and some are better than others for certain recipes), De Laurentiis' go-to is a Tuscan sea salt blend mixed with several Italian herbs and spices that perfectly elevates the chicken parmesan dish — though it seems it would complement almost any Italian recipe, too.
If you're looking to add an authentic taste of Italy to your cooking, the chef's top pick might be just what you need to impart tastes of the country's world-renowned cuisine.
What makes this Tuscan salt blend so special?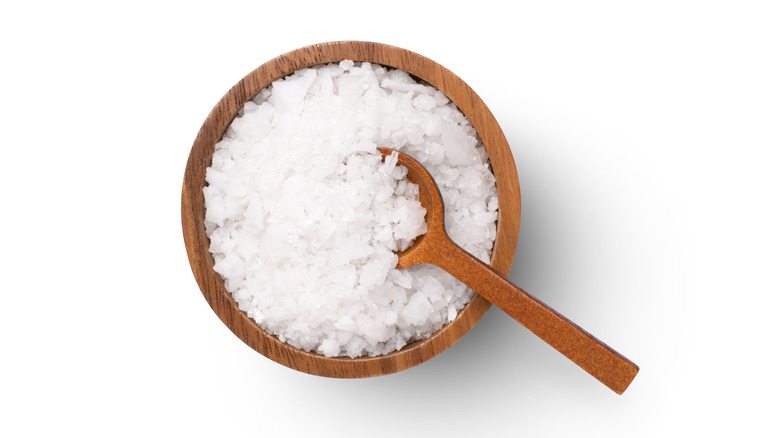 Everyday Better To Do Everything You Love/Getty Images
As Giada De Laurentiis describes in the TikTok video, her favorite artisanal salt is straight from Tuscany, Italy, where it's created by a famous butcher named Dario Cecchini. The Cecchini family has lived in Italian wine country (between Florence and Siena) for over 250 years and their proprietary salt blend is commonly known in the region as "profumo del Chianti" or the scent of Chianti, as De Laurentiis explains on her Giadzy site where she sells the bottles.
Yet, Dario Cecchini's creation is so much more than just sea salt. That's because he blends it with sun-dried herbs like rosemary, sage, thyme, and lavender — all plants that are frequently found growing in the Tuscan countryside. And for even more flavor, he adds in dried coriander, fennel, juniper, laurel, and even a bit of green pepper for extra bite.
If you want to try to cook more like De Laurentiis and use the Cecchini family recipe, 7.76-ounce bottles of the artisanal Tuscan salt are for sale for $16.50 online — that is, when it's not sold out.
The best ways to use artisanal Tuscan salt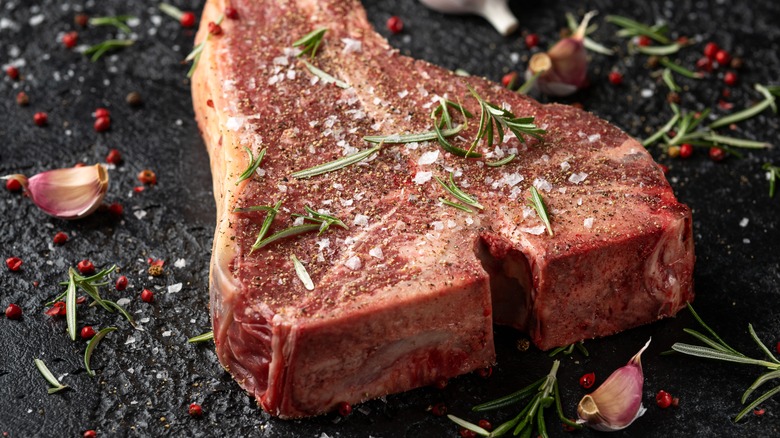 DronG/Shutterstock
Italy's Chianti region, where Giada De Laurentiis' favorite salt hails from, is well-known for highlighting meat in its dishes — for example, steak Florentine originated here. Because this part of Italy is well-known for preparing and cooking meats, it makes sense then that this Tuscan salt blend works really well as a rub for various proteins. As seen in De Laurentiis' chicken parmesan recipe, it can be used for poultry-based dishes, too. Fish and pork would also work well with some of this herby ingredient.
If you're not a big fan of meat, or are vegetarian or vegan, you can also use this infused sea salt as a seasoning for grilled vegetable recipes, or add it into your favorite pasta sauce recipe, or even atop a bowl of popcorn. Sea salt is typically used as a finishing salt, to add a bit of extra crunch and flavor after your meal is cooked and plated. So there's no way to go wrong by adding it to almost any dish before delightfully digging in.