Maker's Mark To Release Highly Anticipated Cellar Aged Bourbon, Its Oldest Blend Yet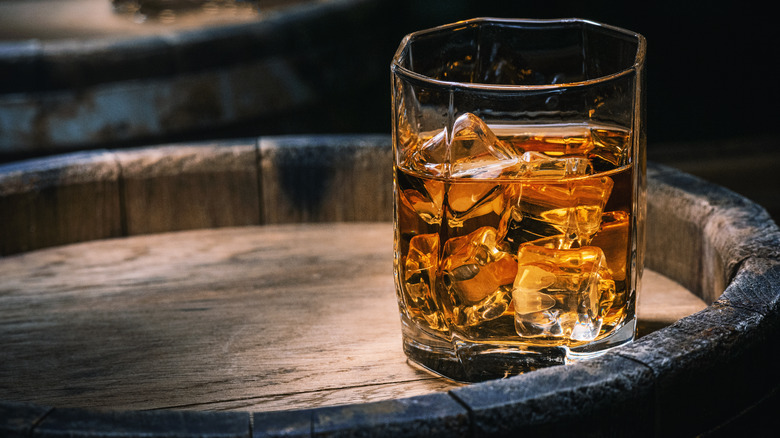 Prilutskiy/Shutterstock
When the iconic bourbon producer Maker's Mark unveiled a newly built 14,000-square-foot cellar in 2016, this limestone-bounded, temperature-controlled underground lair was intended as an adjunct aging facility for two of its signature labels, Private Select and Maker's Mark 46. However, it appears the Loretto, Kentucky-based distiller has found a creative new use for its cellar — one that will particularly interest fans of traditional American spirits.
In an August 16 press release, Maker's Mark announced the launch of its new Cellar Aged Bourbon in September 2023, a blend whose aging time surpasses that of any bourbon the brand has released in its 70-year history. Taste has always been the hallmark of whiskies produced by Maker's Mark, but thanks to the company's unique cellar, time has become a factor as well. Maker's Mark Cellar Aged Bourbon is a blend of whiskies that have been aged for 11 and 12 years, respectively. At least, that's the aging period for the bottles sold this year. The new product will have a different expression for each annual release, with the aging time tailored to the tasting state of the available barrels.
The first-ever Cellar Aged Bourbon, for example, is made from whisky that was aged for six years in Maker's Mark rickhouses, and roughly the same amount of time — though some barrels were aged for five, not six years — in its temperature-controlled Kentucky cellar.
Price and availability
The cellar itself, as the name suggests, is central to the production of Maker's Mark Cellar Aged Bourbon.
"For more than 65 years, aging our whisky for a decade-plus wasn't something we did," Rob Samuels — whose grandfather, Bill Samuels, founded Maker's Mark in 1953 — said in the press release. "It's not that we didn't believe in it; we simply hadn't found a way to do it that didn't compromise on our taste vision — until now. Cellar Aged embodies an older whisky that's distinctly Maker's Mark. One rooted in challenging convention, delivering new flavor experiences from the environment that surrounds us, and building on a taste vision that's been generations in the making."
At cask strength 115.7 proof, Maker's Mark Cellar Aged Bourbon will retail for $150 when it arrives on U.S. liquor store shelves in September, according to Maker's Mark. The release in select international markets, meanwhile, is slated begin in October.