Easily Transport Deviled Eggs To Your Next Party With A Genius Carton Tip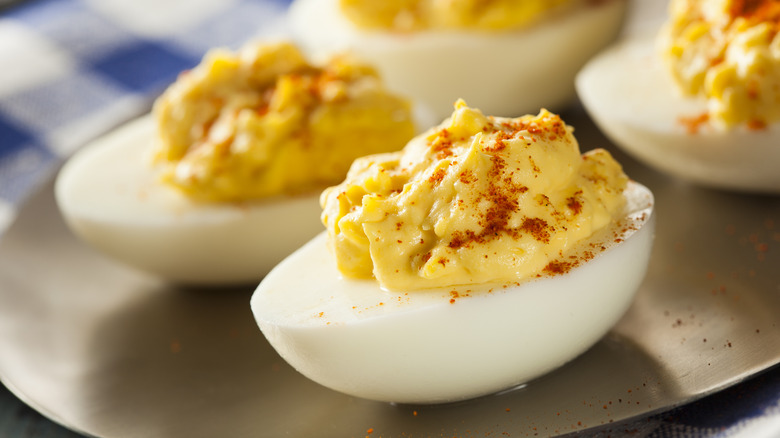 Bhofack2/Getty Images
With a creamy yolk that is spiked with a delicious mixture of seasonings, bright, fresh deviled eggs are a popular treat for many social occasions. Starting with a base of hard-boiled eggs, you can truly spice up the dish in endless ways, and garnish with everything from a dusting of paprika to crispy bacon.
However, one of the biggest problems with a party tray of deviled eggs is finding a way to transport them. Unless you have a platter specifically designed to carry them around, the slippery round bottoms of the eggs are not exactly stable on a flat plate, leaving them falling over and squishing together, ruining your carefully piped yolks and garnishments. 
So, that means if you want to have a surefire way to show off your recipes, you need to hold them for when you are hosting the event. That is, unless you saved the egg carton and use a clever trick to transport the dish without any chance for a mess. 
Use an egg carton to keep deviled eggs secure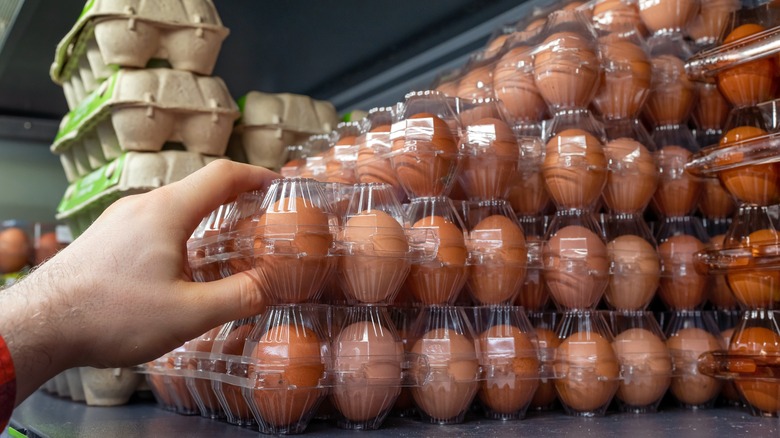 8th.creator/Shutterstock
A carton is a great way to transport deviled eggs — after all, it's how the eggs first arrived safely to your home from the grocery store. To use this trick, first prepare the container by cleaning it. The best type of carton to use for this purpose is one made of plastic, which can be washed and disinfected effectively. Simply wash it with soap and hot water, then rinse and dry thoroughly and, once dry, place the deviled eggs in the carton one by one.
You can do this safely by using the "prongs" of the carton to hold up the egg at the corners. Once all are inside, then close the carton carefully and keep in the fridge until it's time to take your delicious dish to your next party. If the container does not have a lid, you can cover it with a foil tent, taking care not to squish the insides.
If you only have a foam or cardboard egg container, these can still work. They can't be thoroughly washed like plastic options, so first provide a clean surface for the deviled eggs. You can line the bottom of the carton with aluminum foil or plastic wrap, covering completely to prevent contamination. Then, you can place the eggs on the surface of the liner, using the same indentations to hold them in place. 
Ways to customize your deviled eggs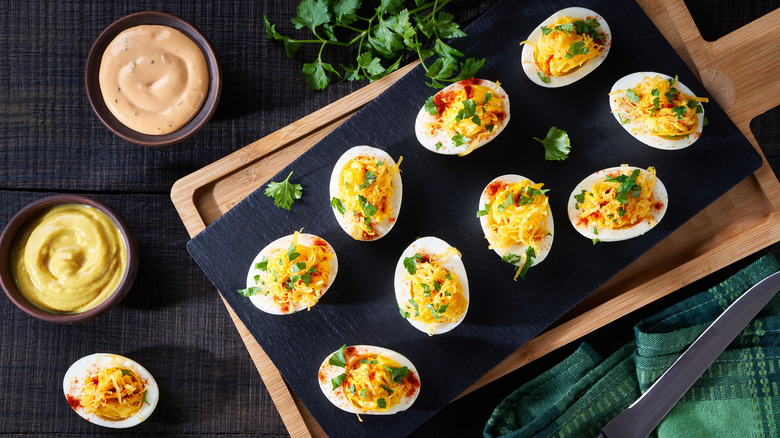 Food Via Lenses/Shutterstock
Now that you have a way to transport your deviled eggs without making a mess, you can create them for any occasion. To start, you'll want to make hard-boiled eggs and chill them in an ice bath for easy peeling. Then, halve the eggs, take out the yolks, and combine the latter with any seasonings you choose. For instance, you can spice them up with minced red onion or everything bagel seasoning, and place a small piece of smoked salmon on top as garnish for a deli-inspired take. 
Mashing avocados with the egg yolks can give you "green" deviled eggs that will be a hit for themed parties. Or, add a bit of wasabi mayo to the egg yolk mixture and top with salmon caviar for deviled eggs that take inspiration from Japanese cuisine. Once you have your preferred mix, add the seasoned yolks back into the egg white halves using a spoon or piping bag, and then place them gently in the cleaned carton and put it in the fridge until it's time to devour every last bite.