Trader Joe's Frozen Kimbap Is Stirring Up Controversy On TikTok
Aficionados of Korean kimbap tend to have strong feelings about the traditional specialty. The seaweed and rice based rolls have been compared to Japanese sushi, but in terms of its varied ingredients, as well as its myriad colors and flavors, kimbap defies easy comparisons. Trader Joe's describes its recently unveiled frozen kimbap, for example, as akin to large maki-style sushi rolls, but notes that its product is also markedly different, thanks in part to its veggie-centric focus. The grocery chain is not shy about sharing its kimbap bona fides either, pointing out that it sources its assortments from a South Korean supplier.
TikTok users, however, expressed decidedly mixed opinions regarding the Trader Joe's version of kimbap when one poster on the trendsetting social media platform, @ashleywicka, proclaimed extreme excitement for the product's availability, captioning the post: "i haven't ran to trader joes [sic] so quick since the instant boba came out." Many, it must be noted, shared the creator's excitement for the microwaveable Trader Joe's kimbap, and couldn't wait to try it themselves. Others, however, were decidedly less positive about Trader Joe's latest foray into traditional Korean cuisine, questioning everything from @ashleywicka's pronunciation of kimbap in her video to the product's authenticity and lack of appropriate dipping sauces.
Some TikTok users have negative comments about Trader Joe's kimbap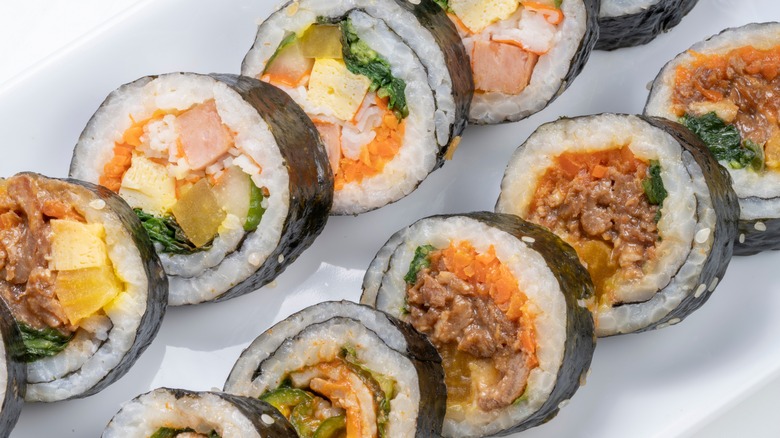 KT studio/Shutterstock
There were some harsh responses to several TikTok posts about Trader Joe's kimbap, and @ashleywicka's post was no exception. The comments range from outrage ("Do they not keep anything sacred") to general disparagement. The fact that the product is frozen and microwaveable in two minutes was cited as a reason for some disapproving comments ("I could never eat a frozen kimbap, but especially reheated kimbap, soggy nori no thanks"). Another commenter, meanwhile, expressed regret that this level of enthusiasm by @ashleywicka wasn't reserved for a more traditional version of the beloved Korean specialty ("oh wow badly I'd love to make you some authentic kim bap").
@ashleywicka

i haven't ran to trader joes so quick since the instant boba came out
To be fair to Trader Joe's, most of these comments appeared to be from people who haven't actually tried the product. In fact, one TikTok user's response noted: "a Korean friend told me they're better than you'd think." Despite several comments regarding the lack of available dipping sauces, Trader Joe's does make recommendations in this regard — including Sriracha and Gochujang sauces, specifically — although to be clear, these aren't included with the 8.11 ounce packages. Conversely, some commenters pointed out that kimbap is not traditionally served with sauces.
Another commenter cast shade on the price ($3.99), but incorrectly assumed this was for one roll, when in fact nine are included in Trader Joe's packages.