Dunkin' Rolls Out Canned Cocktails Based On Iconic Iced Coffee And Tea Flavors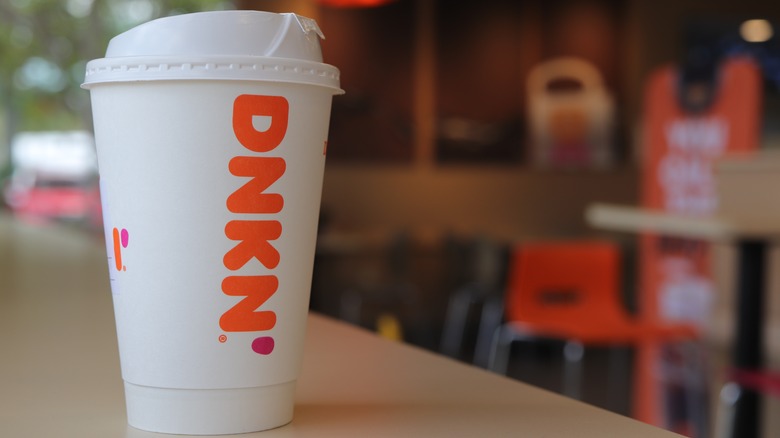 Deutschlandreform/Shutterstock
It appears Dunkin' will soon be adding alcohol to its lineup of canned coffee and tea drinks. By the looks of a new Dunkin' Spiked website and early reports coming from VinePair, it seems that the Massachusetts-headquartered company is planning to release a new line of hard ice coffee and teas sometime soon. The canned cocktails will be available in a range of flavors, eight total, with alcohol by volume (ABV) in the range of 5% to 6%, depending on the drink. That's an amount equivalent to a typical beer.
No information has been officially announced regarding the release date for Dunkin' Spiked hard iced coffees and teas, though it could be imminent. A Dunkin' representative kept it vague in their statement to Food Republic: "Dunkin' is brewing up something special (and spiked) for adult iced coffee and iced tea lovers. While we can't confirm any new additions to Dunkin's lineup of ready-to-drink products at this time, stay tuned for more news soon."
VinePair points out that the federal Alcohol and Tobacco Tax and Trade Bureau has approved five of the options as of May, but three other flavors are awaiting final sign-off. It's also not clear if the cans will be sold in grocery stores, at Dunkin' locations, or both.
For now, the Dunkin' Spiked website provides some more information regarding what's in store including the flavors and can sizes.
The hard iced coffee and tea flavors coming soon from Dunkin' Spiked
For the Dunkin' Spiked iced coffees, there will be four flavors available: Original Iced Coffee, Caramel Iced Coffee, Mocha Iced Coffee, and Vanilla Iced Coffee. Each has 6% ABV and all of the flavors will be included in a 12-pack mixed box, filled with 12-ounce cans. However, the original flavor will also be sold separately as a 19.2-ounce single can and come in a 4-pack of 12-ounce cans.
Iced tea will also get a boozy boost courtesy of Dunkin' Spiked, with four flavors also unveiled on the company's website. The lineup includes Half & Half Iced Tea, Mango Pineapple Iced Tea, Slightly Sweet Iced Tea, and Strawberry Dragonfruit Iced Tea. Each of these drinks contains 5% ABV. Like the hard coffees, the hard iced tea cans are sold in a mixed 12-pack full of 12-ounce cans. Additionally, the Slightly Sweet Iced Tea will be available in a 6-pack of 12-ounce cans and be sold individually in a single 19.2-ounce can. 
Boston-based Harpoon Brewery, which has been partnering with Dunkin' on donut-inspired and seasonal beers since 2019, will handle the production aspect of the Dunkin' Spiked line using a malt base for each drink, as VinePair reports.