We Tried The Absinthe And Yoo-Hoo Cocktail And Were Shockingly Impressed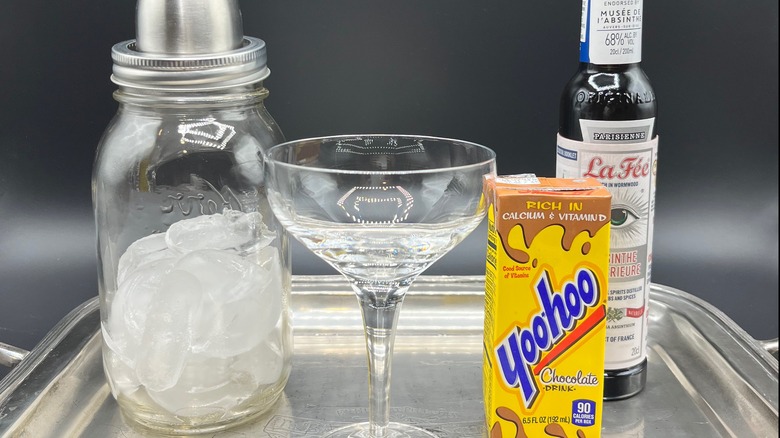 Jennifer Mathews
We may receive a commission on purchases made from links.
As a young adult in the '90s, there are a few fads that I've welcomed back like old friends — high-waisted jeans, canned alcoholic cocktails (they are much better today), and chocolate molten lava cakes. Absinthe and Yoo-hoo did not make the list, especially in the same glass, yet the absurdity of the combination made it impossible to resist.
Featured in bar expert John deBary's book, "Saved by the Bellini & Other 90s-Inspired Cocktails," the Absinthe-Crag combines Yoo-hoo and absinthe, a cocktail not served in college bars. Yoo-hoo, however, brought back memories of lunch with childhood friends, so I was already intrigued. 
Drinking absinthe was entirely new to me. All I thought I knew about absinthe was that it was illegal and hallucinogenic, a spirit Hollywood made mystical in vampire and witch movies. I was wrong on all accounts.
Although absinthe was banned in the U.S. in 1912 during Prohibition, it was legalized in 2007 when wormwood was removed from the recipe. The naturally green spirit was popular with much of the world, particularly in France, when the hours from five to seven were called "the green hour." It's featured in Picasso's paintings and enjoyed by Oscar Wilde and Van Gogh, so naturally, this creative also needed to try it. DeBary's cocktail was a great introduction. 
To my surprise, the unexpected combination is rather delicious. I wouldn't enjoy each ingredient alone, but they have synergy, balancing out where the other element falls short. Containing just two ingredients, this nostalgic cocktail is worth trying.
How to make the Absinthe-Crag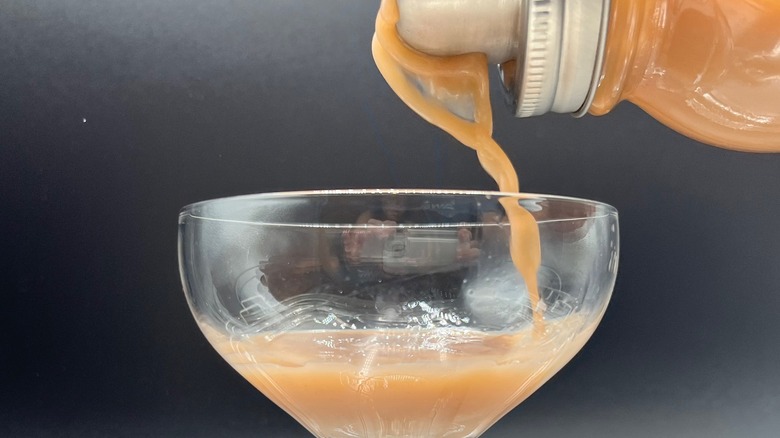 Jennifer Mathews
Appropriately named after the Aggro Crag mountain, a part of the obstacle course in the popular Nickelodeon young adult competition of the '90s, "Guts," deBary's concoction needed to be conquered by my younger self. Unfortunately, Yoo-hoo's brown color excludes the drink from France's "green hour"; however, the Absinthe-Crag was ideal for my "happy hour."
To keep with the theme, the recipe calls for Pernod Absinthe, the French brand owned by Pernod Ricard, who briefly owned Yoo-hoo during the '90s. I could not find that brand locally, so I used La Fée, which is also bottled in France. This high-alcohol spirit is 68% alcohol by volume and made according to the French Absinthe Museum-approved recipe with the same botanical ingredients — anise, fennel, hyssop, and coriander.
To make one Absinthe-Crag cocktail, you need 4.5 ounces of Yoo-hoo and 1.5 ounces of absinthe. Add the ingredients to a cocktail shaker filled with ice and vigorously shake for 20 to 30 seconds. Strain the drink into a coupe glass and enjoy. 
As a big fan of cocktails served in coupes, the delicate nature of the Absinthe-Crag is well suited for this glass and likely the only time I'll serve Yoo-hoo so elegantly. The cocktail develops a frothy head from shaking, with tiny ice crystals floating on top, giving the drink a nice texture. Since the cocktail began to separate as it sat, it's essential to use a shaker versus saving 30 seconds and serving it on the rocks.
A subtle chocolatey and anise-flavored cocktail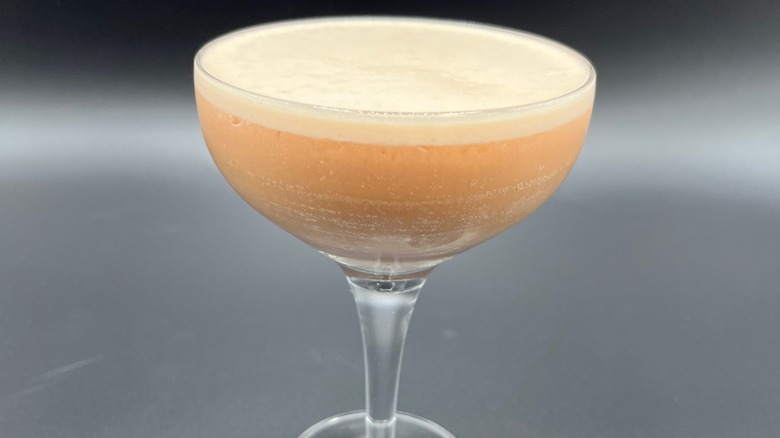 Jennifer Mathews
Despite the intense aroma of licorice as I poured the absinthe into the shaker, the flavor of the Absinthe-Crag is quite delicate. The cocktail is subtly chocolatey and slightly anise-flavored without either ingredient overpowering the drink. Absinthe is unsweetened, which is why it's traditionally served with sugar cubes, so it balances Yoo-hoo's sweetness. Since Yoo-hoo is mostly water, the cocktail isn't thick or creamy like a chocolate martini but still packs a punch, thanks to the amount of alcohol in absinthe.
The taste reminds me of another after-dinner drink I've enjoyed, Baileys or Godiva liqueur served on the rocks, but with a hint of fennel and better. Although I detest black licorice candies (and can't understand how some people like them), I grew up enjoying fresh fennel (or finocchio as my family calls it) cut into wedges after Sunday dinners at my grandmother's. Absinthe reminds me more of the delicate flavor of fresh fennel than black licorice jellybeans.   
It would be fun to prepare the Absinthe-Crag the next time I host a family dinner as a nod to my childhood. Many of my Yoo-hoo-loving contemporaries would also get a kick out of trying it. Since the cocktail is slightly sweet, I'd prefer it after dinner. The Absinthe-Crag would make a good substitution for chocolate martinis since it's easier to make and more interesting. When I run out of Yoo-hoo, I look forward to spiking other cocktails with absinthe for its pretty hue and herbaceousness.