Ina Garten's Serving Tip Makes Homemade Cake Look Way Better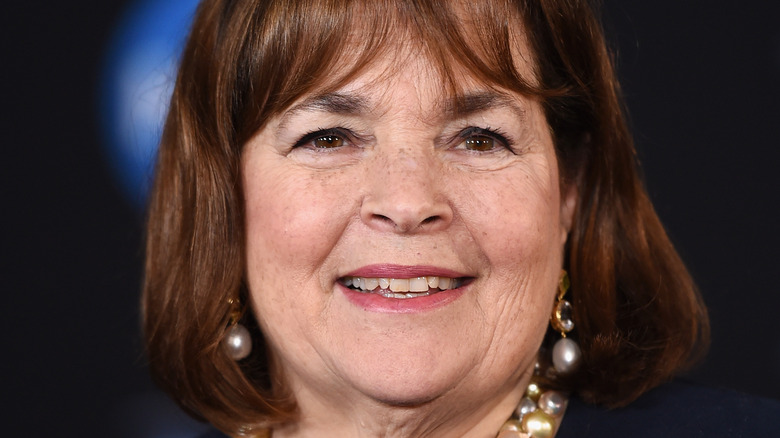 Amanda Edwards/Getty Images
Ina Garten shares her popular recipes not only through her best-selling cookbooks and hit TV show, but also with over 4 million followers on her Instagram. In a reel with 2.4 million views, she outlined an easy tip for a gorgeous presentation of her signature coconut cake.
In the reel, Garten says, "Nobody remembers what you served for dinner, but they always remember dessert." She then proceeds to show viewers two easy tips for serving up a slice of rustic cake to make it "restaurant" quality. First, she adds a homemade raspberry sauce to the plate before placing the slice of cake on top. Then, she finishes it off with a handful of fresh raspberries. You won't notice any chef tweezers or precise techniques; she just lets the fresh fruit scatter naturally and beautifully across the sliced cake and into the sauce. Similarly, the plating of the sauce itself is artistic rather than precise. She spoons it onto the plate, then, with the back of the spoon, smears it into an oval.
Garten adds a homemade sauce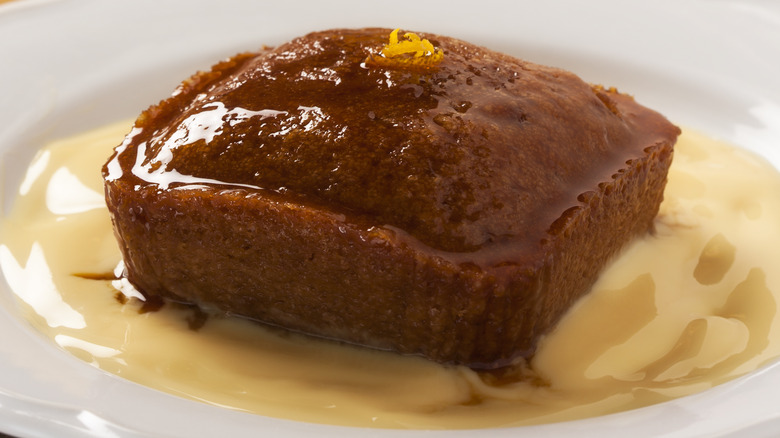 Carlamc/Getty Images
As a way to jazz up just about any homemade or store-bought cake, Garten adds a homemade sauce. In the video, she claims, "This takes a delicious dessert into kind of a restaurant dessert." The sauce is effortlessly swirled or pooled on the plate before nestling a slice of the cake right in the center. There is no need for any special skills or tools to mimic this chef trick for plating.
Ina places each slice of cake cut side down onto the plate, rather than standing upright. This allows more of the cake's surface area to sink into the delicious sauce. It also means it's much easier to pass the dessert plates around the table without worrying about the cake slices toppling over.
Ina's homemade fresh raspberry sauce is from her 2018 cookbook, "Cook Like a Pro," but you can take her suggestion and use just about any kind of pureed fruit or jam to make a sauce to suit your liking. You can even expand beyond fruit-based sauces and use this same plating hack with a rich chocolate sauce or even a decadent caramel sauce. Get creative! Pair a slice of cheesecake with dulce de leche or strawberry shortcake with a vanilla bean reduction.
A fresh element brings extra flair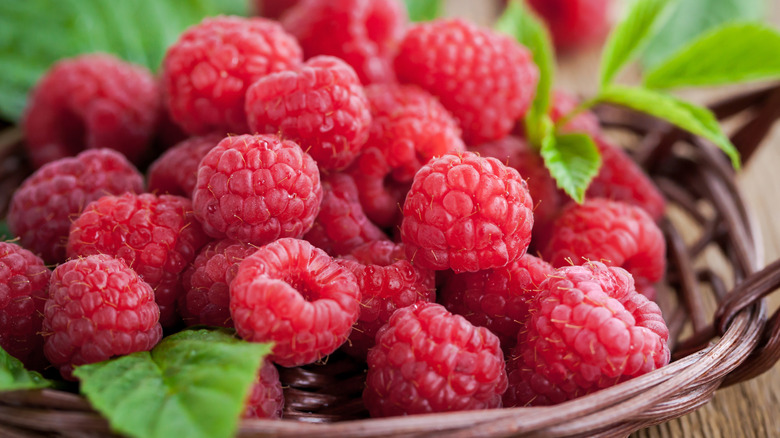 Katesmirnova/Getty Images
This serving tip goes way beyond simply adding a dollop of whipped cream or a scoop of ice cream to a slice of cake. The dessert may have come from the fridge, freezer, or even the grocery store, but Garten's final trick to gorgeous plating is to add something fresh just before handing it off to your guests. She pairs the raspberry sauce with fresh raspberries, but you can adjust the tip depending on what is currently in season or local to your area — and what would taste nice with your cake of choice. Just about any fresh berry or fruit will work, and it is a way to personalize the technique to satisfy your palate.
You can also tweak the suggestion slightly and instead of using fresh fruit, try a sprinkling of citrus zest or fresh herbs instead. Rosemary with strawberry? Basil with vanilla? Yes, please. Ultimately, the key to the Barefoot Contessa's success is to bring a colorful element of freshness to the plate. It is a small gesture that is visually stunning, refreshing for the palate, and always sure to impress your guests.