IHOP Celebrates 65th Anniversary With $5 All-You-Can-Eat Pancakes
The International House of Pancakes (IHOP) opened the doors to its first location in Los Angeles, California in 1958, launching what has become a total pancake empire today, with more than 1,600 restaurants throughout the United States. Now, in its 65th year, the chain is celebrating its milestone birthday with deals and promotions galore, including a very special all-you-can-eat deal on pancakes. 
Now through August 27,  you can eat as many buttermilk pancakes as you'd like — all for just $5. Whether you want to partake in one of IHOP's delectable breakfast combo meals with pancakes on the side, or just want a tall tower of flapjacks all on their own, you can get an unlimited amount for one fresh Lincoln. 
Pancakes will come out two at a time — just to ensure you can eat them all and none go to waste — but you can get seconds, thirds, fourths, and then some. The deal applies for dining-in only and only covers buttermilk pancakes so unfortunately, no Rooty Tooty Fresh 'N Fruity combo, which the chain brought back earlier this year, also in honor of its birthday.
To keep the party going, the pancake purveyor is introducing several new other limited-time offers as well.
How else is IHOP celebrating its big birthday?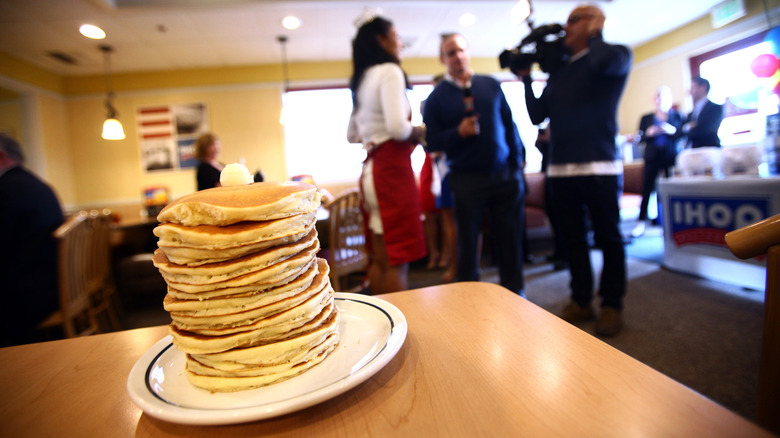 Tommaso Boddi/Getty Images
The unlimited $5 pancake deal is only the start of the special deals in honor of IHOP's 65th birthday. If you want even more flapjacks, take the opportunity to enroll in IHOP's International Bank of Pancakes rewards program in August. All year long, it offers free birthday gifts, a pay 'n go option on the app, access to secret menu items, and exclusive deals. Through August 27, that includes earning a free pancake combo when you make your first purchase. 
You can also save some cash on your kiddos' meals, too. From 4-10 p.m. each day through August 27, score a free kid's meal when you order an adult entree. And, even if you feel like staying in, IHOP has rewards for delivery orders this month as well. Place your order on the website or app, and get stacks of steamy goodness delivered to your house for a low delivery fee of just $0.65 (after paying for your pancakes, or other meal options, of course).
And, what goes better with a hearty helping of pancakes than a side of bacon? Kevin Bacon, that is. IHOP has enlisted the actor (who also turns 65 this year) to help promote the brand's specials on TikTok. To keep up on all the pancake-related promotions, follow #Pancakes4Bacon.