NYC Takeout Orders Will No Longer Include Silverware And Napkins Per New Law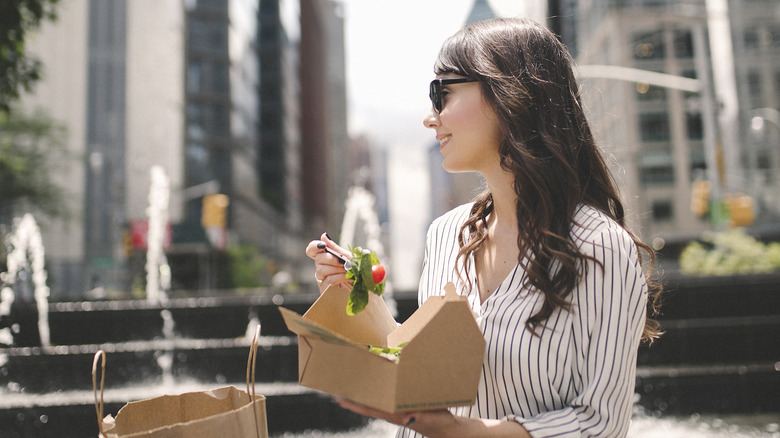 M_a_y_a/Getty Images
Beginning on Monday, New York City residents should no longer assume that their burgers and fries will be delivered with packets of ketchup or a stack of disposable napkins. Earlier in 2023, New York City Mayor Eric Adams signed Intro 559-A, nicknamed the "Skip the Stuff" law, to curb the amount of single-use plastics that end up in the city's residential waste stream — the path trash takes from your home to the curb, waste treatment plants, recycling centers, and landfills, depending on what it is. Adams' office estimated that 36 million pounds of "stuff" ended up in NYC's residential waste stream in 2019.
The law prohibits restaurants and food delivery services, like GrubHub and UberEats, from automatically adding single-use "eating utensils, extra eating containers, condiment packets, and napkins" to takeout and delivery orders. Orders placed on delivery apps will have a default setting to exclude plastic utensils from the bag unless changed by the user, who must request them from the restaurant.
The legislation is supported by multiple departments, including the NYC Department of Sanitation Commissioner Jessica Tisch, who said during the signing in February, "Nearly every New Yorker has it: the dreaded drawer full of old takeout forks, spoons that accompanied forgotten soups, and chopsticks of days gone by. And you know what's worse than having that plastic take up space in your home? Having it sit for centuries in a landfill." Although it aims to address waste and climate change, the bill arguably benefits the restaurant industry.
Businesses face fines for noncompliance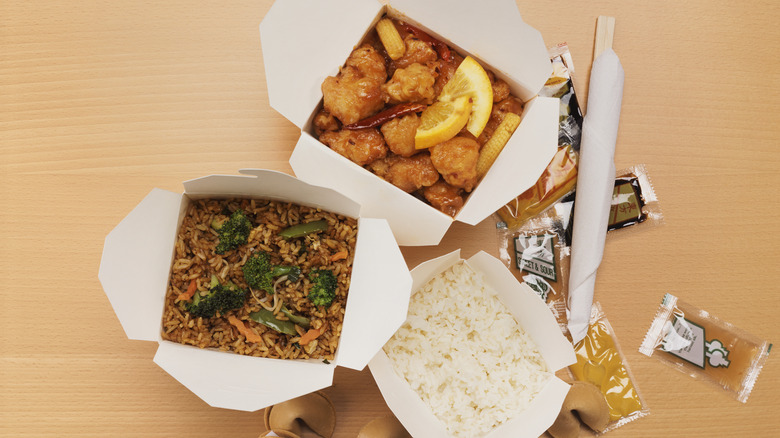 Digital Vision./Getty Images
For the over 20,000 restaurants in NYC, which already struggle in a notoriously small margin industry, the "Skip the Stuff" law allows those small businesses to reallocate some of those funds used for single servings of condiments, napkins, and utensils to the restaurant's bottom line. To enforce the law, inspectors will check for compliance by visiting establishments annually. Businesses that fail to comply with the bill will face fines as high as $250 per offense. Los Angeles, California, enacted a similar ordinance in 2021 prohibiting restaurants from automatically providing disposable food ware for delivery and takeout orders and while dining in the restaurant unless requested by the customer.
Not all green initiatives, however, are universally supported by businesses. The Department of Environmental Protection (DEP) made some enemies recently when it proposed that the city's infamous wood and coal-burning pizza ovens may require furnace upgrades to meet new emission guidelines, costing some restaurants $20,000 to comply, plus annual maintenance and inspection costs.
New York City has been the leader in climate-change initiatives before. In 2021, it banned natural gas hookups in new construction. Two years later, New York state followed and was the first state in the nation to ban most gas-powered appliances (stoves, furnaces, and heaters) in new residential buildings.