Mock Tenderloin Is The Ultimate Cheat For Affordable Steak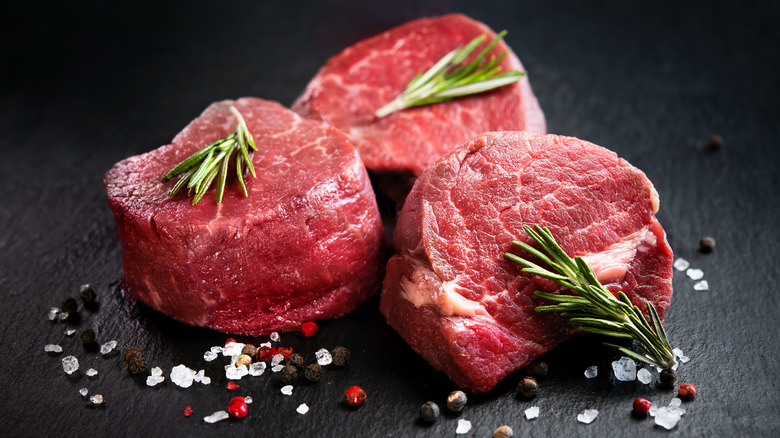 Alexander Raths/Shutterstock
Tenderloin steaks, the area where we get filet mignon, is one of the most popular cuts of beef. Tender and lean, tenderloin pairs well with a wide variety of sauces and seasonings to enhance its milder and buttery flavor. However, its popularity means the cut is also one of the most expensive, often costing more than $30 per pound in upscale supermarkets, and often at least twice that at a restaurant.
However, for carnivores who are seeking a similar cut at an affordable price, there is good news. Mock tenderloin, also known as shoulder tender or teres major, is a lesser-known cut of beef that offers a cost-effective alternative to the coveted tenderloin. The name "mock tenderloin" is somewhat misleading since it does not come from the same area as the true tenderloin (filet mignon). However, it does share some similarities in its appearance, and its leanness and tenderness make it a budget-friendly substitute for the more expensive tenderloin.
Cooking a teres major (mock tenderloin) steak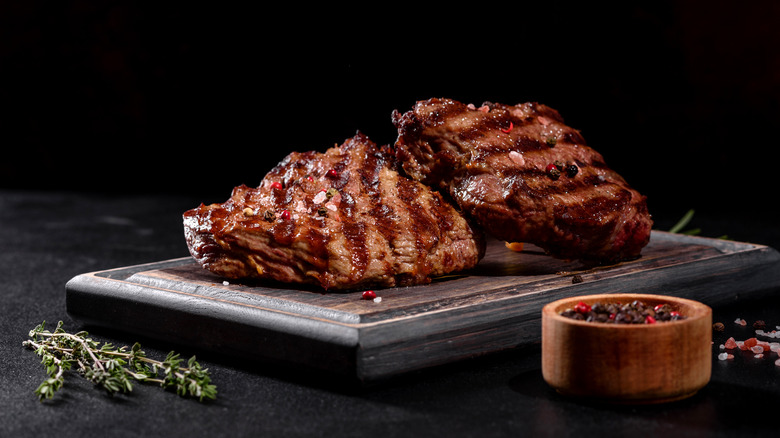 Tetiana Chernykova/Shutterstock
Teres major is a small cut that is located around the shoulder blade area of the cow. This cut typically weighs around 10 to 12 ounces each and is shaped like a small log or cylindrical roast. Appreciated by those in the know as the second or third most tender cut of the animal, it is not usually available in many grocery stores — although a specialty butcher can source it for you.
To prepare a teres major steak, keeping it simple might be the best approach. Since it is such a small cut, you can make it whole and carve it before serving. Generously season the steak with salt, pepper, and other seasonings you prefer. You can perform that step ahead of time to allow the seasonings to "dry brine" the meat. Unlike milder cuts, such as the filet mignon, this steak is packed with flavor and doesn't need many dressings.
Whether you plan to grill or sear the steak, this lean cut should be treated quickly with high heat. Due to its leanness, it is not recommended to cook it beyond medium. Since this muscle has more than average blood flow, it should rest longer than a normal cut of beef after searing to prevent the juices from leaving the steak when sliced.
Pairings for teres major steaks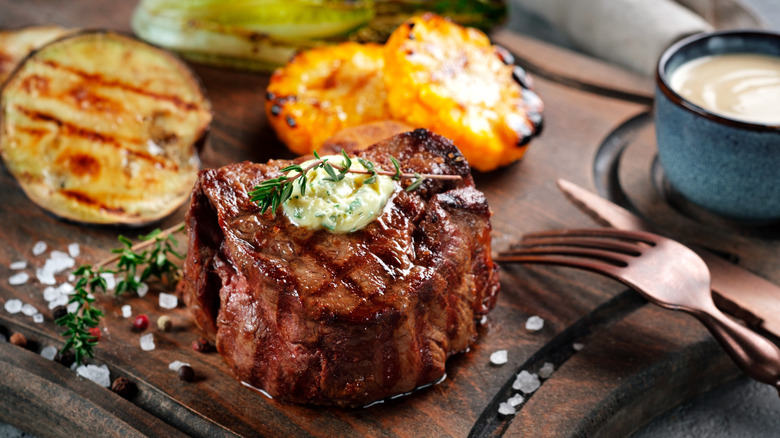 Andrei Iakhniuk/Shutterstock
Since teres major is a lean cut, the steak will pair well with rich sauces or compound butters. For example, a garlic and herb compound butter pairs very well with the lean and tender meat while a bearnaise sauce, made with eggs, butter, chervil, tarragon, and vinegar will enrobe your beef with richness intercut with refreshing tartness.
In terms of sides, the steak pairs well with just about any dish you can find in a steakhouse. Sauteed mushrooms, grilled or poached asparagus, and baked potatoes are all perfect. If you wish to give your dinner an Italian flair, pair the steak with a creamy porcini mushroom risotto. Since the cut is rather petite, you can serve one for each diner, or slice them and serve the meat on a platter to share. Leftovers will be fantastic served cold or at room temperature, both as a salad topping with blue cheese and walnuts — or as a sandwich filler with horseradish creme.