Subway's Name Change Sweepstakes Feels Dystopian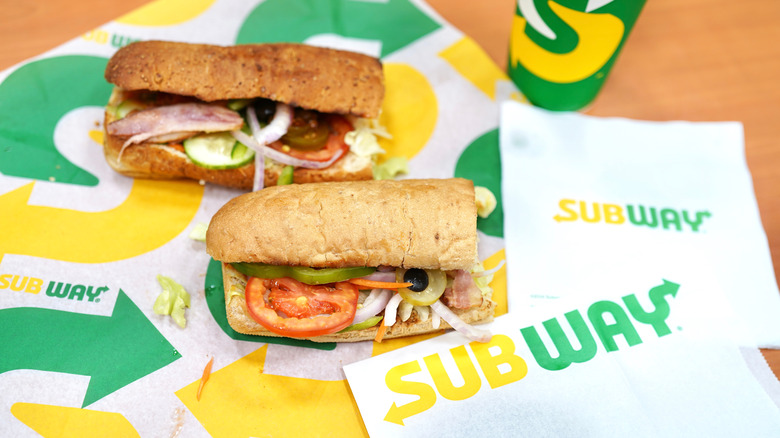 Prachana Thong-on/Shutterstock
From questions about chemicals in Subway's bread and a lawsuit regarding whether its tuna salad actually contains tuna, to revelations about chicken that's only partially poultry, the sandwich chain has seen its share of controversies over the years. All that said, many consumers appear to have shrugged that all off and continue to "eat fresh." Now, the sub-slinging fast food chain has a new promotion that could once again raise some eyebrows.
On the heels of rolling out a new line of Deli Heroes on July 11, Subway has made a bold new announcement. Between August 1 and August 4, fans can hop online and enter their names in a sweepstakes to ... change their name. That's right — the winner of the contest will be awarded funding to legally change their name to "Subway" and, when they do so, they will receive the chain's Deli Heroes for all eternity. Well, at least for the rest of their natural life. There's no mention if the benefit is available for transfer after death to Subway Jr. 
This zany new promotion (available soon at SubwayNameChange.com) follows another promotional stunt in 2022 that awarded "subs for life" to a person that agreed to get a tattoo of a footlong sub, showing there's enough Subway fandom out there that this latest idea could take off.
Would the name change be worth it for lifetime Deli Heroes?
For one committed Subway fan who agrees to officially change their name, they will receive the chain's Deli Heroes for life. Introduced in July, these premium subs are just another part of Subway's multi-year plan that began in 2021 to upgrade its food offerings — and its branding in the process. This latest investment involved the chain spending upwards of $80 million to bring meat slicers to more than 20,000 locations in the US. The company also put a year's worth of time into concocting these four new sandwiches that will really put those slicers to work.
The new Deli Heroes lineup includes the Titan Turkey, Grand Slam Ham, Garlic Roast Beef, and The Beast. All are meat-based subs, and the chain said in a press release earlier this year that the Titan Turkey and Grand Slam Ham pile on 33% more meat while The Beast packs in a whopping half-pound of meat. Each of the subs is served on the chain's artisan Italian bread and there's also twice the amount of cheese on each sandwich. While the turkey and ham options are served with a spread of mayo, the Garlic Roast Beef gets a slather of roasted garlic aioli, and The Beast is drizzled with an "MVP Vinaigrette," all of the upgrades making them name-worthy, too.