String Cheese Claims The Top Spot In Aldi's 2023 Fan Favorite Foods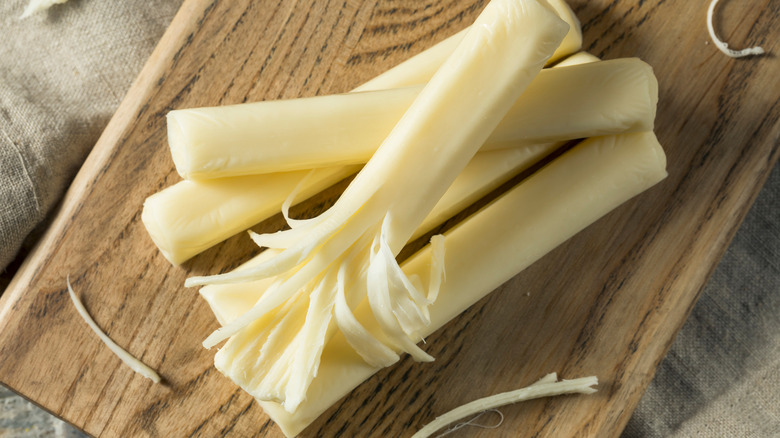 Brent Hofacker/Shutterstock
With nearly 2,300 supermarkets in the U.S., Aldi definitely knows what food items Americans most like to buy. And not just because it's keeping track of what products have the best sales, but rather the company makes a point of asking their customers each year what their favorite items are in a variety of food-related categories. The supermarket chain has surveyed its shoppers every year since 2019 to create a list of "fan favorites," and according to a press release, the results are in for 2023.
Over 70,000 people participated in the poll, which means Aldi is working from a very large sample size. Gallup's famous opinion polls, after all, survey only 1,000 Americans. The results show Americans in 2023 are just crazy about string cheese — Happy Farms String Cheese, to be specific. Dairy, in general, is having a moment, Aldi notes. In fact, dairy products earned the top spots in a whopping five of Aldi's 13 overall survey categories this year.
The dairy products that Aldi customers love most
Happy Farms String Cheese took top honors in the Snacks for Everyone category, and, as noted, was top-voted overall. Friendly Farms Cottage Cheese, meanwhile, finished first in the TikTok Made Me Buy It category. Friendly Farms Low Sugar Greek Yogurt was also a "fan favorite" in Aldi's yearly survey, the supermarket chain noted, winning in the coveted Rookie of the Year category. Two other dairy products — namely, mozzarella cheese and ice cream — also topped their respective categories. Emporium Select Fresh Mozzarella was the Choose Your Cheese winner, while Specially Selected Ice Cream was number one in Sweet Tooth Satisfaction.
Avocados are also having a moment in 2023, at least according to Aldi shoppers. The heart-healthy superfood was voted the "fan favorite" in Aldi's Cream of the Crop category, and avocado oil also scored big, leading all On the Lighter Side products in votes. Dairy and avocado weren't the only trends identified by the 2023 poll, however. Viral TikTok videos on #FoodTok helped to drive cottage cheese sales, which shot up 14%. Easy-to-make meals have also remained popular, with one brand of pizza — Mama Cozzi's Pizza Kitchen Take and Bake Deli Pizza — dominating in the Ready When You Are category. Aldi shoppers love this type of pizza so much that it has been a winner in all five annual surveys given by the supermarket chain.