Starbucks Rewards Members Can Now Get 50% Off Cold Drinks On Wednesdays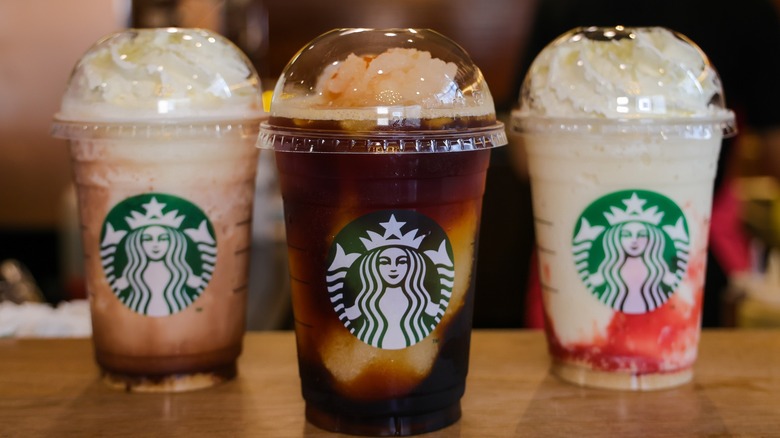 KPPWC/Shutterstock
Starbucks Rewards members just found a cool way to get over "Hump Day" and survive the summer heat wave. Beginning July 26, 2023, Starbucks will offer 50% off cold drinks purchased after noon every Wednesday, or "WinsDays," as the chain calls it, through August 9, 2023.
The offer is valid for the following three Wednesdays (7/26/23, 8/2/23, and 8/9/23) at participating restaurants. It cannot be combined with other offers or discounts — one coupon per Starbucks Rewards member per week.
50% off drink coupons will be available in the Starbucks app and can be applied at check-out. The offer includes dozens of cold and frosty drinks but excludes bottled, canned, and alcoholic beverages. This promotion is unavailable for delivery from Starbucks Delivers on Uber Eats or DoorDash.
If you're not a member, customers can join Starbucks Rewards for free by signing up online or on the app. Rewards can be redeemed for free food, drinks, merchandise, and add-ons like an extra shot of espresso for 25 stars. Members receive occasional perks, including a complimentary drink or food item for their birthday and free drip coffee refills while in the cafe.
Cool off on Wednesdays with your favorite Starbucks
Starbucks Rewards members can choose from their favorite caffeinated and decaffeinated cold beverages, including two new Coffee Frappuccinos — Caramel Ribbon Crunch, garnished with a dark caramel sauce and crunchy caramel-sugar topping, and Mocha Cookie Crumble, blended with Frappuccino chips and cookie crumbles. 
Coffee lovers looking for more caffeine and fewer calories can choose from Starbucks' long list of iced coffees, lattes, mochas, macchiatos, and the new featured cold brew, Chocolate Cream. Available in four sizes, this cold brew is sweetened with vanilla syrup and topped with a chocolate cold foam. 
Earlier this summer, Starbucks added three new frozen lemonades to its permanent Refreshers drink menu — Frozen Pineapple Passionfruit Lemonade, Frozen Strawberry Açaí Lemonade, and Frozen Mango Dragonfruit Lemonade. Refreshers are available iced or frozen in a dozen flavors, including Pink Drink (ideal for sipping on the way to see "Barbie"). 
While in the cafe, think eco-friendly and check out Starbucks' new line of reusable drinkware. The new collection features the artwork of Yiqiao Wang, who illustrates the word "connect" in American Sign Language (ASL) on the cups. Featured drinks and merchandise may be limited, so check your local store for availability.