Ninja's New Gadget Customizes Everything About Your Seltzer Water
SharkNinja, the parent company of the familiar small kitchen appliance brand Ninja, announced the launch of its newest product today, the Ninja Thirsti Drink System. This is the first product in the beverage category for the brand, which will compete with popular manufacturers like Drinkmate and SodaStream for the $1 billion at-home soda-making market.
The new system allows consumers to personalize their drinks by selecting flavor strengths, fizz levels, and drink sizes, providing thousands of options. The appliance makes still and sparkling water, dispensed directly into 6-ounce to 24-ounce cups with over 20 flavors of its Ninja Thirsti Flavored Water Drops. 
The drink system includes the Ninja Thirsti Station (in black), a 48-ounce removable temperature-sensitive water reservoir, a 60-liter CO2 cylinder (which carbonates up to 100 12-ounce drinks), and eight Thirsti Flavored Water Drops. 
The Ninja Thirsti Drink System is currently only available for pre-order directly from the company's website, retailing for $179.99. Eventually, it will be sold nationwide at Amazon, Walmart, Best Buy, Kohl's, and other major retailers. 
Makes thousands of flavored seltzer combinations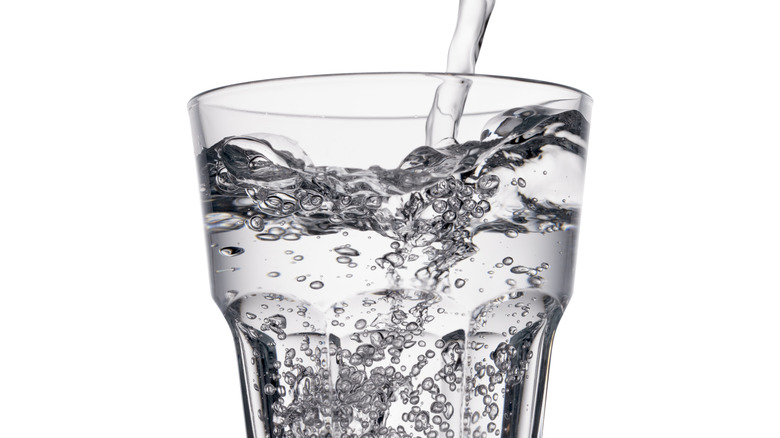 Plainview/Getty Images
Consumers can individualize their beverages by choosing one, two, or no flavored drops. Thirsti Water Drops are available in four categories — Splash, Vitamins, Hydrate, and Energy. All Thirsti Water Drops have zero calories and zero sugar, are naturally flavored, and are only compatible with the Ninja Thirsti Drink System. Each package retails for $6.99, and a pack of three for $19.99.
Splash Thirsti Water Drops deliver a hint of fruit to water, creating a classic seltzer beverage. They are available in eight flavors — Tart Lemon, Ripe Raspberry, Tangy Grapefruit, Tropical Pineapple, Juicy Watermelon, Summer Strawberry, Island Mango, and Exotic Passionfruit. Consumers can make ​​20 12-ounce flavored beverages with each package, while the rest of the flavor packs make 17 12-ounce drinks.
Vitamins Thirsti Water Drops are available in five flavors and add a dose of B Vitamins ( B3, B6, and B12) to the slightly fruity flavored water. Choose from Orange Tangerine, Dragon Fruit, Lemonade, Berry Punch, and Mango Peach Punch. Like popular sports drinks, Hydrate adds electrolytes to your still or sparkling water without wasting a single-use plastic bottle. It is available in four flavors — Coconut Pineapple, Watermelon Lime, Triple Berry, and Strawberry Kiwi. Energy drops contain 50 mg of caffeine per 12-ounce serving (similar to a cup of green tea). These drops are available in three flavors — Mango Peach, Lemon Lime, and Wild Berry.