Wait Staff As Young As 14 Could Serve Alcohol Under Proposed Bills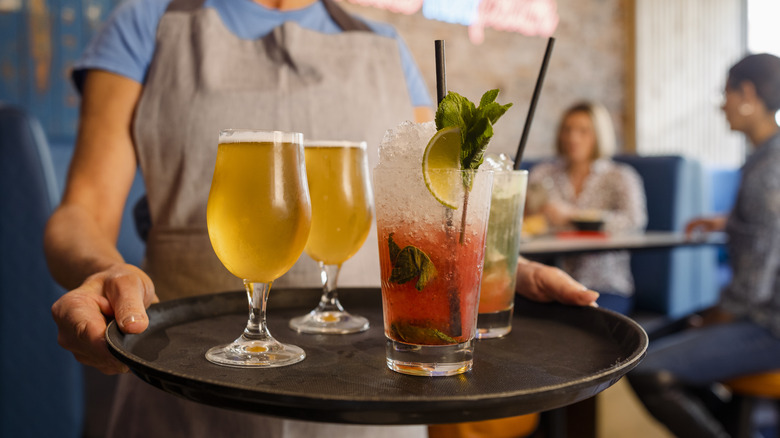 Solstock/Getty Images
The minimum drinking age in the U.S. is 21, thanks to a national law that went into effect back in 1984. Serving alcohol is another story, however, as laws in many states are increasingly being loosened to allow younger people — teenagers, in some instances — to work as bartenders and restaurant servers. As CNN Business reports, seven states have lowered the threshold for drink serving in the past two years, with legislation in two more states still pending. Wisconsin is one of them, and legislators in that state are currently pushing to allow anyone aged 14 or older to be legally able to serve alcohol. Legislators in Idaho, meanwhile, are less lax, and only want to roll back the minimum age to serve alcohol to 17.
If passed, the Wisconsin law would set a troubling precedent. Currently, West Virginia has the most lenient regulations regarding alcohol serving, as the state passed a law in 2021 making 16 the minimum age at which kids are allowed to bartend. According to the Economic Policy Institute, this series of age-related rollbacks is being driven by our nation's restaurant industry, particularly the National Restaurant Association. The reasoning is understandable, notes CNN Business, as the hospitality sector has been suffering through labor shortages, and is finding it increasingly difficult to fill job openings. But these new laws may have insidious side effects, and they reflect a growing trend of reversing century-old child labor laws. Child labor law violations, too, are on the rise.
Why lowering the legal age to serve alcohol is problematic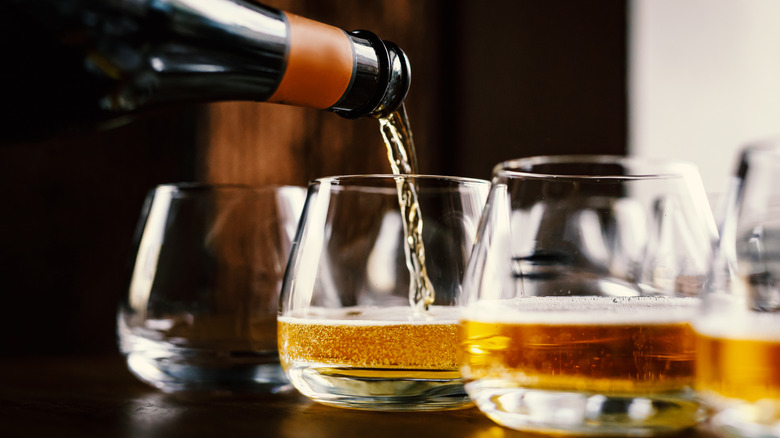 Piotr Piatrouski/Shutterstock
It's not just bartending or restaurant jobs that are putting kids at risk. As Robert Reich, former Secretary of Labor, noted in The Guardian, kids are increasingly working jobs requiring the use of dangerous equipment, not to mention round-the-clock shifts. And the rolling back of age requirements isn't limited to those serving alcohol. In Arkansas, for example, the governor has changed the law so that kids under 16 no longer need a work permit as a prerequisite for employment. Even with the loosening of laws, violations of child labor laws have still jumped precipitously, spiking by 37% in the past year alone.
Jobs that put kids in close proximity to alcohol are thus part of a larger trend of weakening American child labor law protections. But they also pose a unique set of problems. As the Economic Policy Institute points out, these kids are now at a greater risk of alcohol abuse or sexual harassment. They're also likely to be poorly paid. Of course, poor pay is one of the main reasons there's a restaurant labor shortage in the first place. As CNN Business reported, there were over one million unfilled hospitality jobs as recently as this May.
These shortages would be ameliorated by pending proposals like the Wisconsin legislation that would allow 14-year-olds to serve alcohol — albeit to seated customers only, per AP. But, likely at the cost of a whole new set of problems.