Pizza Hut Brings The Sweet Heat With Hot Honey Pizza And Wings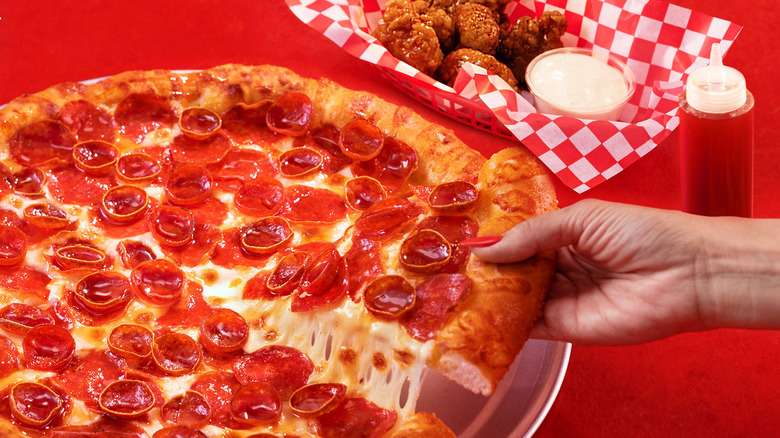 Pizza Hut
Something spicy and sweet is coming to select Pizza Hut locations. On July 18, the chain introduced Hot Honey Pizza and Wings as a limited-time offer for locations in Dallas and Cleveland. The pizza features traditional tomato sauce and cheese, as well as both regular and new crispy cupped pepperoni, the latter being the perfect little vessels to hold Pizza Hut's signature chili-infused honey that's drizzled over the top of the pie. 
It's the first time the chain has introduced a hot honey to its menu, though it's been a popular pick for other restaurants for years. The chain says the sweet nectar is infused with chili peppers, expertly designed to complement both the savory and salty flavors of the pepperoni toppings for "an explosion of taste," according to a press release.
Offered alongside the Hot Honey Pizza is Pizza Hut's Hot Honey Wings, which are slathered in the new sauce and "double-dipped in sweet heat flavors." The wings are available in both bone-in and boneless versions and available while supplies last at the Dallas and Cleveland locations as part of the initial launch. The Hot Honey Pizza starts at $11.99, while a six-count of wings starts at $5.99.
Hot honey mania comes to Pizza Hut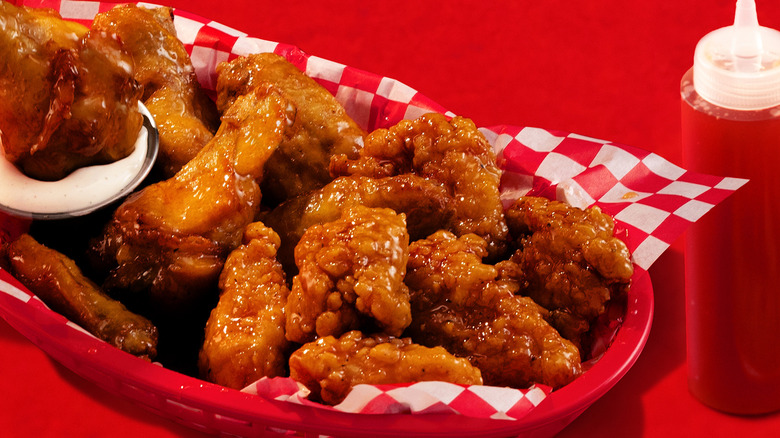 Pizza Hut
Pizza Hut is the newest chain to tackle the hot honey craze, following in the footsteps of Cicis, Anthony's Coal Fired Pizza, Old Chicago, and Donato's, among others. And, of course, restaurants like Buffalo Wild Wings and Wingstop have had hot honey wings as a staple on their menus for a while. Wendy's even recently introduced it on a new chicken sandwich. In fact, according to the industry website QSR, the number of hot honey-flavored menu items in America has grown 187% between 2016 and 2020.
The magazine states the trend for this new way of cooking with honey started in Brooklyn in 2004, when a student named Mike Kurtz was experimenting in his dorm room (he had previously tasted something similar on a trip to Brazil and wanted to try the flavor in the U.S.). According to the official website for his own Mike's Hot Honey (a popular pick that many restaurants use), Kurtz was working at a pizzeria called Paulie Gee's in New York City and introduced the owners to his chili-infused honey creation. Its popularity soon spread and, by 2020, the National Restaurant Association named "sweet heat" its flavor of the year. 
Thankfully, Pizza Hut has now caught on to the craze. Though there's no word yet if the chain will expand the Hot Honey Pizza and Wings to menus beyond its Dallas and Cleveland locations, judging by the mass appeal for this flavor, it may only be a matter of time.