Japanese Curry Is The Easiest Way To Make Leftover Vegetables Shine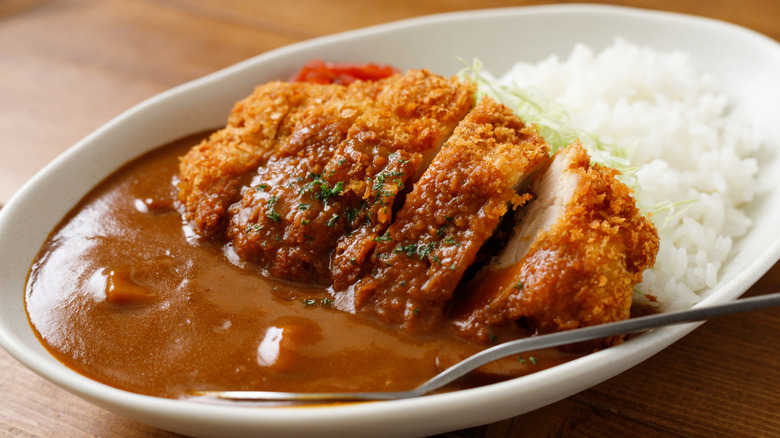 Koarakko/Shutterstock
Food waste is a dilemma that home cooks face from time to time. Whether it is a piece of chicken that is too small to make a meal on its own to vegetable odds and ends that have been lurking in the bin, it seems that they are destined for the garbage. According to Feeding America, the United States generates almost 120 billion pounds of food waste each year. When we waste food, not only are we wasting money that was used to purchase them, but we also wasted the resources that were spent to grow these foods for purchase. Decomposing food also emits methane, which is a greenhouse gas that contributes to climate change.
However, with some simple ingredients and some imagination, you can turn leftover vegetables into a tasty meal, and cut back on food waste. One of the easiest (and tastiest) ways to do so is to make Japanese curry. Easy to make and easy to reheat, a pot of Japanese curry is a hearty stew that can serve as a delicious one-pot solution to help eliminate — or at least reduce — food waste.
Japanese curry is a multiculture delight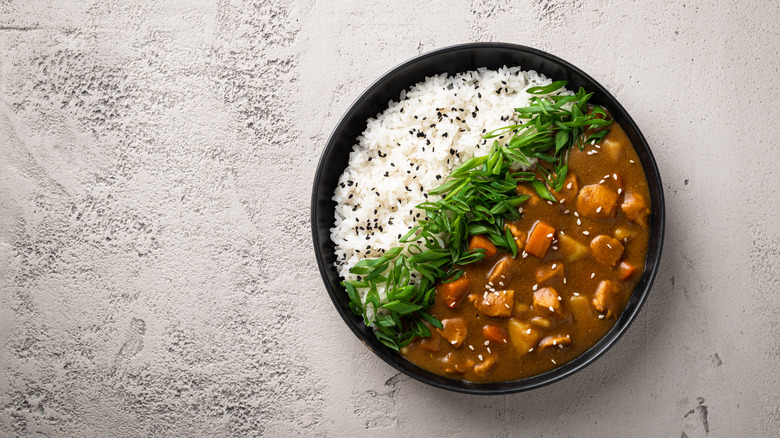 Olga Chzhu/Getty Images
Originally introduced to Japan by the British – who in turn learned of the dish through their colonization of the Indian subcontinent — what is known today as Japanese curry is a very different dish from its South Asian origins. During the Meiji Restoration, a period during which Japan was rapidly modernizing, curry was introduced as a way to feed its fledgling navy, just like the British. As the dish gained popularity over time, it evolved to adapt to local tastes, and today, curry is one of the most popular everyday dishes in Japan.
To make Japanese curry, you need a box of premade Japanese curry sauce cubes. Also known as roux, these cubes are designed to dissolve during the cooking process to flavor and thicken the stew. Trust us — just use a curry stock cube rather than trying to make it yourself — unless you feel up for milling some apples by hand. To start, chop onions, carrots, potatoes, and whatever leftover vegetables you have into bite-sized cubes. All vegetables work well, but those that can withstand long, slow cooking work better. If using vegetables that cook quickly such as asparagus or zucchini, add them at the end of the cooking process, so they do not dissolve into the stew.
Making Japanese curry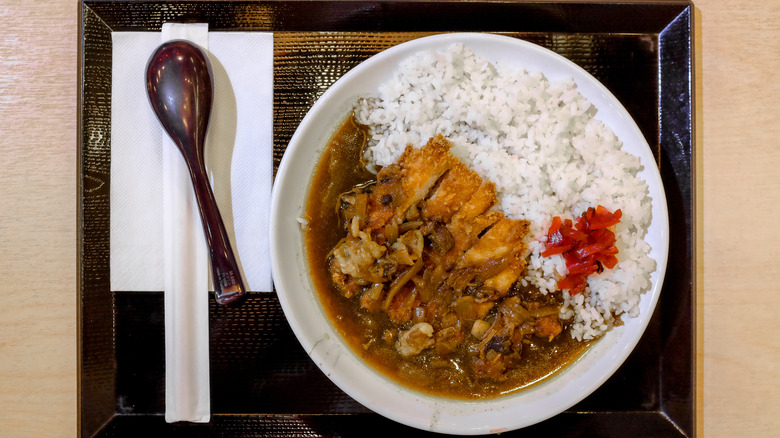 Grirk/Shutterstock
Optionally, mince garlic, green onions, and cilantro. Sauté your onions in a large pot with vegetable oil, and add cubed raw protein (firm tofu, pork, chicken, or beef), and garlic if using it. Stir frequently until the protein no longer appears raw on the outside, then add water to cover and bring the mixture to a boil before turning it down to a slow simmer. Add the vegetables (except ones that cook quickly) and let them simmer for 15-20 minutes until the vegetables are tender. Add the curry cubes and stir to make sure they completely dissolve, then add the quick-cooking vegetables and any soft tofu alongside the optional minced scallion and cilantro. The curry is ready once the vegetables are done.
Traditionally, Japanese curry is served with rice and beni shoga, a type of red pickled ginger different from the gari you find served alongside sushi. However, it can also be tossed with cooked pasta or eaten by itself like a stew, with crusty bread to sop up the sauce. Instead of meat, you can add a helping of protein by adding peeled soft-boiled eggs in the last 10 minutes of cooking. Poke the eggs with a toothpick so the sauce can penetrate and flavor them for extra deliciousness. Enjoy your curry and feel good in the fact that you're helping reduce food waste simultaneously.