Where To Find Ina Garten-Worthy Olive Oil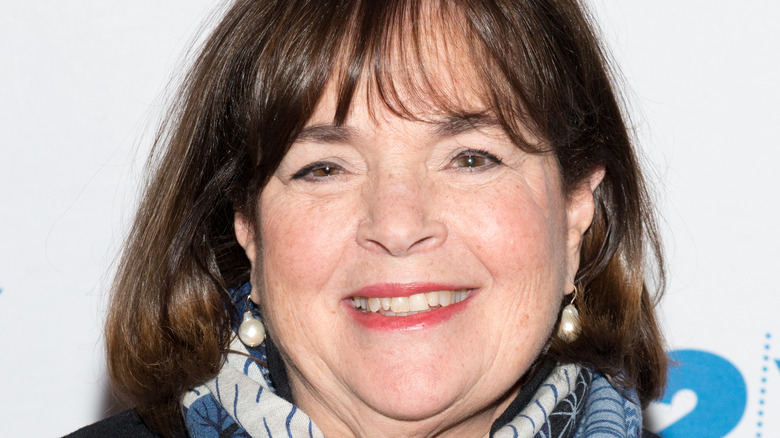 Noam Galai/Getty Images
We may receive a commission on purchases made from links.
If you're prepping a recipe from chef Ina Garten, chances are that it will call for "good olive oil." But, what makes one good (or not good)?
Opinions on the best olive oil producers and brands will inevitably vary, but there are some tips that can help guide you to finding a quality bottle. First, extra-virgin olive oil is a solid pick, as it's regarded as the top-shelf option and is often produced with rigorous attention paid to quality. Some top producers will highlight the fact that their extra-virgin olive oil is cold-pressed, but this is a bit of a distraction, as all EVOO is cold-pressed in order to earn that label.
Another tip is to go for bottles that are made of a dark-colored glass, as this protects the oil from light exposure, which can otherwise degrade it. If possible, try to see if there's a date for when the olives were harvested, too: the more recent should mean fresher and better-tasting oil. 
Some people may care about the origin of olive oil, but there isn't really any one country that's unambiguously regarded as the best producer and may be a matter of personal preference. A lot of Mediterranean regions (Italy, Greece, etc.) are regarded as high-quality sources, but even Ina Garten has stated that she prefers Californian oil over Italian olive oil, arguing that it's fruitier and less bitter. 
Ina Garten's olive oil of choice comes from California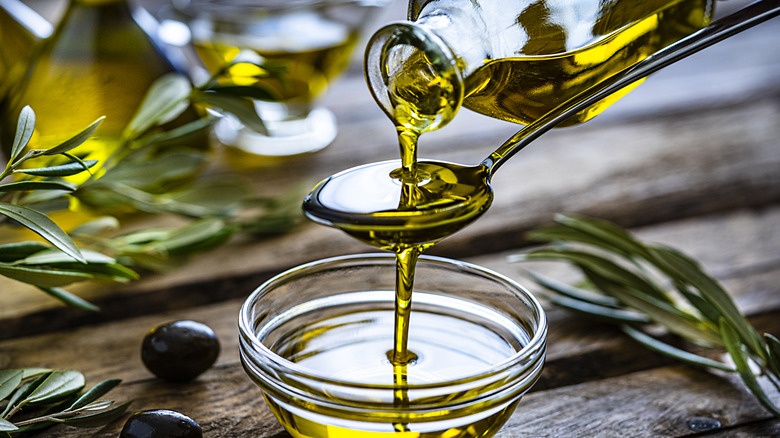 Fcafotodigital/Getty Images
If you really want to follow in the footsteps of the Barefoot Contessa, opt for Olio Santo's cold-pressed extra-virgin olive oil. Produced in Napa Valley, California, Ina Garten shares on her official site that she opts for it because "it's flavorful, fruity, and not heavy."
Olio Santo should be fairly easy to get your hands on. Homeware store Williams Sonoma carries it, retailing for $39.95 for a 25.4-ounce bottle, not including shipping fees. The company's website claims that it's an award-winning olive oil "from the celebrated Central Valley growing region," and notes it's great for dressing salads, adding to pasta (and maybe pasta water), marinating grilled foods, and dipping purposes.
As of summer 2023, Olio Santo olive oil is also listed for sale on Amazon, sold via Stonehouse Oil & Vinegar Co, which appears to be a third-party seller. Here, a 17-ounce bottle retails for $14, shipping excluded. It can also be purchased directly from that company's website for $20.
Other top-notch olive oils to consider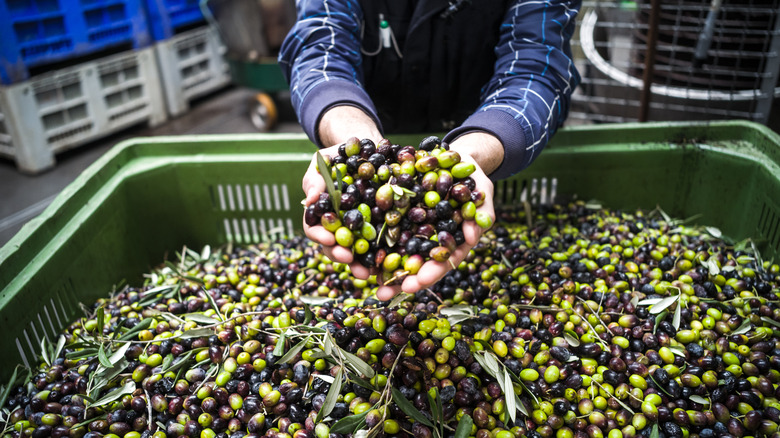 Sabinoparente/Getty Images
To be clear, Ina Garten does not expect her audience to always default to her brand of choice: After all, it may not always be available, or it may simply be too expensive for cooks on a budget. Garten clarifies on her site that "good" olive oil should simply be "the best oil that your budget allows" and also adds, "It certainly doesn't need to be the most expensive!"
Some other well-regarded oils include Coluccio Sicilian Extra-Virgin Olive Oil, a favorite of "Top Chef" judge Tom Colicchio (it's also a little cheaper than Olio Santo, at $13). Chefs Alton Brown and Sean Brock both favor Georgia Olive Farms' oil for its light and bright qualities, although it's a bit more expensive, selling for around $38 for 16.9 ounces.
If you're trying to save some dough, classic Costco brand Kirkland could be a solid bet, too. Its Organic Extra-Virgin Olive Oil has been given a thumbs up by some professional reviewers and chefs, including "Salt Fat Acid Heat" author Samin Nosrat, who recommends it in her book. It'll set you back around $30 for a hefty 67 ounces (or 2 liters).