Culver's First Ever Signature Sauce Is Tangy, Creamy, And Versatile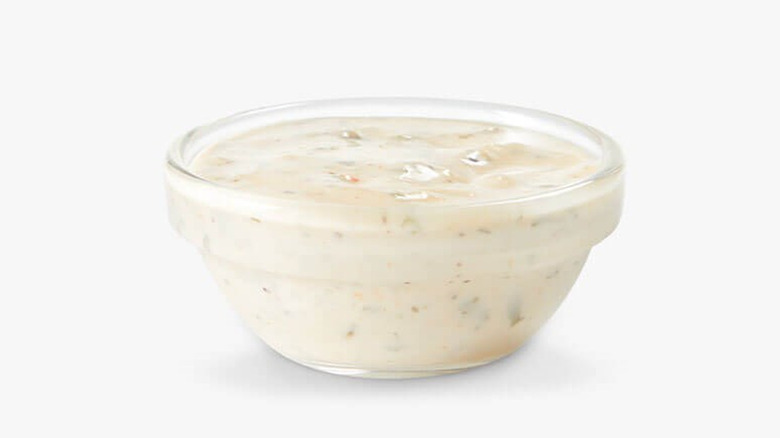 Culver's is perhaps best known for its ButterBurgers, frozen custard, and cheese curds, but now, the company is looking to stand out from other fast-casual restaurants with a newly introduced unique sauce. Culver's new Signature Sauce is a creamy blend of buttermilk, Parmesan cheese, and blue cheese (along with other ingredients like red wine vinegar, garlic, green onion, and bell peppers). The combination results in a tangy dressing that's intended to pair perfectly with anything from sandwiches and fries to salads.
"Our signature sauce is unique – the flavor melds and changes depending on which menu offering it's accompanying. Whether it's the savory taste of an onion ring or the warm crunch of our Butterfly Jumbo Shrimp, the sauce's unique combination of ingredients brings out even more of the Culver's flavor cues our guests know and love," Quinn Adkins, Culver's director of menu development, said in a press release.
Culver's Signature Sauce is one of at least a dozen sauces available on the menu, including two other new additions: Della Terra Marinara and Ken's Boom Boom Sauce. 
More on Culver's Signature Sauce
Culver's first location, in Sauk, Wisconsin, opened its doors in 1984. In the time since then, the brand has expanded throughout the country but has never introduced a signature sauce. When the company decided to create one, it focused on crafting a unique sauce with a base that differed from other brands that typically use mayonnaise, barbecue sauce, mustard, and/or ketchup.
According to Culver's press release, the sauce is now available at all of Culver's 900+ locations throughout the U.S. and has been met with positive feedback. However, the restaurant also appears to have tested the sauce in specific locations, according to a thread on Reddit from five months ago in which one commenter specified that the tangy sauce is particularly good when paired with chicken tenders. Another commenter likened its flavor to ranch dressing.
Meanwhile, on TikTok, a post about the new sauce has garnered positive feedback as well, with one commenter saying, "I'm literally eating Buffalo tendies with the signature sauce rn, best sauce ever."