Why Day-Old Batter Yields Better Crepes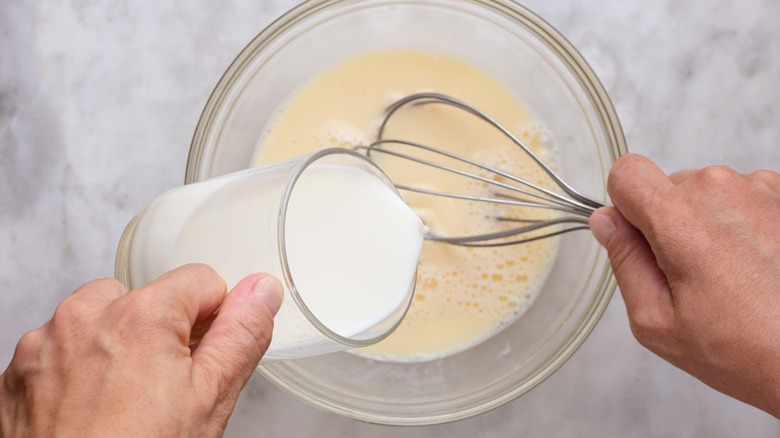 Tatiana Foxy/Shutterstock
Crepes can seem like a pretty fast dish to whip up: In some recipes, all you're doing is whisking the ingredients together, then cooking them up in a greased or buttered frying pan or griddle — the perfect rapid breakfast or brunch (or dessert — or lunch or dinner if you're going savory). But there's one extra step that can take your crepes to the next level: Leave the batter to rest in your refrigerator overnight, and you'll get crepes that are more tender and cook more evenly.
This isn't exactly a little-known secret, as it's not uncommon for crepe recipes to recommend letting your batter rest for a certain amount of time. Likely for the sake of convenience, recipes may suggest leaving the batter to sit for a short period (say, 30 minutes), but a longer period is better — within reason. Since crepe batter contains milk and eggs, it's not safe to make your crepe batter more than two days ahead; if you're leaving it to settle for more than an hour or two, it's absolutely essential to put it in the refrigerator.
The science behind letting crepe batter rest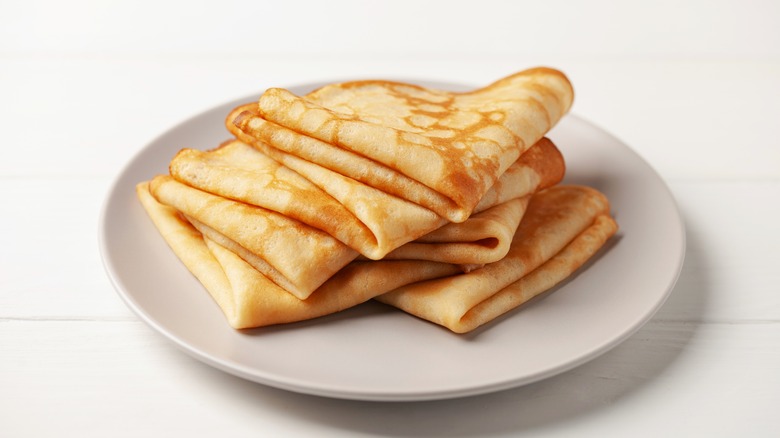 NatalyaBond/Shutterstock
Letting your crepe batter rest allows the dry ingredients to absorb moisture — specifically, it's the starch in the flour that does all this absorption work. This helps to disperse flour and other dry ingredients through the mixture, resulting in a batter that will cook more evenly. It also loosens up the gluten in the batter, making for a softer end product: By not letting it rest, you run the risk of gummy crepes. This is also why you shouldn't over-mix crepe and pancake batters; it can overwork the flour and bind all the gluten together too tightly, locking out air bubbles that would make your batter nice and light when cooked.
Once you're ready to cook the crepes, just take them out of the fridge and go – there's no need to let the batter return to room temperature.
It's not just for crepes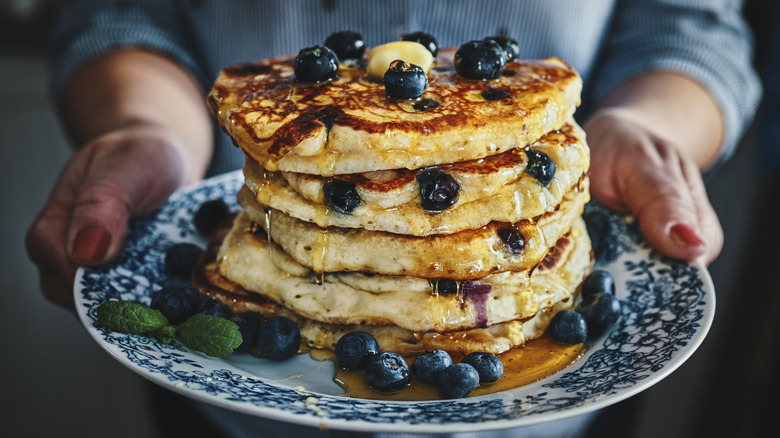 Gmvozd/Getty Images
The same method works when making perfect pancakes, and it may arguably even work better. Since the batter tends to thicken as it rests, it won't spread so thinly in the pan or griddle, allowing you to make thicker, fluffier pancakes (for delicate French-style crepes, you may need to thin the batter with some extra liquid if you've left it to rest). 
For waffles, it's not so clear-cut: If you're making them with yeast, letting the batter rest overnight can help them get nice and fluffy. But non-yeast batter (for example, made with whipped egg whites) will just thicken and get less fluffy if you leave it that long. Some recommend letting these non-yeast waffle batters rest for 30 minutes to an hour, but it may not be necessary. After all, whipped egg whites may start to separate within that timeframe.
No matter what you're making, letting your batter sit may seem like a burdensome extra step. Yet it can also be a handy time-saver: If you're cooking brunch, just throw the batter together the day before. Then in the morning, all you need to do is heat up a pan and you're ready to go — granting you 15 minutes of bonus sleep, or at least extra time to enjoy that first cup of coffee.