Lemon Herb And Crab-Crusted Baked Cod Recipe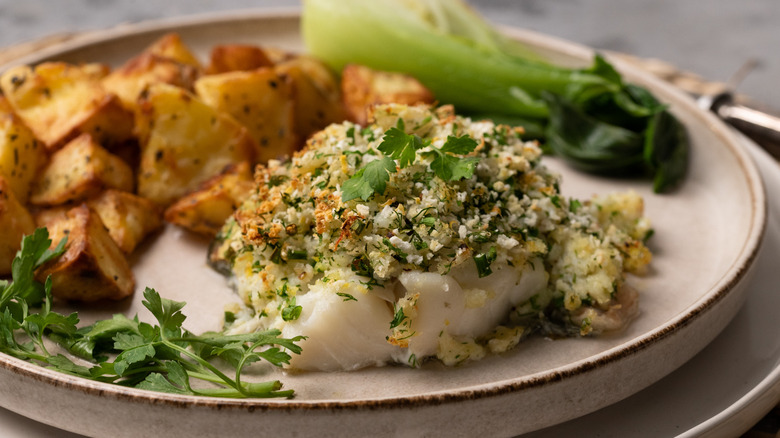 Jennine Rye/Food Republic
There aren't many types of fish that have sparked actual wars, and even fewer that have sparked a number of conflicts. But between the late-1950s and the mid-1970s, the UK and Iceland engaged in no fewer than three "Cod Wars," disputing the rights of their fishing vessels to catch the popular white fish. While these wars weren't exactly full-blown, declared wars, there was nonetheless quite a bit of tension in the waters, all because of both nations' desires for cod. Thankfully all is peaceful now, and people in countries across the world can and most certainly do enjoy the delightfully flaky white fish.
This recipe for baked cod has been created by recipe developer Jennine Rye, and it combines the mild flavor of the ever-popular fish with the zingy citrus of lemon, the freshness of herbs, and the salty sweet taste of crab to make a delicious meal that can be enjoyed for lunch or dinner. Read on to find out how to make this elegant seafood dish right in your own home.
Gather the ingredients for this lemon herb and crab-crusted baked cod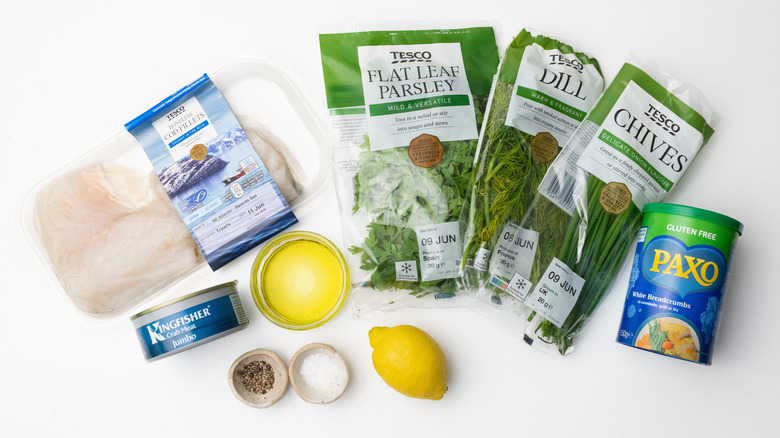 Jennine Rye/Food Republic
To make this lemon herb and crab-crusted cod first you will want to gather the ingredients. You will need crab meat; fresh is the best option if you can access it, but if you don't have that option canned crab is a perfectly suitable and delicious alternative. The same goes for the herbs: You'll need dill, flat leaf parsley, and chives. Again, fresh should be your first choice, but dried will do if that's all you have available.
You'll also require a lemon and breadcrumbs, and, lastly, cod fillets. If you are unable to get your hands on cod, or would like to give this recipe a bit of a twist, there are other white fish you could use as great substitutes, such as hake. 
How to select good fish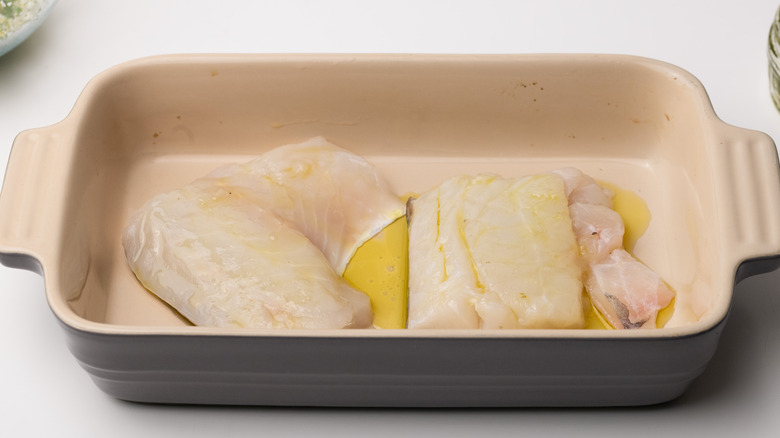 Jennine Rye/Food Republic
As the cod is the headline act in this recipe, it's worth giving some consideration to selecting a good fish fillet. Things to think about include frozen or fresh, farmed or wild caught, and which options best suit you will certainly depend on your individual circumstances. If you live in or near the sea, a freshly-caught cod landed that morning and filleted the same day would be ideal, however, if you're further inland, a fish frozen soon after being caught will have retained more of its flavor and freshness by the time it reaches you. If in doubt, consult a trusted fishmonger who will guide you to the best fish within your price range.
Mix the lemon, herb, and crab topping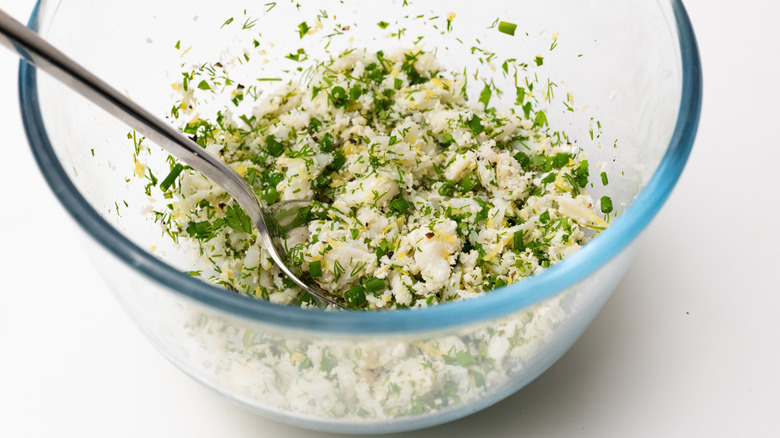 Jennine Rye/Food Republic
With the fish sourced, and the other ingredients gathered, it's time to get started. Preheat the oven to 350 F, then add the crab meat, breadcrumbs, freshly chopped herbs, and the lemon zest into a small mixing bowl, giving them a good mix with a spoon. Season the mixture well with salt and pepper to taste and then put it to one side ready to be heaped on to the cod fillets.
Bake the cod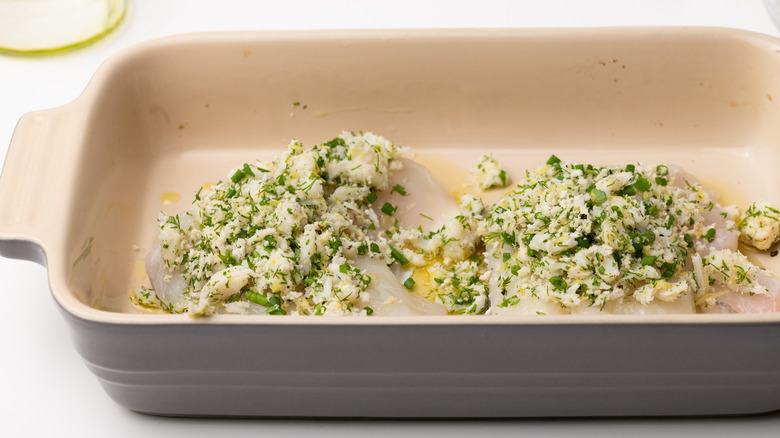 Jennine Rye/Food Republic
Now it's time to bring everything together. Drizzle some olive oil into a baking dish to make sure the fish doesn't stick while cooking, and then carefully place the cod fillets into the dish. Drizzle the remaining oil over the fish making sure it is well coated to keep it moist during its time in the oven. Then heap the lemon, herb, and crab topping on top of the fillets (it doesn't have to be perfectly neat) and bake at 350 F. It should take around 20 minutes, but if you want to be precise, the cod will be ready when the internal temperature of the fillets reaches 145 F.
Remove the cod fillets from the oven and serve fresh with your choice of side dish. Any leftovers can be stored in an airtight container in the fridge, and should be consumed within three days.
Lemon Herb And Crab-Crusted Baked Cod Recipe
These cod fillets feature a lemon herb and crab topping, which makes for a bright seafood delight with every bite.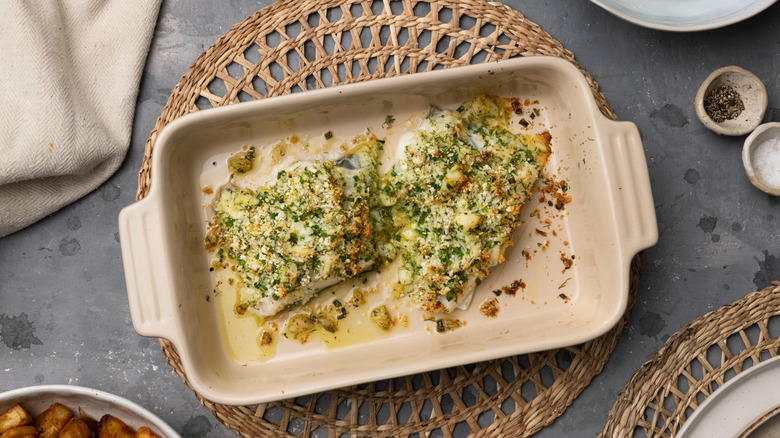 Ingredients
2 tablespoons cooked crab meat, fresh or tinned
2 teaspoons lemon zest
1 ½ tablespoons breadcrumbs
1 tablespoon dill, finely chopped
1 tablespoon flat leaf parsley, finely chopped
1 tablespoon chives, finely chopped
salt, to taste
pepper, to taste
1 tablespoon olive oil
2 cod fillets, deboned
Directions
Preheat the oven to 350 F.
In a small bowl, add the crab meat, lemon zest, breadcrumbs, dill, parsley, chives, salt, and pepper. Mix everything together.
Drizzle a small amount of the olive oil into a baking dish, and then place the cod fillets into the dish. Drizzle the remaining oil over the fish and make sure the fillets are well coated.
Heap the crab and herb mixture on top of the cod fillets, then place them into the oven to bake for 20 minutes, until the cod is cooked through.
Serve the crab-crusted cod right away.
Nutrition
| | |
| --- | --- |
| Calories per Serving | 280 |
| Total Fat | 8.7 g |
| Saturated Fat | 1.3 g |
| Trans Fat | 0.0 g |
| Cholesterol | 107.5 mg |
| | |
| --- | --- |
| Total Carbohydrates | 4.7 g |
| Dietary Fiber | 0.7 g |
| Total Sugars | 0.4 g |
| Sodium | 599.3 mg |
| Protein | 43.5 g |