The Best Hot Sauces To Pair With Fish For Vibrant Flavor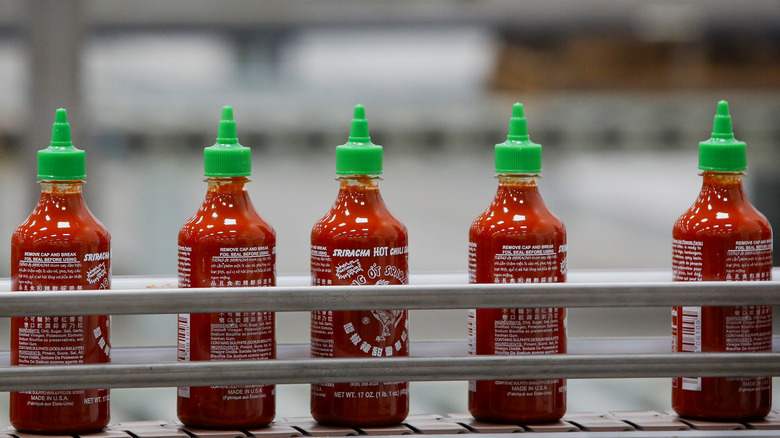 Bloomberg/Getty Images
Since its domestication by peoples in central-east Mexico 6000 years ago, chili peppers have found their way into the human diet. Thanks to the discovery of the Americas and trade between Asia and Portuguese mariners, chili pepper spread across the globe by the 16th century. Since then, people around the globe have been addicted to its fiery bite, and one of the most common ways to add some spice to your food is with hot sauce.
From diner counters to kitchen cupboards, hot sauce is as ubiquitous a condiment as mustard and ketchup. It is available from common brands such as Tabasco and Cholula, to artisanal small-batch labels made by chili enthusiasts. It has been made from everything from the mildest pepper to ones that you shouldn't touch without protective gear, and combined with everything from tropical fruits to truffles. But aside from spiking your bloody mary or seasoning your omelets at the diner, hot sauce can lend itself to a wide array of uses — and one of the ways to utilize the taste of hot sauce is to combine it with fish. After all, what would fish tacos be without a splash of Cholula?
Go classic: fish tacos and hot sauce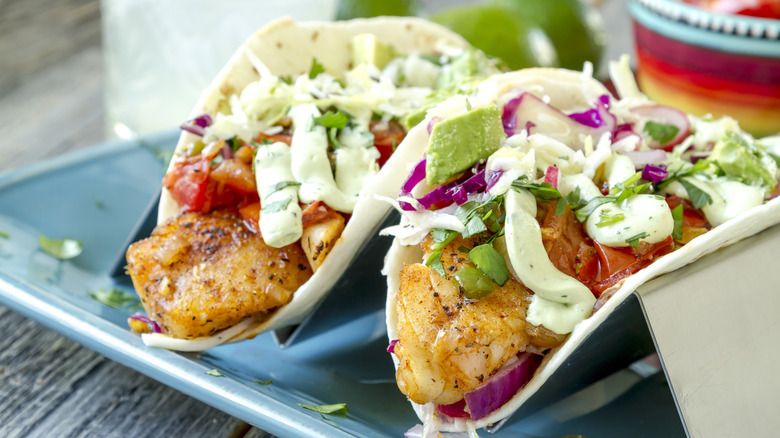 Teri Virbickis/Shutterstock
One of the most popular ways to use hot sauce with fish is the fish taco, which is made with firm white fish such as haddock or grouper. Cut them into large fingers, then coat them in seasoned flour before dipping them into beaten eggs and coating them with breadcrumbs. Fry the fish fingers in hot neutral oil with a high smoke point quickly until they are golden brown. Alternatively, you can season and grill or pan-fry the fish without breading. Serve them with tortillas, shredded cabbage, avocado chunks, salsa, sour cream, and hot sauce, and you have a complete fish taco bar for an easy and fun dinner.
As for which hot sauce to use, there are a couple of recommendations. For firm white fish, you would want a hot sauce that has a fruity flavor profile, and Char Man Caribbean Hot Sauce, made with spices familiar to Caribbean cuisine, has just the right amount of heat and fruitiness to enhance the flavor of the taco. Top with a fruit-forward salsa, like mango (and yes, even mangos with white pockets are safe to eat) to complete the meal.
Alternatively, you might want to try Poor Devil Pepper Co.'s Green Widow. Made with jalapenos and cumin, the sauce has a more vegetal flavor profile, which is great for those who are less inclined for fruit-forward flavors. Look for salsas that are either fruity or have a nice acidic bite to them to really complement the delicate flavors of fish. 
Spice it up: Raw fish and Sriracha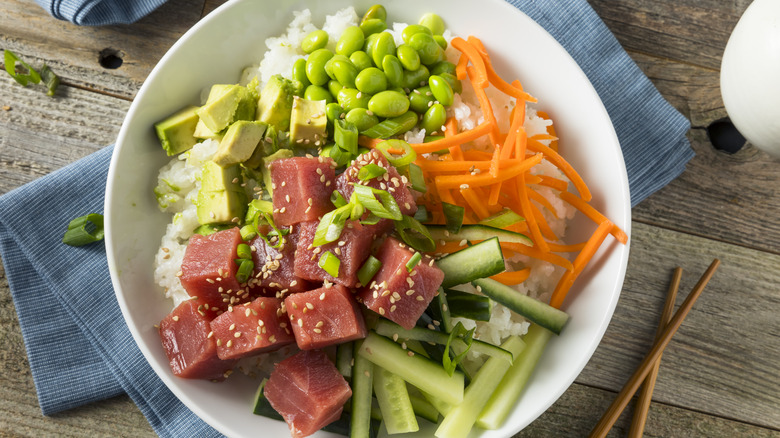 Bhofack2/Getty Images
While cooked fish and hot sauce go well together, so too do hot sauce and raw fish. One master of raw fish dishes is Hawaii, and one of the most popular dishes there is poke, which comes in a myriad of styles. For an easy meal,  mix cubed raw fish, soy sauce, hot sauce, and mayonnaise with other seasonings. While a vinegar-based hot sauce could work, raw fish works particularly well with something that has a stronger flavor. The most obvious (and delicious) choice is sriracha, a condiment that has gained global popularity in recent decades. Originally invented in Thailand, the sauce is a popular way to add heat and savory spice to various dishes, from fried eggs for breakfast to fried rice for dinner. The subtle sweetness with mild garlic undertones pairs well with a fresh dish like poke.
To create a poke bowl, you need a fish like sushi-grade tuna — something that is suitable for raw use. Dice the fish into large cubes, about the size of a small game die. Mix sriracha, Japanese mayonnaise (Kewpie), soy sauce, into some sesame oil. Place the diced fish into the bowl alongside chopped spring onions and mix. You can also add additional ingredients to poke for added texture, such as chopped avocado, shelled edamame, toasted sesame seeds, and sliced vegetables (carrot and cucumber are always good choices). Serve cold alongside a bowl of rice to make a satisfying and light dinner. For a little extra oomph, drizzle a touch more sriracha on top.