The Bear's Proto-Menu Celebrates The Casual Chaos Of Fine Dining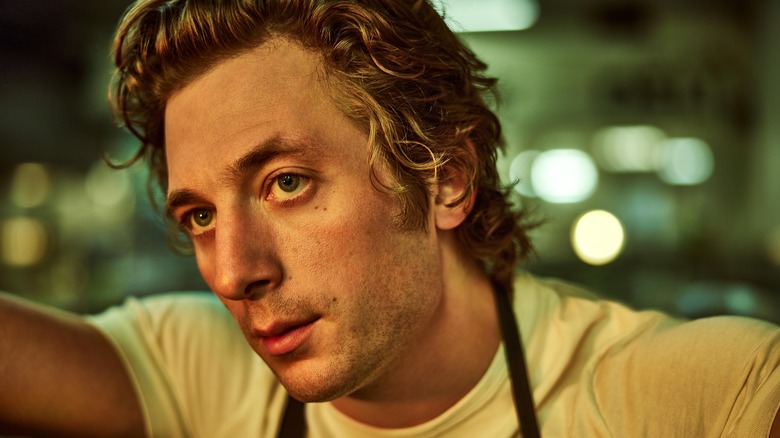 Courtesy of FX
This article contains spoilers for "The Bear" Season 2, Episode 2 — "Pasta"
"The Bear," the Hulu dramedy that enthralled viewers with its grimy, behind-the-scenes look at what it takes to run a restaurant, is back for a second season, and it's out of the frying pan and into the fire for the island of misfit toys in Chef Carmy's kitchen.
Season 2 sees Carmy and his sous chef Sydney transforming Carmy's late brother's Chicago beef shop into a new restaurant: The Bear. The only problem is that Carmy and Syd haven't quite figured out what to serve at their new establishment. Both come from fine dining backgrounds but have been working in the trenches at a humble sandwich joint, struggling to toe a fine line between accessibility and finesse.
In episode 2 of season 2, we get a sneak peek at some possibilities for the new menu, and man, are they intriguing. "Still thinking chaos menu?" Sydney asked as she and Carmy jot ideas down on a whiteboard. "Yeah. Chaos menu, but thoughtful," he replied.
What is a chaos menu?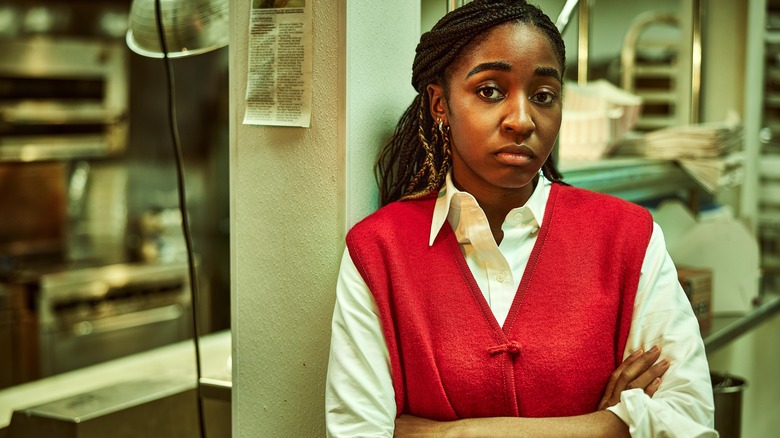 Courtesy of FX
"Fusion" and "New American" dining are out, and "chaos cooking" is in. The term started popping up in late 2022 as a new generation of chefs drawing on various cooking styles and inspirations looked for terminology that didn't feel loaded or limiting. "Fusion" and "New American" had previously been used to describe restaurants that didn't fit into a narrow interpretation of what many felt Mexican, Italian, Japanese, or other locale-oriented restaurants should look like. But contemporary chefs are shaking off these expectations and letting their food speak for itself, with no label required.
Sometimes, these chaos dishes come from necessity. Syd mentions in episode 2 that she was fired from her last job after she spent 72 hours making lamb ragù, only to have the pasta she tried to make with it flop. As a last-minute solution, she served the ragù on top of King's Hawaiian rolls. This high/low mashup probably tasted delicious, even if it didn't meet her demanding client's expectations.
What's on the menu?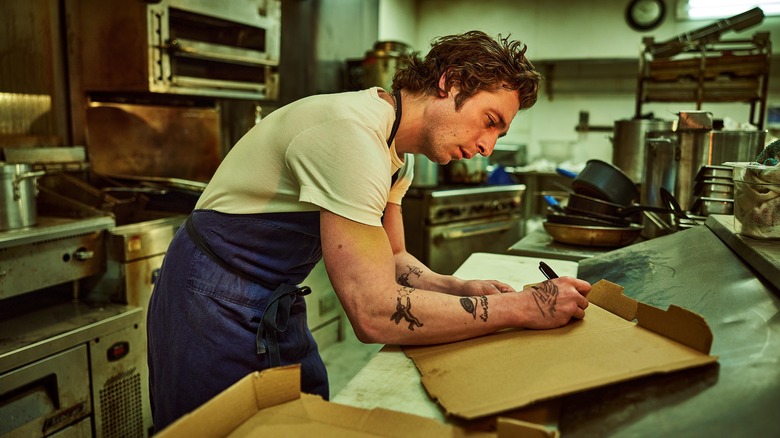 Courtesy of FX
In episode 2, Carmy and Sydney throw out dozens of ideas for new dishes, but a few seem to really get them excited. There's a veal chop with demi-glace, which might be found at a fine dining French-inspired restaurant like the one Carmy worked at in his former life. They also mention Hamachi crudo, a Japanese dish with raw yellowtail with soy and yuzu dressing, and frozen Concord grapes with beef consommé and smoked bone marrow (a fascinating proposition). Even Amatriciana may make the menu, an Italian pasta sauce made with cured pork jowl, tomatoes, and Pecorino Romano, to which Syd seems to suggest adding cherry vinegar. It's an eclectic mix, but it will be up to Carmy and Syd to make the menu tell a cohesive story despite its Frankensteined components.
Near the end of the episode, after cooking up a mouthwatering veal stock, Carmy is seen picking up a container of grocery store vanilla ice cream and mentions that he plans to make a "veal stock sundae." This could be read as a joke, but given the wild look in his eye, it just might be true.