How To Safely Buy And Order Food During Intense Air Pollution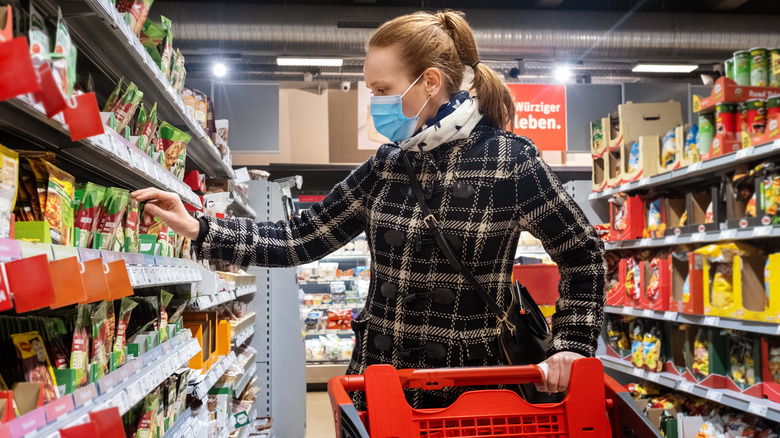 Alvarez/Getty Images
Trying to feed yourself during an air pollution warning feels like yo-yoing back to the early days of the COVID-19 pandemic: You might be scared to leave your house, inclined to wear a mask if you do, and even a trip to the grocery store can feel like wading through an apocalyptic landscape. As smoke from Canadian wildfires has floated south, blanketing New York City and much of the Northeast in a sepia haze, you might be wondering how safe it is to venture outside in search of nourishment.
It's true that you do want to limit your amount of exposure to toxic air pollutants by staying inside whenever possible, so if you don't have to leave the house, you really shouldn't. Assess your food situation and determine what you actually need. If you're feeling like a pint of Ben & Jerry's would really hit the spot, take a step back and figure out if you can make yourself dinner for the next few days first.
Going grocery shopping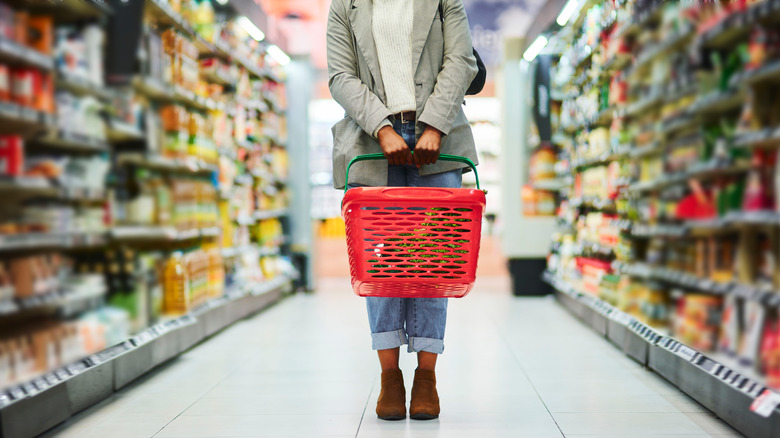 Adene Sanchez/Getty Images
Situations like these are an opportunity to do a pantry deep dive, and reach for those staples with long shelf lives that can be turned into a meal in a snap. Stocking up on things like dried beans, rice, pasta, and frozen vegetables can save you in times like these.
Avoid frying food, or cooking anything that would fill your house with smoke, since you want to keep your windows closed and won't be able to air out your kitchen as effectively.
If you're really out of food, make a list of everything you and the other members of your household need, and schedule one trip to the nearest grocery store. Now is not the time for running back and forth because you forgot to get pasta sauce or oat milk.
Choose a grocery store you can access via public transportation if possible, since more cars on the road contributes to more air pollution. Wear an N95 or KN95 mask for the duration of your trip. Since toxic particles from wildfires are far smaller than those carrying respiratory diseases like COVID-19, standard surgical masks or cloth masks are not nearly as effective for combating air pollution.
Ordering delivery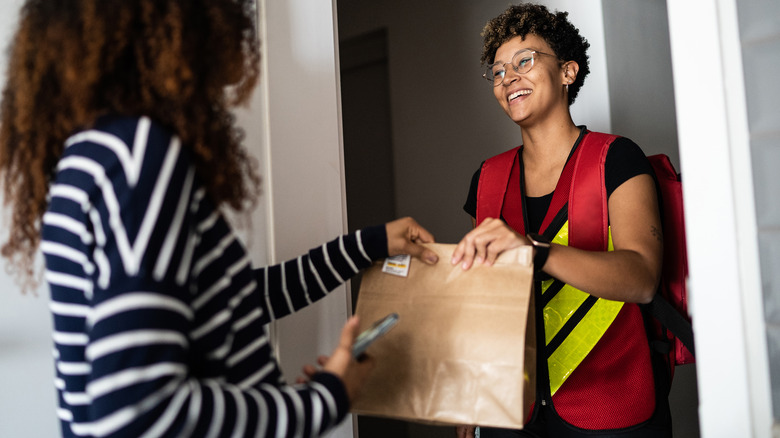 Fg Trade/Getty Images
There are situations in which food delivery is the most accessible option, however, especially if you have underlying health conditions that make going outside a greater health risk for you, such as asthma or other respiratory illnesses.
If you do decide to order takeout or grocery delivery, make sure to tip your delivery person well. That means more than the 20% you would normally tip for your cardboard-boxed chicken tikka masala or California roll. Think of it this way: You're paying a premium for someone else to take the health risk you're not willing to take. Try to order from places close to you as well, so that your delivery folks don't have to travel far and increase their exposure. Maybe order something that can tide you over for a few days, so you won't have to keep relying on delivery.
You should also be gracious if your favorite taco spot decides to close up shop for the day until conditions are less dangerous.