James Beard Chef And Restaurant Awards Announces Winners For 2023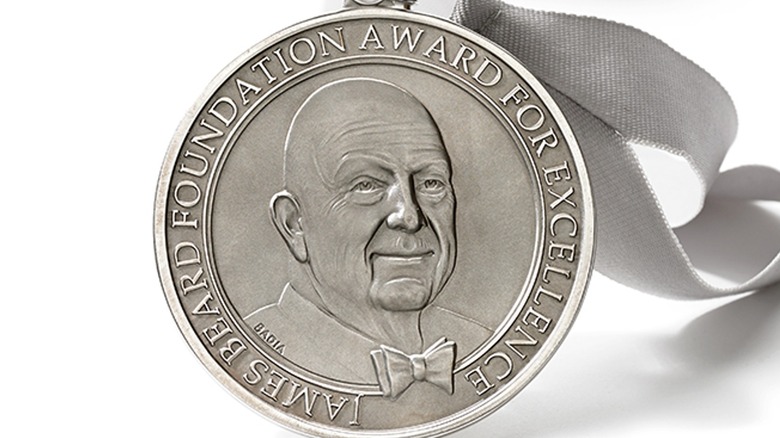 James Beard Foundation
The James Beard Foundation presented its prestigious prizes last Monday night at the Lyric Opera in Chicago. Established in 1990 with its first ceremony held in 1991, the James Beard Awards are one of the highest honors in the American culinary world, often called "the Oscars of the food industry." The Foundation is named in recognition of esteemed chef James Beard, who is cited with revolutionizing American culture's relationship with food, while its mission is to "celebrate, support, and elevate the people behind America's food culture and champion a standard of good food anchored in talent, equity, and sustainability."
However, the awards have met their fair share of controversy in recent years due to issues regarding diversity and representation, as well as ethical conduct. In 2018, the James Beard Foundation overhauled the awards in an attempt to improve inclusivity; the changes consisted of diversifying the pool of judges and placing more emphasis on social justice issues. However, the 2020 awards were canceled due to accusations of a lack of diversity and workplace abuse amongst the finalists. The Foundation, in turn, established an ethics committee in 2021, which led to an investigation of at least two finalists in this year's awards. Still, the 2023 ceremony went on with nary a live issue and featured live appearances from newly-elected Chicago Mayor Brandon Johnson and Illinois Governor J.B. Pritzker. Here are the winners of the big night.
Outstanding Restaurant – Friday Saturday Sunday in Philadelphia, PA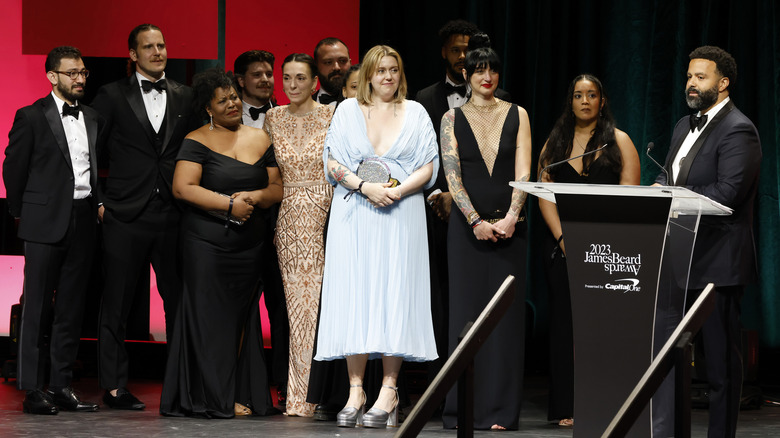 Jeff Schear/Getty Images
Founded by husband-and-wife duo Chad and Hanna Williams, Friday Saturday Sunday offers a fixed eight-course tasting menu in the historic Rittenhouse Square area of Philadelphia, the City of Brotherly Love. The building's ground level holds a cocktail bar, but for the real culinary experience, you'll have to move upstairs, where New American cuisine "seasonally inspired and rooted in classics" is served in an "intimate" dining room. The menu, which includes sweetbreads, quail, and semifreddo, aims to provide "complex flavor and precision paired with luxury ingredients."
The Williamses, who are Philadelphia natives, opened the spot in 2016 to replace a restaurant of the same name. During the awards ceremony, Chad thanked his staff, proclaiming: "I am eternally grateful for everything you bring to the restaurant every day. You bring our vision to life and you have changed our world, and it means everything to the guests that come in and make this place their second home."
Outstanding Restaurateur – Ellen Yin of High Street Hospitality Group in Philadelphia, PA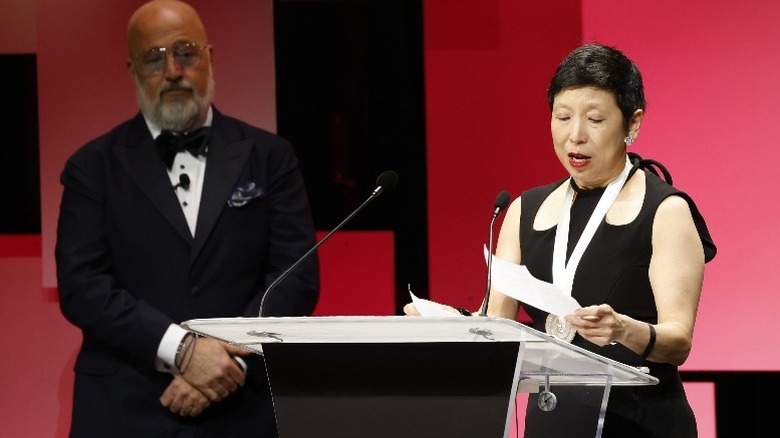 Jeff Schear/Getty Images
It was a big night for Philadelphia, as five-time finalist Ellen Yin took home the prize of Outstanding Restaurateur for the work she's done for her High Street Hospitality-operated eateries around the city. Yin opened her first restaurant, Fork, in the Old City neighborhood, before expanding her empire to include several other acclaimed locations.
The Philadelphia Chamber of Commerce recognized Yin and High Street Hospitality Group for their social work during the COVID-19 pandemic, which included delivering food to essential workers. Yin also helped raise money for anti-Asian discrimination organizations through the pop-up kitchen The Wonton Project, while her position as a co-chair on the Sisterly Love Collective has helped her connect with women working all across the Philadelphia hospitality industry. Yin, who is from Rumson, New Jersey, praised her city of operations during her acceptance speech, saying: "I could not be more proud to accompany such a talented group of Philadelphians to represent our city."
Outstanding Chef – Rob Rubba of Oyster Oyster in Washington, D.C.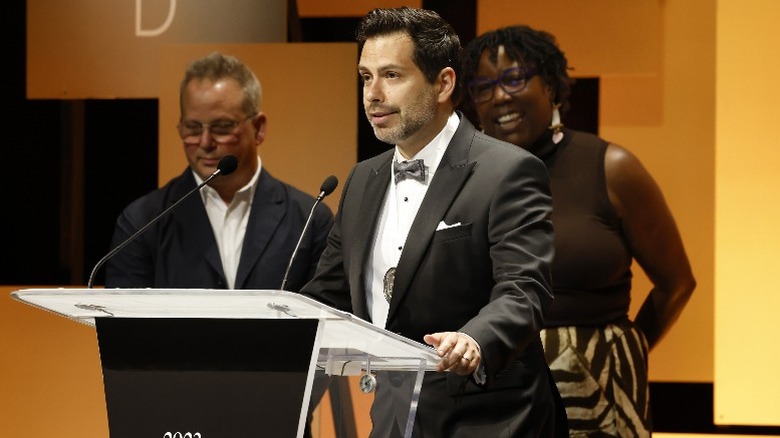 Jeff Schear/Getty Images
Rob Rubba took home the Outstanding Chef prize after his restaurant Oyster Oyster was a finalist for Best New Restaurant at last year's James Beard Awards. Rubba has already enjoyed accolades like Food & Wine's Best New Chef, while his tasting menu spot has garnered a Michelin star, but the chef's prestigious James Beard Award marks yet another trophy on his shelf. 
Oyster Oyster's cuisine utilizes wild local ingredients such as oyster mushrooms and Chesapeake Bay oysters (which are both what the restaurant is named after) in order to promote environmental sustainability. Biodynamic wines and drafts made with Virginia grains are also part of the menu. Washington, D.C. outlets celebrated Rubba's win as a victory for the city, as the Shaw eatery marks the first James Beard Award recipient for the district since before the COVID-19 pandemic. Rubba thanked his business partner Max Kuller, his wife Deb and two kids, and the individual members of his restaurant staff.
Emerging Chef – Damarr Brown of Virtue in Chicago, IL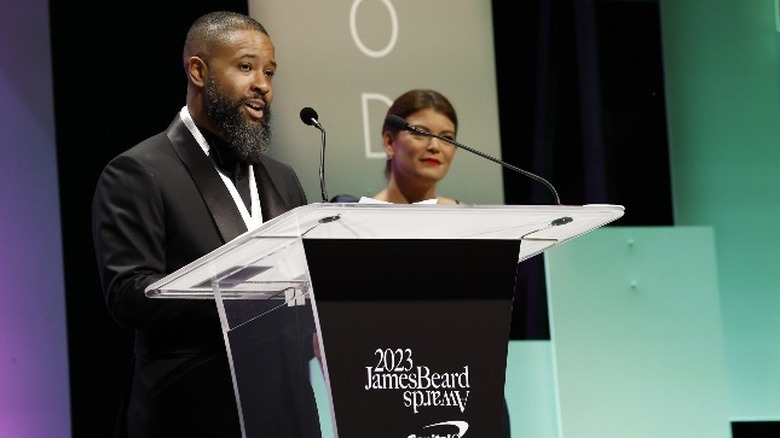 Jeff Schear/Getty Images
Damarr Brown, who won last year's Best Chef award in the Great Lakes region, made his triumphant return to the ceremony with the national Emerging Chef prize. Brown's restaurant Virtue, located in Hyde Park, serves up Southern-style cooking using "heritage techniques" in a "warm, honest, and thoughtful space." Brown credits his grandmother, as well as Virtue owner Erick Williams, with training him in the cooking skills that he owes his success to. These achievements include getting voted as Fan Favorite as one of the final four contestants on Bravo's "Top Chef" and becoming one of Food & Wine's Best New Chefs (alongside Rob Rubba). 
Brown, who became the first Black chef to win the Great Lakes award and operates in a Black-owned business, thanked Williams in his acceptance speech: "I've always thought that it was extremely difficult to see yourself doing something if you don't see someone who looks like you doing it... So I'd like to thank Chef Erick Williams. For the last 13 years, you have been an example for me. I stood because you stood."
Best New Restaurant – Kann in Portland, OR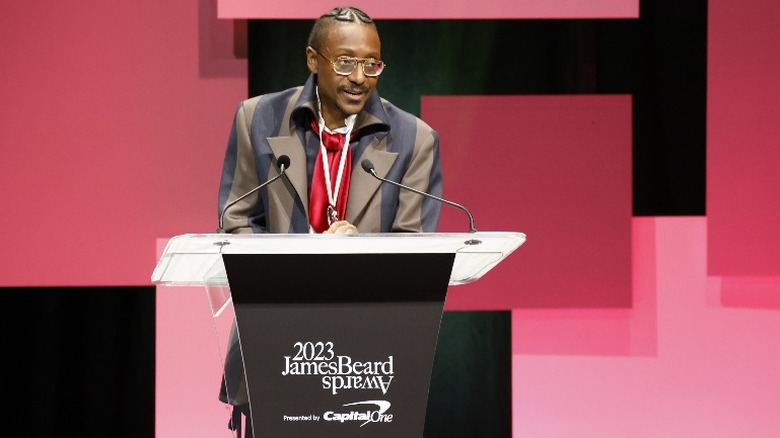 Jeff Schear/Getty Images
Chef Gregory Gourdet, who founded the Haitian restaurant Kann in Portland, Oregon in August 2022, has been making culinary waves for quite some time. Appearing as both a contestant and guest judge on "Top Chef" several times, Gourdet worked as the Executive Chef for Portland's Pan-Asian Departure restaurant. Gourdet became a bit of a local city legend, winning awards from the Oregon Department of Agriculture and Eater Portland, as well as appearing in a cameo role in the sketch comedy show "Portlandia." 
The name of Gourdet's restaurant, Kann, stems from the Creole term for sugarcane, invoking a personal and nostalgic connection to his Haitian roots. It harkens back to his youthful days in Haiti, filled with the lively sounds of sugarcane vendors and their brimming wheelbarrows. The menu at Kann encapsulates a cultural journey, combining time-honored Haitian taste profiles with rich, diverse culinary traditions from across Africa and the Caribbean. A signature offering from the restaurant includes dishes masterfully crafted over an open-flame barbecue. After giving the audience a quick Creole lesson during his acceptance speech, Gourdet went on to talk about Haiti's persistence in the face of European exploitation and colonization. "From barbecue to liberation, we have a lot to give to Haiti," he remarked.
Outstanding Hospitality – The Quarry in Monson, ME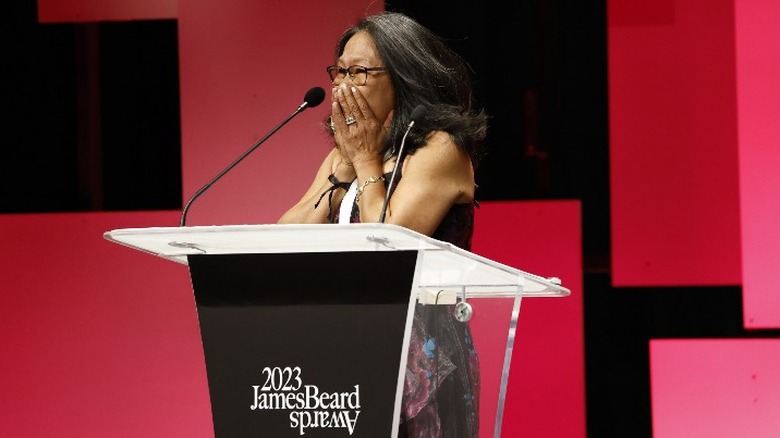 Jeff Schear/Getty Images
Big cities had lots of representation at the James Beard Awards, but the prize for Outstanding Hospitality went to a spot in the tiny town of Monson, Maine. Chef-owner Marilou "Lulu" Ranta accepted the award, which honors a restaurant that "fosters a sense of hospitality among its customers and staff that serves as a beacon for the community and demonstrates consistent excellence in food, atmosphere, hospitality and operations while contributing positively to its broader community." 
A native of the Philippines, Ranta started off working as a maid in Manila before moving to Maine with her husband. There, she started a food takeout service at the Monson General Store and then opened The Quarry when she agreed to cook for an artist residency program. Ranta, who enjoys venturing out of the kitchen to go talk to her customers, was star-struck during the awards ceremony. "This is so exciting. I never ever in my wildest dreams thought that I'd be standing in front of all the best chefs. I can't even remember what I said," she eagerly professed.
Outstanding Wine and Other Beverages Program – Ototo in Los Angeles, CA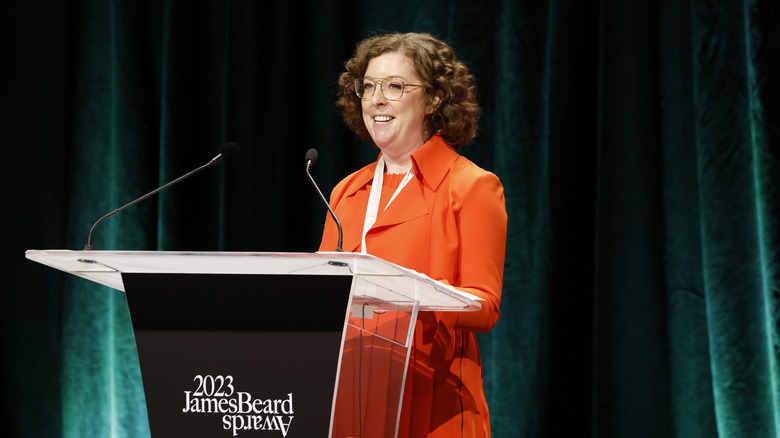 Jeff Schear/Getty Images
LA sake bar Ototo won the award for Outstanding Wine and Other Beverages Program. Situated in LA's Echo Park neighborhood, Ototo is an expansion site to Japanese restaurant Tsubaki and has quickly garnered acclaim for showcasing all the diversity and deliciousness that the world of sake has to offer. Owners Courtney Kaplan and Charles Namba also included casual Japanese bar food on the menu as a supplement.
Outstanding Bar – Bar Leather Apron in Honolulu, HI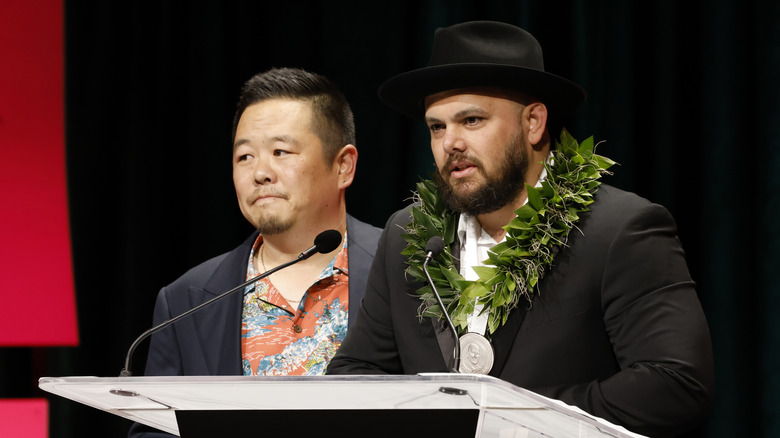 Jeff Schear/Getty Images
Honolulu's Bar Leather Apron took home the state of Hawaii's first-ever James Beard Award for Outstanding Bar. Located in the mezzanine of Honolulu's TOPA Financial Center, Bar Leather Apron boasts "Hawaii's most extensive whiskey selection" and a cocktail menu inspired by "some of the best bars in the world." Co-founders Justin Park and Tom Park, unrelated to each other but good friends, stated during the ceremony that they didn't open their bar "to chase any awards or anything like that." The former added: "We just wanted to show and share with the world along with our friends in the industry that our small island in the middle of the Pacific Ocean could do something special."
Outstanding Pastry Chef or Baker – Margarita Manzke of République in Los Angeles, CA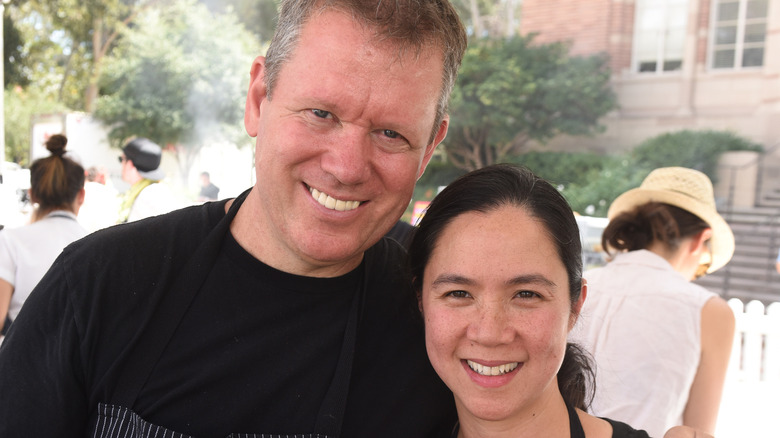 Vivien Killilea/Getty Images
Filipina pastry chef Margarita Manzke finally brought home the Outstanding Pastry Chef or Baker prize after eight years of nominations for the work she's done with her husband Walter at République. Manzke has worked at and operated acclaimed restaurants in both Los Angeles and her hometown of Manila, as well as a Filipino Sari Sari Store in Downtown LA. République is a French-inspired café that claims Manzke's "signature French baguette" as part of its menu.
Outstanding Bakery – Yoli Tortilleria in Kansas City, MO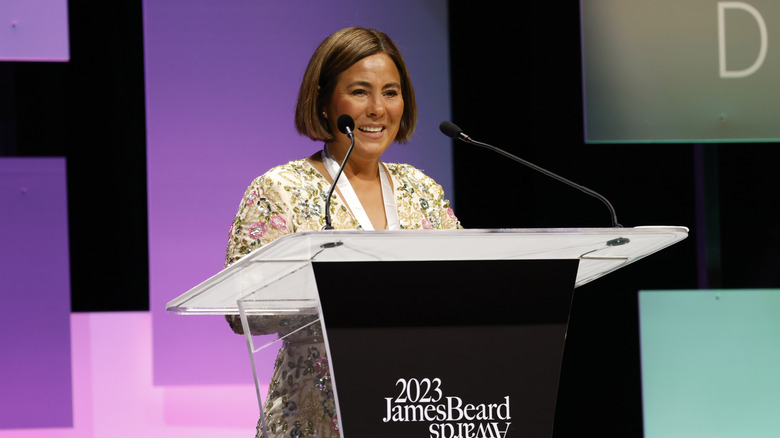 Jeff Schear/Getty Images
Over in Kansas City, Missouri, Yoli Tortilleria won the Outstanding Bakery award as the James Beards' first tortilla bakery recipient. The tortilleria makes its stone-ground goodies from scratch with a traditional seven-step process that incorporates local Midwestern ingredients. Owner Marissa Gencarelli said that the bakery was her "therapy, a way to connect and honor my ancestors in the middle of North America" after losing her parents. "I have a little kid and I always read 'The Little Engine That Could,' and we always feel like the little Mexican engine that could... So, you know, it's always going forward and just working as hard as we can," she remarked.