Olive Oil Cake Doesn't Deserve Your Fancy Olive Oil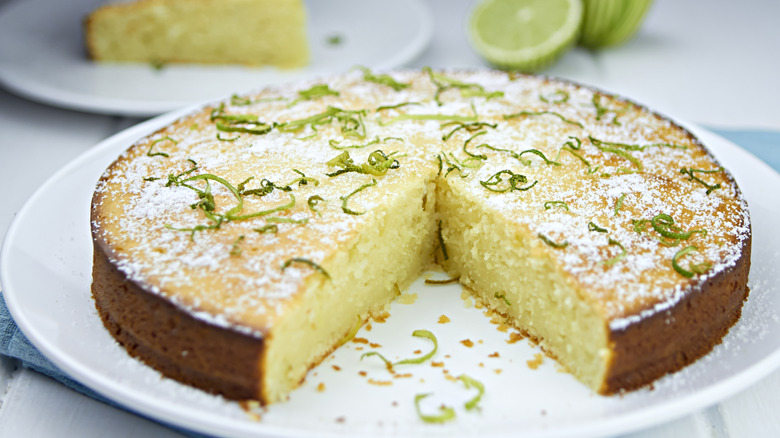 Bartosz Luczak/Getty Images
There's something about making an olive oil cake that feels deliciously grown up, like ordering blue cheese with your apéro or serving your friends cocktails with a single large ice cube in the glass. Olive oil cake is low-maintenance and difficult to screw up, it stays moist and fresh for longer than butter-based cakes, and it carries a delightful fruitiness from the olive oil that plays well with ingredients like citrus or almond flour.
But since most olive oil cakes call for at least a full cup of the stuff, it's worth considering what kind of olive oil you should use for your cake. The flavors of a good quality olive oil will shine through once your cake has been baked, but that doesn't necessarily mean you need to shell out for the most expensive olive oil on the planet. A solid finishing oil will do wonders to turn your olive oil cake something rich, moist, and flavorful.
How to choose olive oil for cake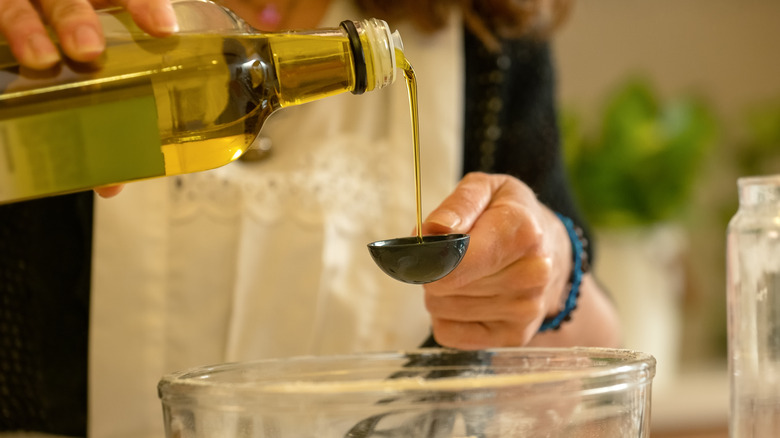 Elisagh/Getty Images
Really expensive olive oil simply isn't cost effective for use in an olive oil cake. A $40 bottle of Brightland olive oil, for example, contains only about a cup and a half of oil, so you could quickly go through the entire bottle for one cake.
The sweet spot is to find an olive oil that is high quality, but not too expensive. Opt for a finishing oil, aka one that is good enough to drizzle over bread or salad, since the temperature at which olive oil cakes bake is low enough that the olive oil flavor won't deteriorate as it would when, say, frying or cooking it on the stove. Fruity olive oils are a popular choice, like a Koroneiki From Greece.
At a minimum, you should opt for some kind of extra virgin olive oil, or EVOO. After you've checked to see if your olive oil is extra virgin, look to see if your oil lists a specific place of origin for the olives used. If it doesn't, it could be a blend, making it of lesser quality. The biggest producer of olive oil in the world is Spain, with popular producing regions including Andalusia and Catalonia, but Italy and Greece are also olive oil giants.
Play around with olive oil flavors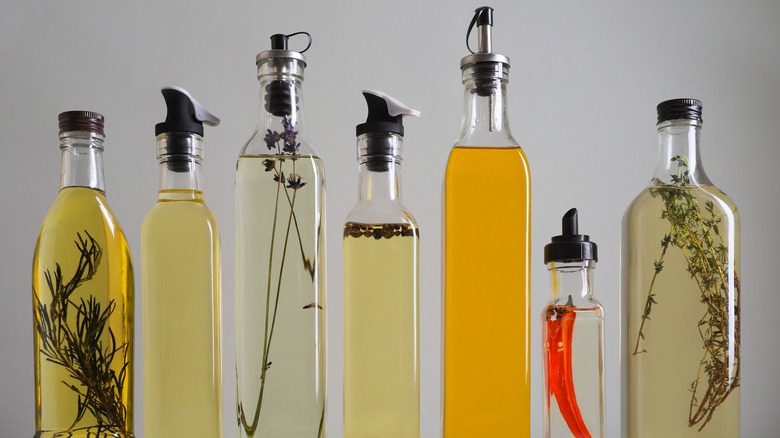 New Africa/Shutterstock
If you really want to up your olive oil cake game, though, try using a flavored olive oil for an extra punch of flavor. Experiment with a basil flavored olive oil for a strawberry olive oil cake, for example. Or spike a lemony olive oil cake with lavender olive oil for a Provence-inspired palate. Gently infuse your olive oil with various herbs by letting them steep for a few days before making your cake. You can even top your cake with a light drizzle of olive oil to double down on the fruity olive notes.
Check which flavors your olive oil contains naturally to find an appropriate flavor pairing. A mid-priced olive oil like Monini D.O.P. Umbria brings rosemary-like notes to an olive oil cake, while Cobram Estate Extra Virgin Olive Oil is more buttery and grassy.
Something like TikTok's beloved Graza olive oil (made in Jaen in Spain) would also work well for an olive oil cake, toeing the line between quality and affordability. In fact, Graza partnered with the upscale boxed cake mix line The Caker in 2022, to create a double olive oil banana cake. The cake, which used the company's "Sizzle" cooking oil in the cake, and their "Drizzle" finishing oil for the frosting, was a crowd favorite.