12 Grapes At Midnight: Spain's Unique New Year's Eve Tradition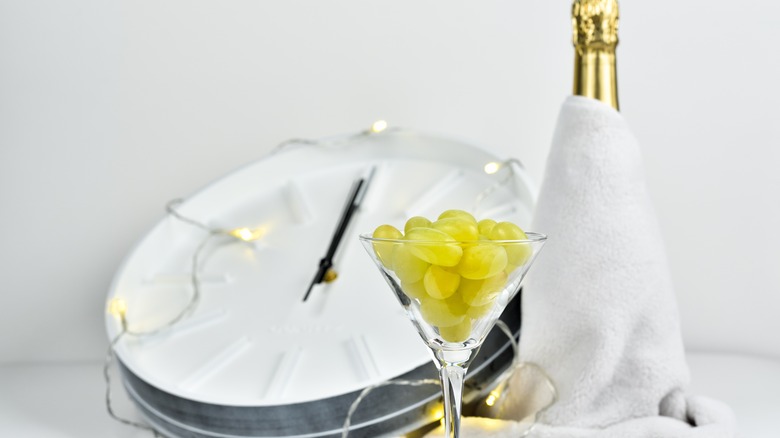 Romo Lomo/Shutterstock
The new year is always touched by a hint of superstition, whether you like to cook up a bowl of black-eyed peas or smash dishes on your neighbor's doorstep. Anything to add a bit of luck and a kick of adrenaline to a cold winter night filled with champagne and fireworks.
But the people of Spain have their own special tradition on Nochevieja: "las doce uvas de la suerte," or the "twelve lucky grapes." As tradition has it, Spaniards try to eat one grape for every one of the twelve clock chimes that ring in the new year at midnight. The goal is to finish all your grapes before the chimes finish ringing, something that's easier said than done. It seems like a bit of a choking hazard, especially considering the high rate of accidents that New Year's Eve already accounts for, but no one seems ready to give up the grapes just yet.
Where did the 12 grapes tradition originate?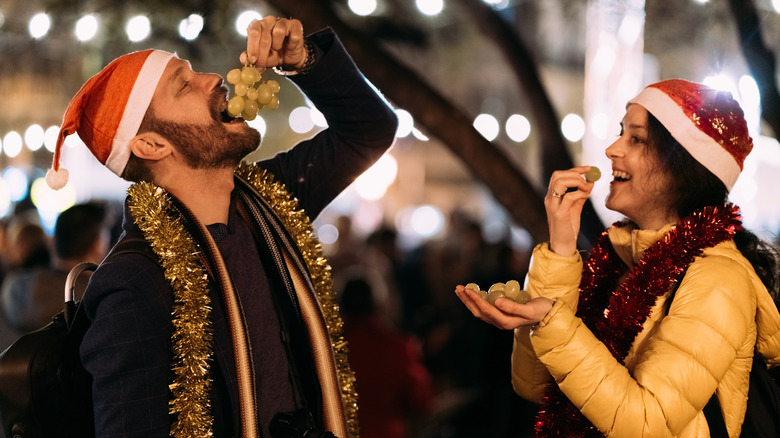 Martin-dm/Getty Images
There are many stories that claim to explain the origins of the twelve grapes tradition, one of which states that winemakers in Alicante started the superstition in 1909 as a way to sell off their surplus of certain types of grapes.
More likely, however, the tradition dates back even earlier, to the 1880s. It is thought to have morphed out of the French tradition of eating grapes and drinking champagne on New Year's Eve, which was mimicked by the Madrid bourgeoisie. Eventually, members of the lower classes took to eating the grapes as a way of mocking the bourgeoisie, meeting up in public squares like the Puerta del Sol, with its historic clock tower.
Though the tradition is native to Spain, it has spread to many countries in South America and Latin America, and the twelve New Year's Eve grapes have even gotten some global attention recently after going viral on TikTok, with influencers challenging themselves to finish their grapes in the allotted time.
What kind of grapes do you eat?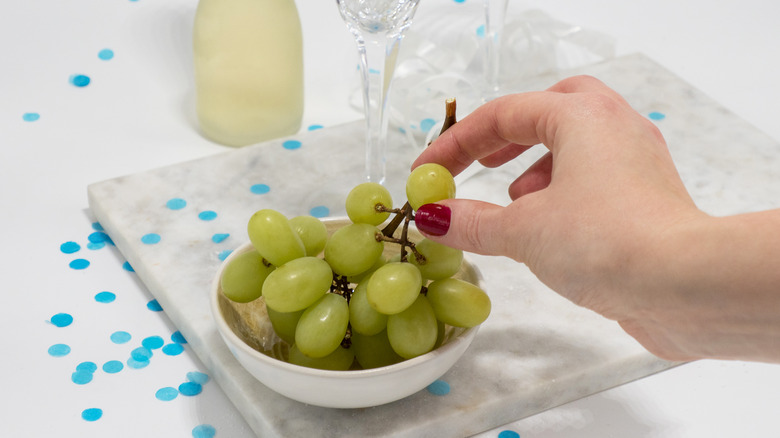 Anna K Mueller/Shutterstock
The twelve grapes can be eaten at home, or in front of a clock tower. White Aledo grapes from Alicante, which have a later harvesting season compared to other local varietals are traditional, and can be purchased in packs of twelve in Spanish grocery stores around this time of year. These grapes have a protected designation of origin and are uniquely grown under the cover of paper bags, to protect them from pests and disease. The result is a much more delicate grape, with a thin skin and lots of flavor.
Some people (largely in Peru) even say that eating the grapes while sitting under a table will bring luck to your love life. Italians have a complementary tradition of wearing red underwear on New Year's Eve to promote fertility and prosperity, so doubling down on white grapes and red lingerie is one way to knock out all your European traditions at once.