Easy Tangy Mangonada Recipe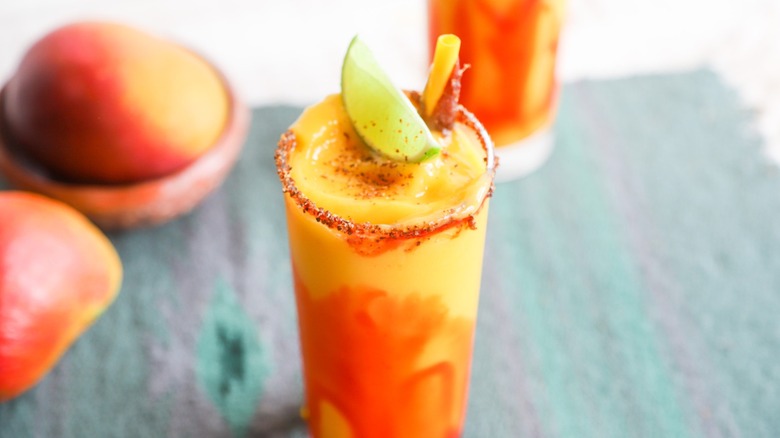 Taylor Murray/Food Republic
A sweet, ripe mango can be used to make all sorts of tasty drinks, from mango margaritas to creamy mango lassi. If you have an interest in a spicy and sweet mango beverage, why not try a mangonada? This Mexican treat is sort of like a mango chili smoothie, and it is commonly consumed on the streets of Mexico and the Southern U.S. The delightful concoction combines the sweet tanginess of ripe mangoes, the kick of chili powder, and a refreshing hint of lime, plus the signature ingredient — chamoy. Whether you're seeking a refreshing summer treat or simply craving a burst of tropical paradise, this recipe is the perfect way to satisfy your taste buds and enjoy the flavors of ripe mango.
"You can find street sellers and ice cream shops offering fresh cut ice cold fruit topped with lime and Tajín all over Los Angeles, where I'm from," says recipe developer Taylor Murray. "Sometimes, if you're lucky, you'll find one selling mangonadas or chamangos, as they're sometimes called."
Gather the ingredients for this easy tangy mangonada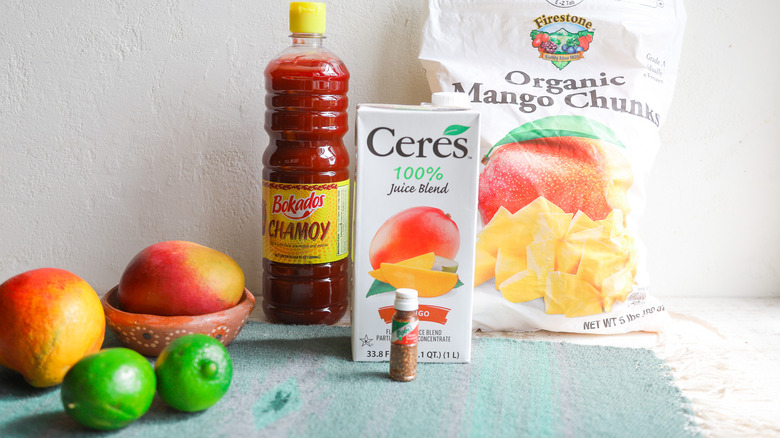 Taylor Murray/Food Republic
The primary ingredients for a mangonada are mango chunks and mango juice. To get that perfect slushy quality, use frozen mango chunks. You can also use chilled, fresh mango and in this case you will likely need little to no juice. Grab some limes to add a bit of tartness. To prepare the glass, you need chamoy and Tajín. You can also use tamarind straws for the drink or add a bit of rum or tequila. 
Chamoy is made from pickled fruit with chiles for spice and is available in several forms, including candy, a sauce, and as dried fruit. For the purposes of this recipe, look for a liquid version. Tamarind straws are a type of candy made from a plastic straw coated in a sticky spicy tamarind candy. The chamoy, Tajín, and tamarind straws can all be found at a Hispanic grocery store.
Prepare the glasses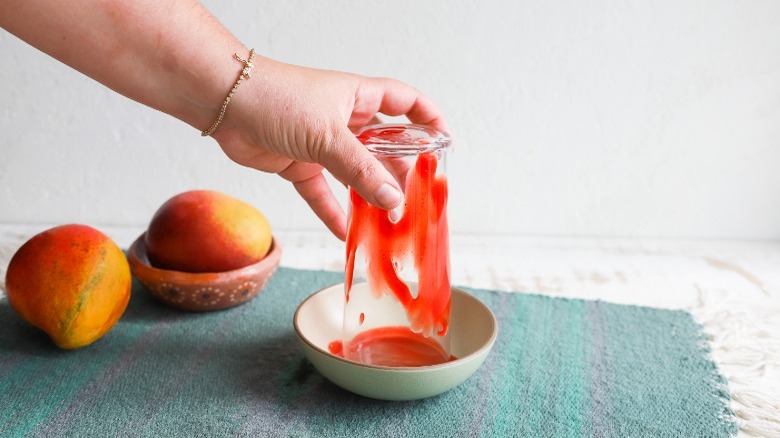 Taylor Murray/Food Republic
Grab two glasses and drizzle with chamoy. Rim the glass with additional chamoy. In a separate dish, add the Tajín and dip the rim of the glass to get it fully coated in the spice. 
Blend the drink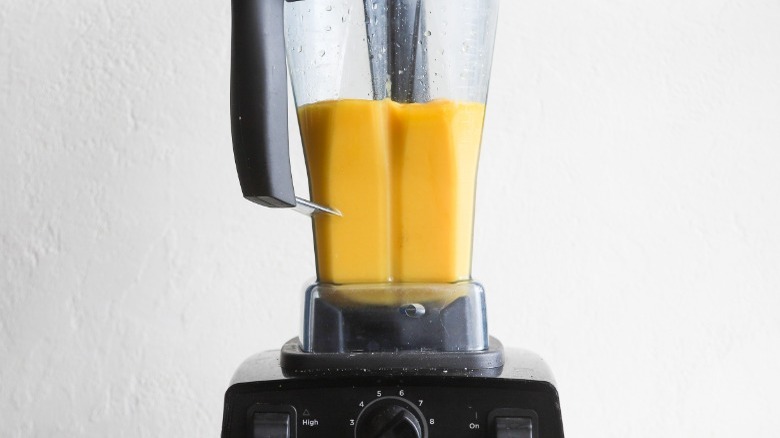 Taylor Murray/Food Republic
Grab a blender and add the frozen mango, lime, and mango nectar. If spiking it with a hit of rum or tequila, add that now. Blend until completely smooth, adding another splash or two of mango juice.
Finish the mangonada
Taylor Murray/Food Republic
Pour the mango mixture into the glass and add the tamarind straw. Garnish with a slice of lime and an extra pinch of Tajín. Serve immediately.
Mangonadas are best served on a hot day, and Murray says the beverage can be a great pairing with some chips and salsa or a couple of tacos.
Easy Tangy Mangonada Recipe
Make this mangonada on a hot summer day so the refreshing frozen mango, sweet and spicy chamoy, and Tajín-rimmed glass can help you cool down.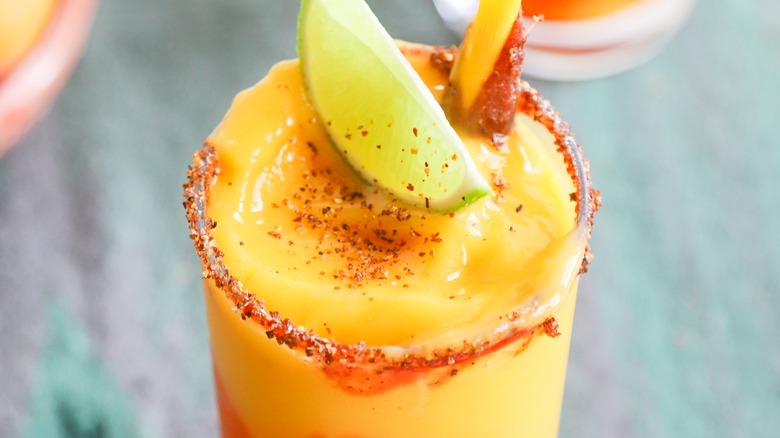 Ingredients
¼ cup chamoy
1 tablespoon Tajín
3 ½ cups frozen cubed mango
1 lime, juiced, plus wedges for serving
1 cup mango nectar
Optional Ingredients
2 ounces rum or tequila
2 tamarind candy straws
Directions
Prepare two glasses by drizzling the inside with chamoy and rimming the glass with additional chamoy. Dip the rim of the glass in Tajín.
In a blender, combine frozen mango, lime, mango nectar, and rum or tequila, if using. Blend until completely smooth.
Pour mango mixture into prepared glasses and add candy straws. Garnish with a wedge of lime and a pinch of Tajín. Serve immediately.