The Key Flavor Difference In Red Vs. Green Pepper Hot Sauce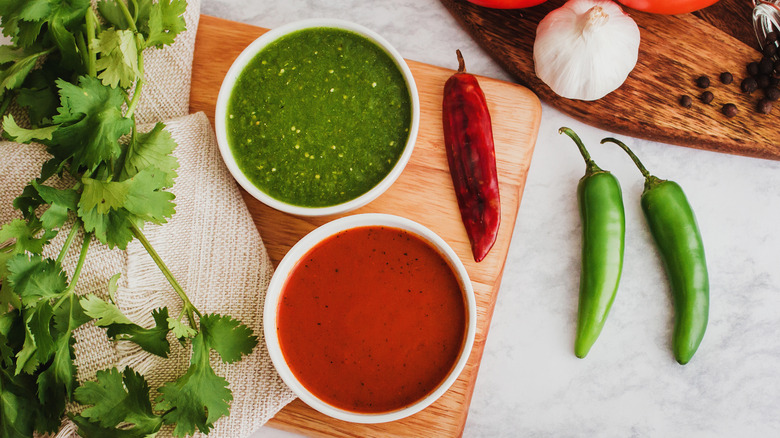 Marcos Elihu Castillo Ramirez/Getty Images
Hot sauces come in a rainbow of colors and hues. But the two shades of spiciness that usually reign supreme are red and green. Although both deliver the heat, there are more than a couple subtle differences between the flavors of the two sauce types, a reminder that hot sauces are about much more than just the Scoville scale. Whereas the slightly spicier ripened red peppers used in a red hot sauce give off a lightly sweet taste, some prefer the herbier tang of immature green peppers.
The battle between the two has raged for years. On the front lines of New Mexico, it's commonplace for servers to ask about preferences. In fact, New Mexico is the only state in the union to have an official state question: "Red or green?" (The correct answer for many is "Christmas," meaning both.) In the Land of Enchantment, green chiles offer an immediate burn with a roasty, slightly pungent kick, while red chiles are an earthier affair, their maturation creating a more delayed and longer-lasting heat reaction. 
Of course, hot sauces have unique personalities, and the New Mexican varieties are only one way to differentiate pepper flavors.
What makes a true green hot sauce?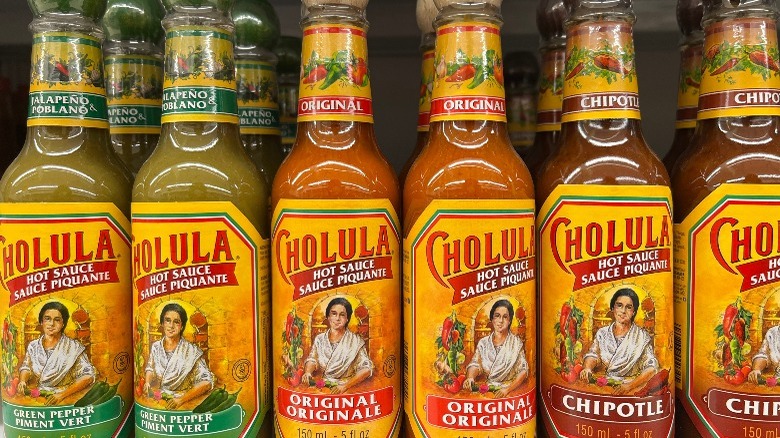 Jenari/Shutterstock
Many of the most popular hot sauce brands have takes on the jade dressing. Cholula's green sauce is made from jalapeños and poblanos, a pepper base that's common in other mainstream green sauces like Tabasco, whose jalapeños present a milder spice with a less vinegary finish. El Yucateco, similar to the New Mexican approach, makes its green and red batches with the same habañero peppers aged at different lengths. There are even green sriracha sauces, although many also use jalapeños to attain the color and flavor, which makes them debatably not "true" srirachas. Still, brands like Flying Goose use the same Thai chili peppers that are in the red bottles.
All this to say that there are really two broad types of green hot sauces. One kind attains its characteristically lush hue through specific breeds of peppers, mostly jalapeños and poblanos. Tomatillos also commonly aid the coloring, while also providing a layer of acidity. The more traditional method of making green hot sauce involves using the same batch of peppers used in the red stuff, just harvested earlier. This is where the differences between the two colors become the most deliciously subtle. Diners can enjoy two sides of the same chile (in New Mexico, "chili" with an "i" is a meat dish, not a pepper). On one side lies the earthy, fruity aroma of the red chile, and on the other is the garlicky, herbal tang of the green.