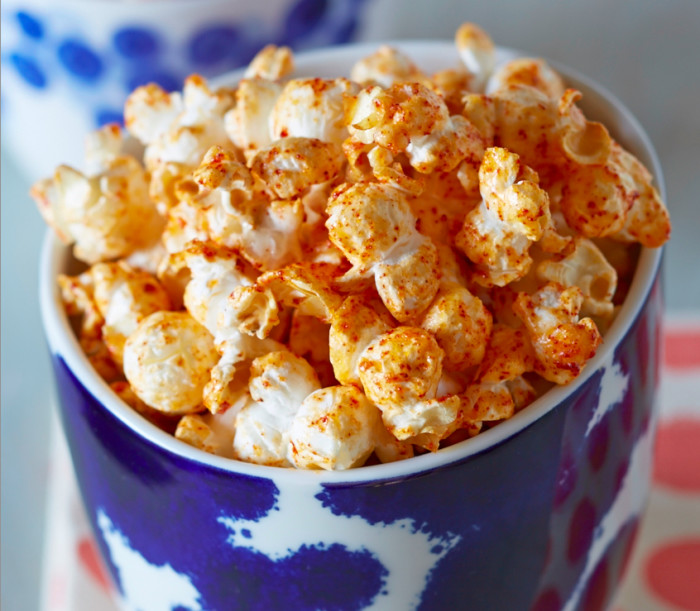 So you love popcorn, do you? Do you really love popcorn? 75 recipes' worth of it? Then you're going to want a copy of Party Popcorn, dessert blogger Ashton Epps Swank's new cookbook. Whether you're going for savory or sweet (or that perfect spot right in between) there's something for movie night in this book you're going to love.  
I credit my husband and brother with the inspiration for this recipe. They both have ties to Mexican culture and love to eat corn on the cob smeared with mayonnaise and a paprika seasoning. I'll skip the mayo on my corn on the cob and take this popcorn twist on the Mexican street food instead. The lime in this popcorn really adds a fabulous dimension of flavor, and the cayenne pepper gives it the perfect kick.
Ingredients
8

cups

popped popcorn

2

tablespoons

butter, melted

2

tablespoons

mayonnaise

1

teaspoon

lime juice

1

teaspoon

salt

1 1/2

teaspoons

paprika

1/4

teaspoon

granulated sugar

1/8

teaspoon

ground cayenne pepper
Directions
Pour the popcorn into a large bowl and remove any unpopped kernels.
Whisk together the butter, mayonnaise and lime juice in a small bowl.
Drizzle over the popcorn and gently toss to coat.
In a small bowl, mix together the salt, paprika, sugar and cayenne pepper.
Sprinkle over the popcorn and gently toss to coat.
Serve immediately.
Find more popcorn on Food Republic: