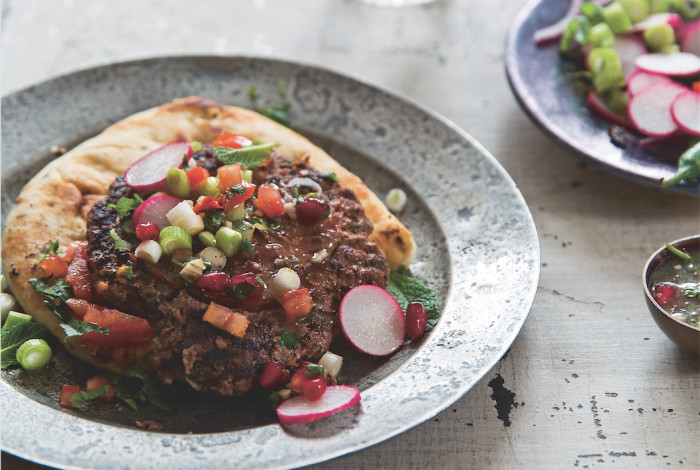 Contemporary Pakistani food is a vibrant mix of Arabic, East Asian and Indian flavors that shine in food writer and author Sumayya Usmani's new cookbook, Summers Under the Tamarind Tree. Beautifully written and photographed, this collection of more than 100 family recipes will inspire you to open up the spice cabinet and make something brand-new.

This recipe comes from one of my oldest friends, Moneeza, and is inspired by her fondest food memory: traveling by a horse-drawn tange (carriage) through the mustard field of Punjab to her home in Attock, where she would be greeted with the intoxicating aromas of her mother's sizzling chapli kebabs. These flattened kebabs are large — the size of a chapal (slipper) — and come wrapped in newspaper topped with spring onions and garlicky pomegranate chutney.

Reprinted with permission from Summers Under the Tamarind Tree
Ingredients
1-2 1/4

pounds

fine beef mince (ground beef) with fat

1

red onion, very finely chopped

4

spring onions (scallions), very finely chopped

1-2

green chilies, very finely chopped

2

handfuls of

finely chopped coriander (cilantro)

1

large tomato, finely chopped

1

tablespoon

dry-roasted coriander (cilantro) seeds, ground in a mortar and pestle

1-inch

piece

ginger, peeled and grated on a grater (like a microplane)

2

tablespoons

ground anardana (dried pomegranate)

1 1/2

tablespoons

cornmeal flour or fine polenta (or use gram flour)

salt, to taste

1

egg

3-5

tablespoons

vegetable oil
To garnish
3-5

red radishes, chopped

1

tomato, sliced

2

spring onions (scallions), chopped

1

lime
Directions
For the pomegranate chutney
Mix 3 tablespoons dried and ground anardana (dried pomegranate) with 1 finely chopped green chili, 1 crushed garlic clove, a large handful of chopped coriander and 10 chopped mint leaves.

Bash it all up in a mortar and pestle and serve with chapli kebabs.
For the chapli kebabs
Mix all the ingredients, except the oil, together in a large bowl. Begin kneading and squeezing the mixture together like you would a dough. The more you knead and squeeze everything together by hand, the less chance it will break when frying. Continue kneading and squeezing the mixture until it feels sticky, then cover with clingfilm and allow to rest in the fridge overnight.

Before frying, allow the mixture to come to room temperature. Using your hands, take about 3 heaped tablespoons of the mixture and shape into a flat oblong kebab about 1/4 inch thick and about 5 inches wide (at the greatest width).

Using a tawa, pancake pan, griddle or frying pan, heat 1 tablespoon oil for each kebab. Add 2-3 kebabs at a time and cook on one side. If the kebab is very thin, it will take about 3-5 minutes. Remove from the pan and repeat with the remaining kebabs.

To serve, place a hot kebab on top of a piece of naan, add the radish, tomato, spring onion, a squeeze of lime and a little of the pomegranate chutney.