Classic Canadian Bacon Eggs Benedict Recipe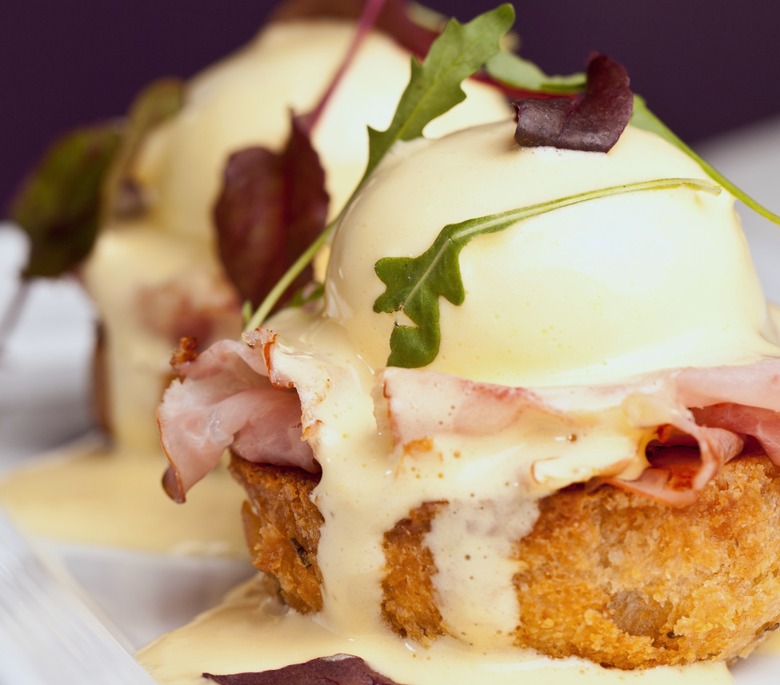 We went to new Upper West Side brunch haven and general hot spot Sugar and Plumm for Michelin-starred Chef Steven Ferdinand's eggs benedict. There's just no improving a classic like that, unless the Michelin guide deems you capable.
Follow our easy guide to poaching eggs and clean the last of the lime pulp out of your blender (we're sure the margaritas were great), cause this is a whisk-free Hollandaise sauce. That's right, whisk-free, your wrists will live to see another day. And if you can't/refuse to find rosemary foccacia, that's a shame. But any thick-cut toast or split English muffin will do the trick (just not as well).
Classic Canadian Bacon Eggs Benedict Recipe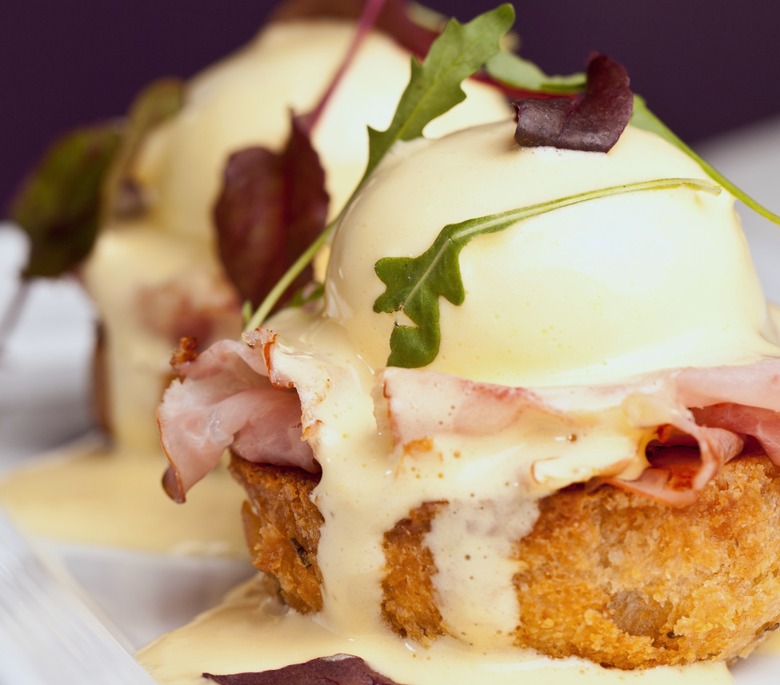 Ingredients
4 pieces Canadian bacon
4 eggs
2 teaspoons white or rice vinegar
2 rosemary focaccia dinner rolls
butter
10 tablespoons unsalted butter
3 egg yolks
1 tablespoon lemon juice
1/2 teaspoon salt
dash of cayenne or Tabasco
2 tablespoons baby greens or chopped chives
Directions
Start with the bacon. Heat a large skillet on medium low heat. Add the slices of Canadian bacon. Slowly cook, turning occasionally (about 5 minutes).
Use tongs or a fork to remove the bacon from the pan, set on a paper towel to absorb the excess fat.
While the bacon is cooking, bring a large saucepan two-thirds-filled with water to a boil, then add the vinegar.
Bring the water to a boil again, and then lower the heat to a bare simmer.
To make blender hollandaise, melt the unsalted butter. Put the egg yolks, lemon juice and salt in a blender and blend on medium to medium high speed for 20-30 seconds, until eggs lighten in color.
Turn blender down to lowest setting, slowly dribble in the hot melted butter, while continuing to blend. Taste for salt and acidity and add more salt or lemon juice to taste.
Transfer it to a container you can use for pouring and set it on a warm – but not hot – place on or near the stovetop.
Poach the eggs. 
As soon as all the eggs are in the poaching water, begin toasting your rosemary focaccia. If you can't get all the focaccia toasted by the time the eggs are ready, gently remove the eggs from the poaching water and set in a bowl.
To assemble the eggs benedict, butter one side of a rosemary focaccia dinner roll. Top with one slice of Canadian bacon. You can trim the bacon to fit if you'd like. Place a poached egg on top of the bacon and then pour some hollandaise over. Sprinkle baby greens or chopped chives over it and serve immediately.
Quesadillas "Benedict" Recipe
Steak And Chipotle Eggs Benedict Recipe
Seafood Eggs Benedict Recipe
Healthier Eggs Benedict Recipe