Our 12 Favorite Summer Egg Recipes For A Better Brunch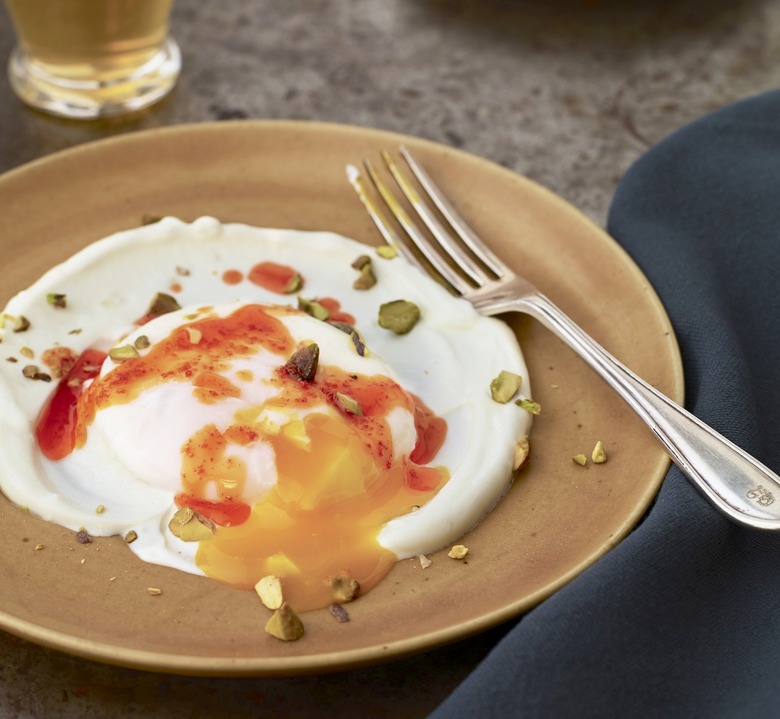 Let your eggs do some traveling. (Photo: William Brinson.
There's an egg dish for every season, and this season is summer. Prime produce like tomatoes, eggplants, radishes and leafy greens are flooding markets, and need nothing more than a simple egg recipe to shine their brightest. Check out 12 of our favorite summer egg recipes for a better brunch this weekend (after you finish sleeping in, of course).
Recipe: Turkish-Style Poached Eggs
Did you know that the word yogurt is neither Greek nor Russian in origin but in fact Turkish? Turkish cuisine is big on strainer yogurt, aka Greek yogurt, and this style of serving eggs with yogurt goes back to the time of the Ottomans. For us it's something a little different yet easy to put together for breakfast, with the silkiness of the poached eggs playing against the sourness of the yogurt and the garlic and smoked paprika giving your taste buds something stimulating to savor early in the day. A simple handful of fresh arugula would round out the dish, or for heartier fare you might serve it with a side of millet porridge or a couple of slices of crisp farmhouse bacon.
Recipe: Greens & Fontina Baked Eggs
I can say with certainty that when I think about current favorite breakfasts, breakfasts I find perfect for brunch parties and the breakfast I want to eat right this instant as I'm writing, fontina baked eggs comes to mind.
Recipe: A Colorful Egg Crostini
Fancier than your typical mayo-slathered egg salad, these open-faced sandwiches get a pungent, saline smack from anchovies and capers and a little crunch from the radish. I love to trot out this combination as an hors d'oeuvre, piling the eggs et al onto small, thin slices of baguette. But for a light supper, late-night snack, or lunch, a crusty country loaf is a better, heartier option. In either case, it's important to use really good ingredients here since the flavor completely depends on them. Seek out farmers' market eggs, imported anchovies packed in olive oil, and good high-fat butter. Although all of this might seem overly precious, these details really matter when you're serving them practically naked. Try it and see.
Recipe: Braised Peas And Ham With Eggs
This dish was one of my favorites when I was a student. It is really easy to make and filling—perfect for your pocket. These braised peas (without the egg) would make a lovely side dish, maybe with a piece of simply grilled chicken or fish. You can bake this recipe in individual small dishes as well — easy for a simple supper for one after work. Add some chopped mint if you have some, to give freshness to the dish.
Recipe: Eggs Benedict BLT With Avocado-Tomato Relish
Ah, the Southern life. Whenever we feel the need for ultimate comfort recipes we turn to Southern Living magazine's new Feel Good Food cookbook. This recipe for an Eggs Benedict BLT sure sounds like it'll make us feel good, but let's enjoy it for brunch just to make sure. Remember that time you were trying to choose between the Eggs Benedict and the BLT? Good times.
Recipe: Arugula Pesto "Green Eggs And Ham" Sandwich
If Dr. Seuss were Italian, I imagine his version of green eggs and ham would resemble this open-faced sandwich — crusty country bread, slathered with peppery pesto and topped with crisp cured ham.
Recipe: Fried Boiled Egg With Dukka
Dukka is a coarsely ground mixture of seeds, spices and nuts and is Egypt's equivalent to Lebanon's za'atar. The spices, seeds and nuts used for the dukka vary widely from family to family, but usually cumin, coriander, sesame, salt and pepper are included. Highly addictive, dukka and boiled eggs are served throughout Cairo on street carts and in breakfast shops. For this recipe, we used fried soft-boiled eggs for added texture. The eggs are dipped in the dukka and eaten either with semit, baladi or shamsi bread.
Recipe: Israeli Couscous With Chicken Sausage And Over-Easy Eggs
Israeli couscous, also known as ptitim, is little pasta balls that are vaguely reminiscent of tapioca pearls, but in a much less goopy way. I love the little spring they have when cooked perfectly al dente and the way they soak up the flavors of the sausage and preserved lemon in this Mediterranean-inspired dish. Preserved lemons can usually be found in the international food aisle of most grocery stores, but if you can't find them, feel free to use fresh lemon zest.
Recipe: Soft Egg And Fish Roe Toast
We got our hands on one of the best fish cookbooks we've encountered in recent memory, authored by two of Sweden's best-known chefs. What you'd never be able to tell from the cover is how rock-crazy these guys are — their "pairings" encourage you to listen to the White Stripes, Kiss, Smashing Pumpkins and the Beatles (among others) while you prepare a spectacular fish dish, like this hearty, rustic, very Scandinavian egg-on-egg gem.