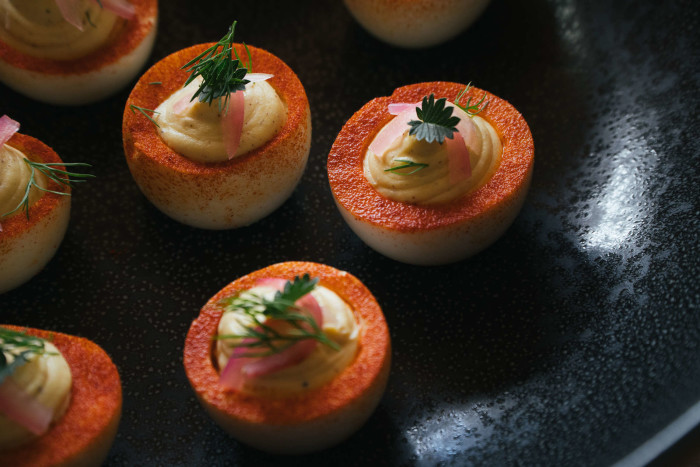 To understand the exquisite texture of a sous vide hard-boiled egg, you've really got to taste the dang thing. If a hard-boiled egg is sparkling grape juice, a sous vide hard-boiled egg is a just-popped Pol Roger. If a hard-boiled egg is a tin of StarKist, a sous vide hard-boiled egg is a garnet lobe of tuna belly from the bar at Shuko. If a hard-boiled egg is the guy who played Nathan from Guys and Dolls in the recent Broadway revue at your neighborhood cultural center, a sous vide hard-boiled egg is Denzel as Troy in Fences, stretching the limits of his craft to unveil new truths about the human condition.
Okay, none of those examples showcases the sort of subtle difference that separates a traditional hard-boiled egg from the Joule-cooked equivalent. But the point is, our friends at ChefSteps could sit here all day trying to describe the difference to you, but if you really want to get it, you have to show up for it. Just fire up your Joule, pop in an egg and wait 15 minutes. Then you'll see what they mean.
(Fifteen minutes later…)
Wait, so you really did it? You made a sous vide hard-boiled egg? Man, you are so cool. So, like, now do you see what we mean? Isn't it good? Don't you want to make creamy, smoky, chef-level deviled eggs with it and 11 of its best buds? Well, then, let's do this.
[Editor's note: ChefSteps cooks sous vide with the Joule, a tool created by its in-house team of chefs, designers, and engineers. Joule is a Wi-Fi-connected device that you control with your smartphone. For more, check out Food Republic's independent review of the device.]
FAQ's
What is so great about sous vide eggs? Try to explain it to me.
A few things. One, you can achieve textures with sous vide eggs that you could never get with traditionally cooked ones. Think decadently creamy yolks and tender whites with just a little bit of pull. Two, you can dial in times and temps to get the exact yolks and whites you want. 
Okay, but what about hard-boiled eggs specifically?
The main improvement is textural — the creamy yolks have none of that chalkiness that often plagues boiled eggs. But another bonus is that you never get that grey, sulfurous ring in the white—meaning the flavor remains sweet and fresh.
Guys. Sunday brunch is in one hour and I don't have any piping bags.
Grab a ziplock-style bag and stuff your filling up in there. Then slice off one corner and pipe filling into the hard-boiled egg whites with that.
Sous Vide Deviled Eggs
Servings: Appetizers for 8
Ingredients
12 large eggs
Pickled onions, optional, to garnish
Ice water, for ice bath, as needed
4 ½ ounces crème fraîche or sour cream
1 tablespoon Dijon mustard
½ teaspoon Kosher salt
Pinch of black pepper
Smoked (or regular) paprika, optional, to garnish, as needed
Fresh herbs, as needed
Directions:
Heat Joule to 203°F. Pick a small pot and never add eggs until the water has heated all the way.
When your water is heated, slowly lower eggs into the pot. Set a timer for 15 minutes.
Make pickled onions (optional, for garnish).
Once eggs have cooked, set up an ice bath and immediately — and gently — transfer eggs from the pot to the ice bath. Allow to chill 30 minutes.
Working with one egg at a time, gently remove from the ice bath and crack the shell against your work surface. Give the egg a few rolls back and forth to loosen things up. Drop the egg carefully in the water again, and let it sit for a few seconds. Pick it up, and — again, gently — remove the shell. Transfer to a clean plate or bowl. Continue until all your eggs are peeled.
You can give these eggs the traditional look by slicing them down the middle the long way, or you can slice them through the center to create vertical egg cups. Both are great; do your thing. Carefully slice through each egg to create two equal halves (24 pieces total). As you work, transfer the yolks to a clean bowl.
Combine the cooked yolks with the rest of the goodies in the pitcher of a food processor, and whirl them together, stopping to check the texture as necessary.
When the mixture is good and creamy, scoop it into a piping bag and transfer to the fridge.
Arrange your egg whites on a serving platter. Carefully pipe filling into each one. Cover eggs and chill in the fridge until you are ready to serve.
Just before serving, use a fine-mesh strainer or your fingers to dust on the paprika. Garnish with a pickled onion or two. (You may want to wipe the pickling liquid from the onion first to make sure it doesn't sog up the situation.) Also, a couple sprigs of fresh herbs are always a nice bonus.
ChefSteps comprises a team of award-winning chefs, filmmakers, scientists, designers and engineers focused on revolutionizing the way people cook by inspiring creativity and encouraging expertise in the kitchen. You can also get access to all of ChefSteps' Premium content — including paid classes and dozens of recipes available only to Premium members for a onetime fee — for the special price of $24 (regularly $39). Classes include Sous Vide: Beyond the Basics, Fluid Gels, French Macarons and more!