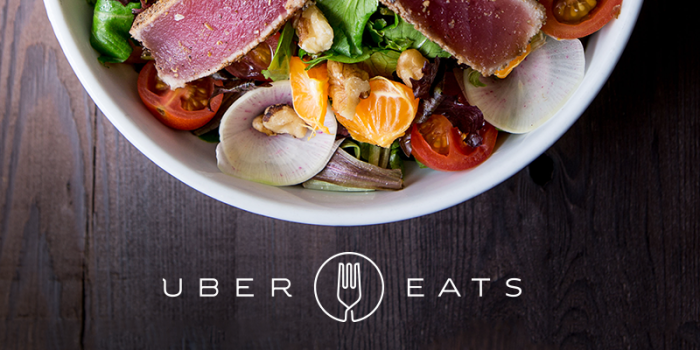 Over the weekend, U.S. airports struggled to implement an executive order calling for an immediate ban on immigration from several Muslim-majority countries. As a result, the nonprofit New York Taxi Workers Alliance (which represents the rights of a "workforce that's almost universally immigrant") called for a one-hour work stoppage at JFK Airport Saturday evening. Rather than standing in solidarity, ride-hailing giant Uber ditched surge pricing and picked up the extra customers; competitor Lyft donated $1 million to the ACLU. This prompted the rapid spread of hashtag #DeleteUber. While taxi services are Uber's bread and butter, some are wondering: How will #DeleteUber affect UberEats?
UberEats, the company's flat-rate restaurant delivery service, kicked off in New York in April 2015 and quickly expanded to other cities as well as select international locales. A mass deleting of UberEats accounts would impact the sales of partner restaurants, many of which employ the same immigrants the taxi stoppage sought to protect. What will this mean for restaurants who want to serve their clientele without jeopardizing their business practices and brand?
The movement could certainly prompt large-scale reconsideration of affiliation with Uber, with restaurants transitioning to other means of delivery; however, some UberEats customers believe that's beside the point. An employee at a nonpartisan political think tank who requested to remain anonymous said:
"Uber 'scabbing' during this [strike] was simply Uber continuing to operate as usual. If people had no issue with Uber undercutting taxis in the past, while creating an economy where workers are temporary contractors with no benefits, it doesn't make any sense for them to be upset with Uber now."
Supporters of the new immigration bans look to be firmly in support of Uber's actions.
Almost dinner time! Trump supporters get $10 off your order on #UberEATS with my code: eats-erics28424ue. https://t.co/MuiSRhTSTX

— Eric Spracklen (@EricSpracklen) January 29, 2017
And thus far, the only statement from UberEats: Mac and cheese heals all. 
Who's craving some Sunday comfort food? #UberEATS has countless options waiting for you. pic.twitter.com/XWbv5Oo5aV

— UberEATS (@UberEATS) January 30, 2017