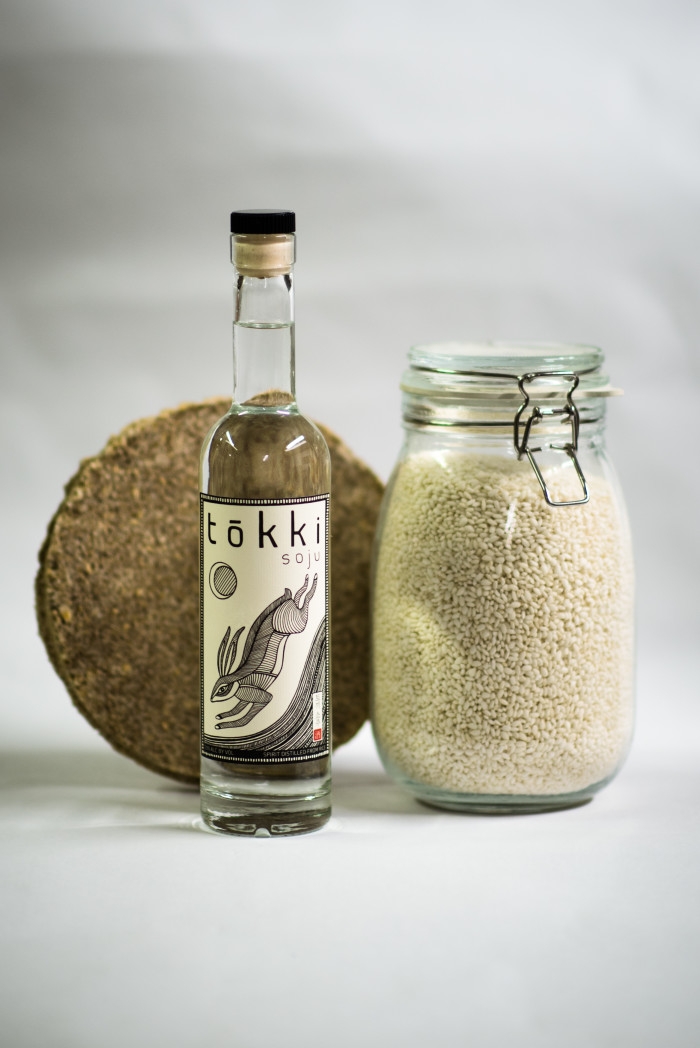 Years ago, as an English teacher in Seoul, I was introduced to the local spirit in a rather crude way. Expats would flock to the nightlife district of Itaewon, near the U.S. military base, where they'd order liter bottles of soda with the tops sliced off, half the contents dumped out and replaced with cheap soju. Not exactly the most sophisticated way of enjoying Korea's national spirit, a low-proof drink traditionally distilled from rice.
Because it generally clocks in at little more than 20 percent ABV, somewhere between wine and hard liquor, it goes down pretty easy — especially when drowned in sugary soda. Today, soju is being treated with a little more respect. American bartenders are mixing it into craft cocktails and microdistillers are experimenting with locally made small-batch soju.
"The rules for making soju aren't really specific," says Ryan Te, beverage director at Oiji in New York. "So you can actually make it out of anything, anywhere."
At this modern Korean restaurant, soju is the base for an orange blossom–scented Negroni variation and a floral take on a Last Word. Te infuses the spirit with flavors like jasmine and kaffir. He also uses makgeolli, which is the precursor to soju the way beer is the precursor to whiskey. The fermented rice drink has a gentle fizz and citrusy tang, standing in for soda in Oiji's refreshing Seoul Paloma.
"Soju cocktails are tricky," admits Te. "It's got a low proof so the spirit can get overwhelmed by [other components in] a drink." He uses Hwayo 41, a premium soju with a higher-than-usual proof. It's able to stand up to big flavors like Campari and Cocchi Americano. Te hopes the cocktails will lure patrons into sampling the rest of the drinks list, which includes an herb- and ginseng-infused soju called Bekseju, Seoljungmae or plum wine, and two sojus distilled right in New York that are better enjoyed neat.
---
"It's the social context that counts. Soju is a social drink."
---
"Tokki is probably the most traditional soju on the market, which is weird because it's made by a white kid in Brooklyn," says Tokki founder Brandon Hill, who earned a degree in traditional fermentation practices while living in Seoul. Most big brands on the shelf are made with added sugar or corrected with other ingredients. Tokki is made in tiny batches out of Van Brunt Stillhouse in Brooklyn with just three ingredients: American sticky rice, a traditional starter culture called nuruk, and water. "Barely anyone still uses nuruk to make soju anymore," he explains.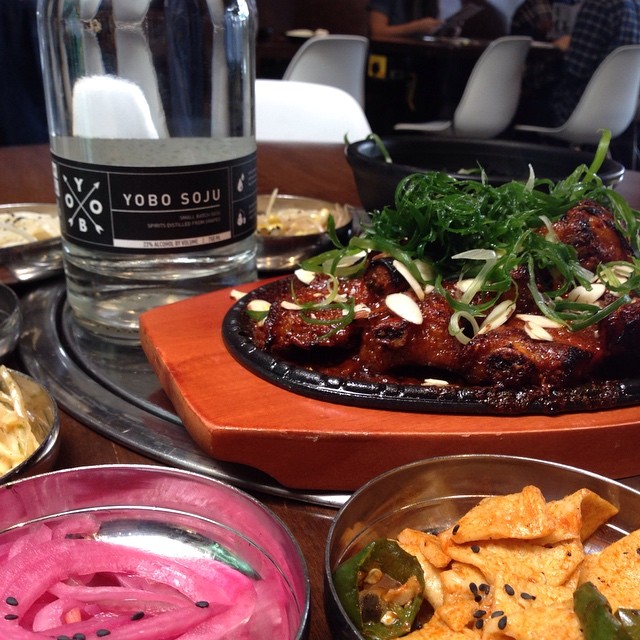 While a white boy in Brooklyn is making a solidly old-school version of the spirit, a Korean-American couple in Los Angeles is embracing modern soju. Yobo launched quietly late last year, a soju distilled in the Finger Lakes from locally grown grapes.
"I like wine," says founder Carolyn Kim. "But sometimes I want something different — especially when I'm eating Korean." She and her husband, James Kumm, who owns a wine shop in New York, sought to create something they were having a hard time finding: a high-quality soju. The pair grew up drinking soju. They decided that soju made from grapes could be an interesting, elegant take on the spirit. The results confirmed it.
"We ask ourselves all the time: What is soju?" muses Kim. "For us, it's a clear, soft spirit that hovers around 20 percent ABV. It can be distilled from so many things, but it's not just about [the ingredients]. It's the social context that counts. Soju is a social drink."
It might be new to many of us, but soju has been gaining momentum for some time. Jinro Soju is the top-selling liquor brand in the world, having beat out Smirnoff several years ago. It now sells more than 70 million cases per year.
It's a world away from the artisanal sojus of New York, which the founders of Tokki and Yobo hope will be good for the category. Both referred to the headaches many people associate with soju as an unnecessary evil. Clean, thoughtfully made versions of the spirit are the future they envision. (It's a future in which bartenders come up with creative, clever ways to use it in cocktails.) Perched on a bar stool at Oiji sipping a soju-and-Campari concoction shaken with Korean pear juice, black truffle and lime, it sure feels like the future is now.