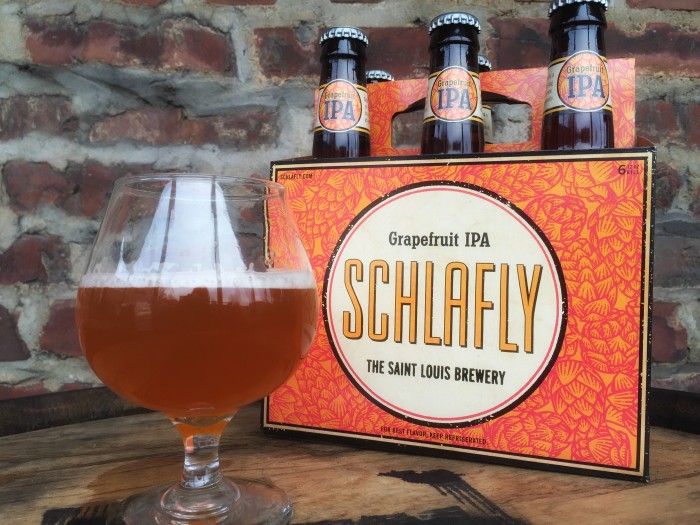 With National Grapefruit Month upon us, it's only appropriate that brewers are going absolutely bonkers for grapefruit IPAs right now. And while many homebrewing circles — and even breweries — have experimented with the citrus fruit over the last two decades, credit must be given to Ballast Point Brewing of San Diego, California, for popularizing the grapefruit-infused India pale ale. A take on the Sculpin IPA that helped launch the brewery to national fame, Grapefruit Sculpin IPA quickly compounded the brewery's success with its debut in September 2014, during a year in which Ballast produced just over 120,000 barrels of beer. In 2015, that number ballooned to 277,000.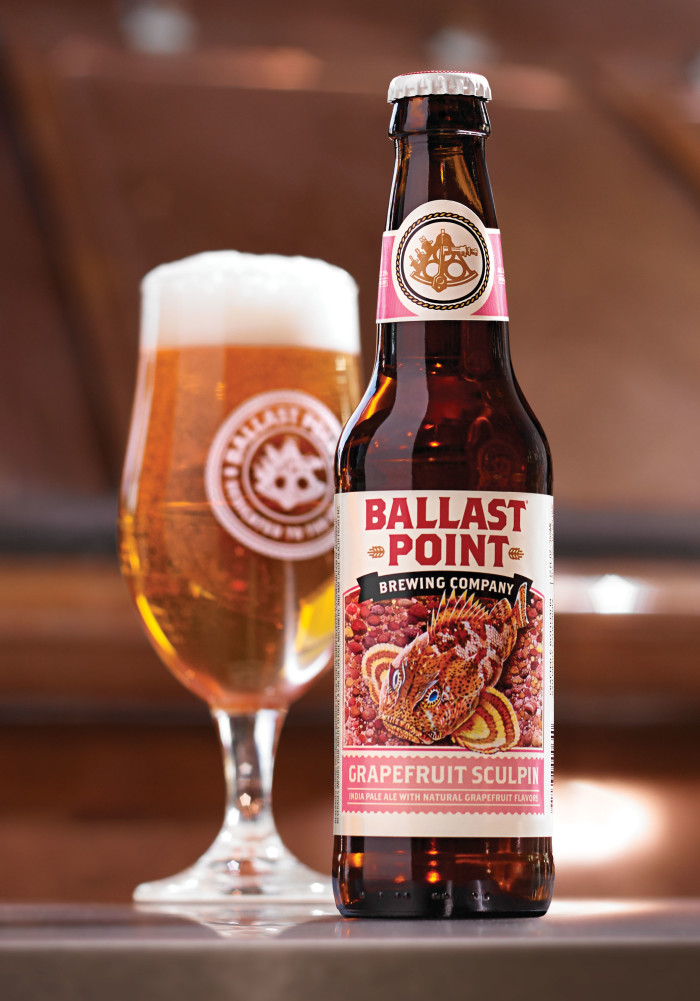 But the decision to make this extraordinary refreshment wasn't inspired by any calculated marketing meeting. "It wasn't like we had a focus group or something," explains Earl Kight, Ballast Point's chief commercial officer. "Somebody made it, and it became a one-off special at our tasting bar. And [as people asked for it more and more], we were like, 'You know what? Dude, we've got something here.'" His lips are sealed, however, on the proprietary recipe. "Everybody and their uncle wants to know how we make it," he taunts, revealing only that no artificial flavors are used.
Unlike the slow, organic growth Ballast Point has experienced since it opened as a brewery 20 years ago, the reception to Grapefruit Sculpin was immediate and explosive.
"We made eight pallets of bottles and said, 'Okay, let's put it in the tasting bars tomorrow, and we'll start selling them to distributors next week,'" remembers Kight. "The eight pallets never made it to distributors. We sold them all."
When a successful beer begins to trend, similar products tend to rise, too. However, Seth Adams, brewer for Boston Beer Company's Samuel Adams (the second-largest independent craft brewery in the country), claims that the development of Rebel Grapefruit IPA was a direct result of research done with Mosaic hops, found to have a juicy citrus character perfectly complemented by grapefruit. "The peel is used in the boil," Adams explains. "We found that the peel tends to give a little bit more of that sharp character — the tart and bitter notes — and then the juice itself we would use during the cold conditioning phase. That gave us the sweetness." Undeniably, the addition of real grapefruit juice and peel pleasantly amplifies the tropical fruit and citrus notes of the Mosaic hops used, along with Citra, Centennial, and Cascade varieties.
Schlafly of St. Louis, Missouri, introduced its Grapefruit IPA around the same time as Rebel Grapefruit IPA this past December, with a take on the style inspired by a relationship with Oregon Fruit, the company that provides Schlafly with raspberry puree for its summer seasonal Raspberry Hefeweizen. Like Ballast Point, Schlafly was floored by the initial response to the finished product. "We served it over the bar, and it ran out within a week," says Emily Parker, Schlafly's head of brewing operations. "We haven't seen beer turn like that, so we decided to run with it."
Now Schlafly is offering the beer as part of its year-round lineup, previously an exclusive club of five that hasn't welcomed any new members in eight years. The secret to this incredibly tasty brew is the puree introduced on the first day of fermentation. By the time the beer reaches the bottle, yeast has already consumed all of the sugar, resulting in aromatic citrus flavors without the cloying sweetness.
While Sam Adams and Schlafly maintain that their products have been in the works for quite some time, Bill Covaleski, co-owner of Victory Brewing, happily admits that Ballast Point offered at least some inspiration for his own grapefruit creation. "Members of our brewing staff — myself included — have tasted Grapefruit Sculpin, so it was evident to us that an exciting flavor can be made with American hops and grapefruit," he says. Of course, as a world-class craft brewery uninterested in merely creating a derivative product, Victory put its own spin on the idea by adding agave to the mix. "We really did feel that the use of the agave syrup to catch this nice, sweet middle tone as well was important," says Covaleski.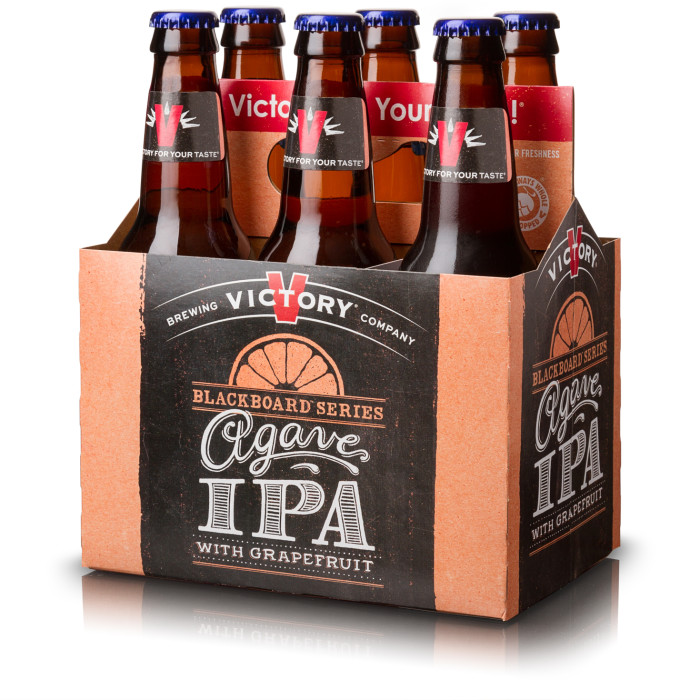 Unveiled the first week of this year, Victory's Agave IPA With Grapefruit is the introductory offering from the brewery's new annual Blackboard Series: a quarterly release of four different beers made with unique seasonal ingredients. To make Agave IPA, Victory added agave syrup to the boil, followed by fresh-pressed grapefruit juice to the beer after fermentation. The result highlights why grapefruit works so beautifully in an IPA: The bitter peel and bright citrus character harmonize with bitter, citrusy hops, and the fruit's sugar melds with the sweet agave and malts. "There are different approaches to beer and food pairings," explains Covaleski. "Sometimes you want the two to contrast one another, so you get dynamic tension, and sometimes you want to create harmony between the beer and the food component." Victory has certainly achieved the latter.
Thrillingly, fruited beers must no longer only exist as sweet summer shandies or cloying radlers, but as balanced, subtle fusions. Thanks in part to a steadily advancing craft beer movement, American palates have gradually become more refined, rebelling against artificial flavors and sweeteners in favor of more nuanced, natural ingredients. "We're evolving to a point where the fruit component can be seen just as an adjunct to amplify the flavor of something else," says Covaleski. "It's taken awhile for the stigma of a quote-unquote 'fruit beer' to pass, to allow brewers the creative freedom to incorporate fruit flavors and juices and not be boxed in by that title."
Our favorite breweries have been unboxed, indeed. In fact, Ballast Point's next fruited beer has already come to market. "We just released Pineapple Sculpin," says Kight. "I'm outta stock already. We sold it out in like six days."
Grapefruit: Watch your back.