In Hungry Concierge, we travel the world to spot hotels that operate with their guests' food and drink needs squarely in mind — hotels, both big and small, that are located in neighborhoods rich with bar and restaurant options. Because there's nothing worse than having your trip derailed by crummy room service.
After just a few hours in Toronto, I was already won over by the city's funky, friendly energy, its multicultural mix and appealing scruffiness. My hotel, the Drake, had a similar vibe — playful and not too polished, with a sprawling selection of restaurants and bars that would take several sessions of prowling around to fully explore.
Sure, there was no elevator, I mused as I lugged my suitcase up to the second floor, but who needs one when there's a photo booth in the back of the lobby and a music venue, the Underground, in the basement? When I opened the door to my room — Crashpad number "two-oh-eight," as the door announced — I actually squealed. My low-to-the-ground bed had a monster doll adorning one pillow and a trendy artisanal blanket at the foot. Over here was a hoodie sweatshirt bathrobe, and look: fluorescent toilet paper! And the minibar … a giant pack of Twizzlers, jelly beans, Mast Brothers bars, coconut water and fifths of booze with accompanying paper bags, presumably for sneaking into the nearby park.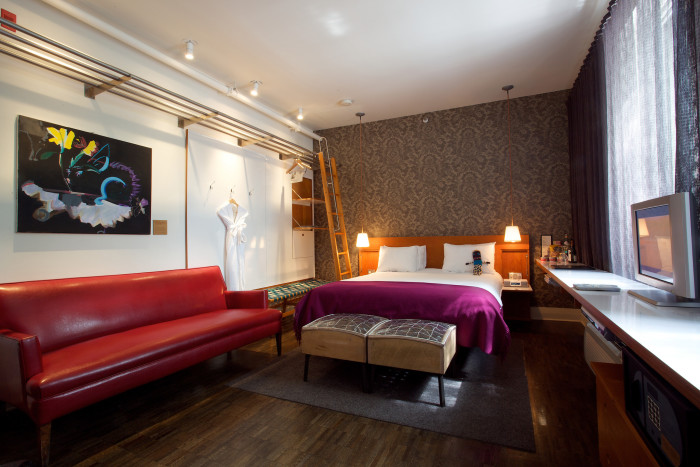 When I wasn't delighting in all this, I was bopping between the Drake's public spaces: the diner-like Drake Cafe, with a sprawling side patio where I procured my morning coffee and fresh-baked pastries; the Drake Lounge, a dim, spacious affair adorned with vintage hi-fi equipment; and, up some stairs, the Sky Yard, a year-round roof deck currently sporting a louche Arabian Nights decor scheme, with turquoise walls, a profusion of mirrors and cabana-like booths for hanging around with your harem — er, posse. The best part was that all of these offer the same food menu, so the only real decision is which atmosphere you'd like for your chowing and imbibing.
Speaking of chowing, I did plenty of that, digging one night into shareable dishes like beef tartare with a Thai spin featuring peanuts, chilies and crispy shallots; duck wings in a garlic-caramel glaze with cilantro cream; a winning albacore ceviche and more. I didn't even get around to the sushi rolls or reportedly banging burger, though I did find occasion to wash all this down with a fruity, gingery Marrakesh Express cocktail.
The Rooms
The 1890 building housing the Drake accommodates just 19 rooms. At 150 square feet, my "Crashpad" was the second-smallest room type; options range up to a single 385-square-foot suite. Sure, my allotted space wasn't much larger than a college dorm room, but it was so cleverly designed it wouldn't have been out of place in the world of luxury yachting. A sliding door closed off a nook for the toilet, with a shower and sink next to that, stocked with Malin + Goetz amenities. I could work at the small built-in desk next to the bed and store my worldly possessions in the narrow stretch of closet area on the other side. The rest of the rooms offer a similarly ingenious layout.
The Look
The Drake opened in early 2004, just as bands like the Strokes, the White Stripes and the Killers were blazing out of every stereo. The hotel's moody, glam-yet-grungy appeal reflects that nouveau rock and roll era, from the black leather couches in the lobby to the dramatic art displayed throughout the hotel in permanent and rotating exhibits.
The Neighborhood
When it debuted, the hotel added an anchor to the surrounding neighborhood, West Queen West, which was then transitioning from down-and-out to get-down central. The Drake became the center of this scene, and it's still normal to find lines to get into the restaurants or live music on evenings and weekends, which you can bypass by flashing your room key.
When you do want to venture outside, West Queen West offers a smorgasbord of restaurants from around the world, from super healthy salads and juices at Bolt Fresh Bar to buzzy seasonal fare at newcomer Dandylion or classic Portuguese pastries at Venezia Bakery on lively Ossington Avenue in nearby Little Portugal. If you can't get enough Drake, there's a general store offering some of the objects you might be tempted to filch from your room, like the hoodie bathrobes (!) and other giftables. A second hotel, Drake Devonshire (dubbed Drake by the Lake), opened recently on Lake Ontario, about two and a half hours' drive from Toronto.
The Drake Hotel
1150 Queen Street West, Toronto, ON M6J 1J3, Canada