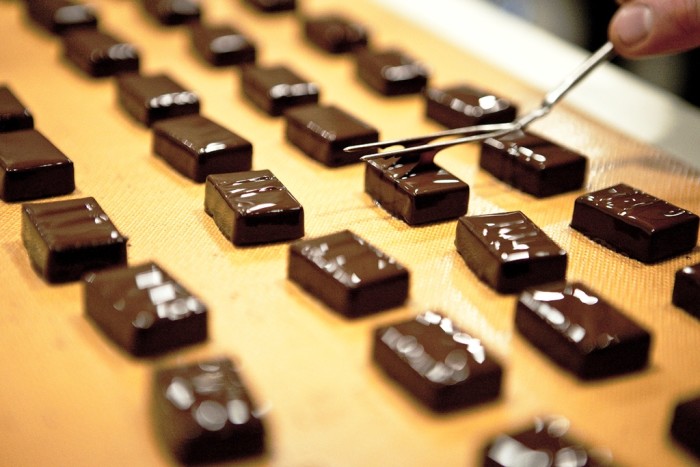 It is hard to walk three blocks in Paris without stumbling upon a chocolatier. You slow your steps as the salted pistachio pralines call to you from their glass-window cases, begging to be gifted to a loved one, shared with friends after a home-cooked meal or, better yet, consumed right on the spot.
France has long had a reputation for excellent chocolate. But, truth be told, most of the chocolate sold in France is actually produced elsewhere, such as in Belgium or Switzerland, then transformed by fondeurs — melters of chocolate — into truffles, ganaches and so on.
Enter La Manufacture, Paris' first "bean-to-bar" chocolate shop, which the esteemed chef Alain Ducasse opened in February 2013 in the city's 11th arrondissement. The shop does all aspects of the chocolate-making process, from roasting to packaging, with single-origin cocoa beans. Head chocolatier Nicolas Berger comes from a family of pâtissières in Lyon and also worked for chocolatier Jean-Paul Hévin in Paris. He later went to work at New York's Essex House, where he met Ducasse.
Walking into the Paris shop, I expected to see state-of-the-art machines, but they were all clunkers from the mid-20th century, made in Germany, France and Italy. Apparently, Berger explains, it can be tricky to find machines for making chocolate. The 1950s winnowing machine he uses to mill the nibs, for instance, was purchased on impulse, while he was traveling on vacation. He then hopped on a train back to Paris with it in tow because it was such a unique discovery.
Considering its unique place within the bustling Parisian chocolate scene, La Manufacture has captured the attention of David Lebovitz, the pastry chef, comical memoirist and author of The Great Book of Chocolate who lives, writes and gives chocolate tours in Paris. He emphasizes the importance of Paris having its first chocolatier where everything is made on premise, from scratch, and credits La Manufacture for making "some of the best chocolate in Paris, if not the world."
"La Manufacture is changing the way Parisians see — and taste — chocolate," he says.
During my visit to La Manufacture, Berger walks me through various steps of the process, which is mostly visible through large glass windows in the shop. The following process is done in very small batches, resulting in crazy good chocolate with flavors such as pistachio praline and creamy caramel, which compliment the nuances of the particular beans:
Fermentation – Before arriving at the shop, the beans are extracted from the white, pulpy pods they grew in, then left to ferment and dry in the sun for about a week. During this fermentation, the beans develop acidity.
Roasting – Just as with coffee beans, cocoa beans must be roasted, in this case at around 120 degrees Celsius. The beans should be dry and easy to crack when the roasting is finished. This is where the cocoa starts to develop its signature smoky aroma.
Crushing – The brittle skin is separated from the beans, which are crushed into small bits, known as nibs.
Milling – The nibs are milled to make a liquid paste. The milling process heats the cocoa nibs so the cocoa butter inside melts.
Mixing – Here is where the chocolatier is making the recipe, whether it's an 85-percent dark chocolate bar with candied almonds, or a milkier one with raspberry ganache. Berger adds brown cane sugar.
Refining – Here, the chocolate is rolled under huge metal cylinders to become smooth; at the end, it is like a dust.
Polishing – In a machine known as the "Conch," a wave-like movement is used to polish and smooth the dust over the course of 15 to 20 hours. Here the cocoa's aroma hangs in the balance, as it is at risk of developing too much acidity or becoming completely neutral. Berger varies the temperature, and decides whether to keep the lid open or closed, based on the cocoa's needs.
Tempering – To set the chocolate properly, it must be warmed up, cooled down, and reheated.
Covering or filling – Here, things like ganache or smooth fruity fillings are added, and it is finished and wrapped. Voila!
Manufacture à Paris, 40 rue de la Roquette, +33 1.48.05.82.86
Read more stories about France on Food Republic: