The Pantone Color Of The Year Is Named After Our Favorite Sicilian Fortified Wine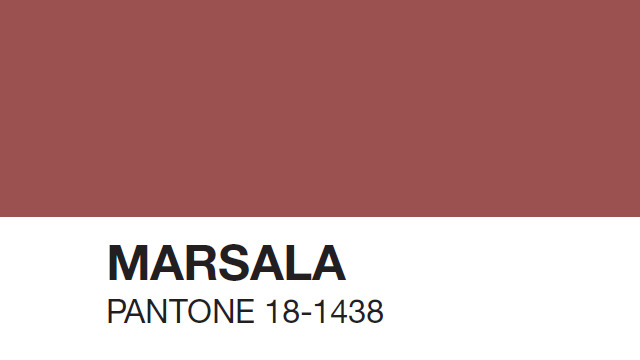 Pantone is a New Jersey-based company best known for creating a standardized color matching system used in many industries, but primarily printing. They've also become famous for rolling out "color of the year" each December for the following 12-month period. Today they announced the 2015 selection, inspired by a famous fortified wine produced in Sicily. Marsala, the color, is a little bit red, a little bit brown and decidedly earthy. One thing it is not is last year's purple. God no, it's not purple.
"The impactful, full-bodied qualities of Marsala make for an elegant, grounded statement color when used on its own or as a strong accent to many other colors," said the company in a statement. "Much like the fortified wine that gives Marsala its name, this tasteful hue embodies the satisfying richness of a fulfilling meal while its grounding red-brown roots emanate a sophisticated, natural earthiness."
According to the Wall Street Journal, marsala has appeared on the runway circuit for some time —being presented in various collections over the past two years. "We love that Pantone's official selection is slightly more pink than your basic brown," writes Refinery 29. No word if anybody has drunk the stuff in the past 20 years. Though, as we've written in the past, Sicily makes some pretty kickass wines.
More art and design stories on Food Republic: