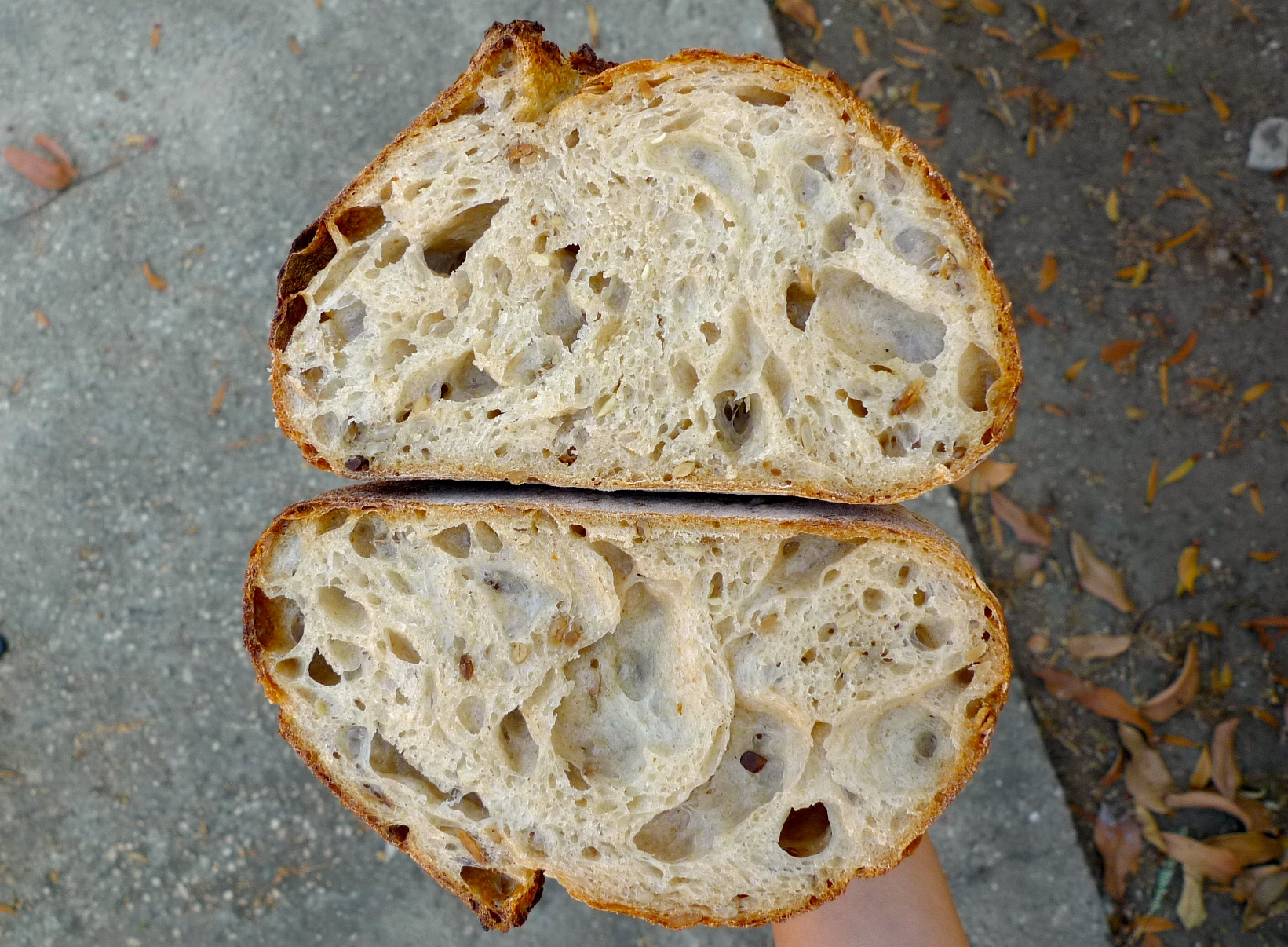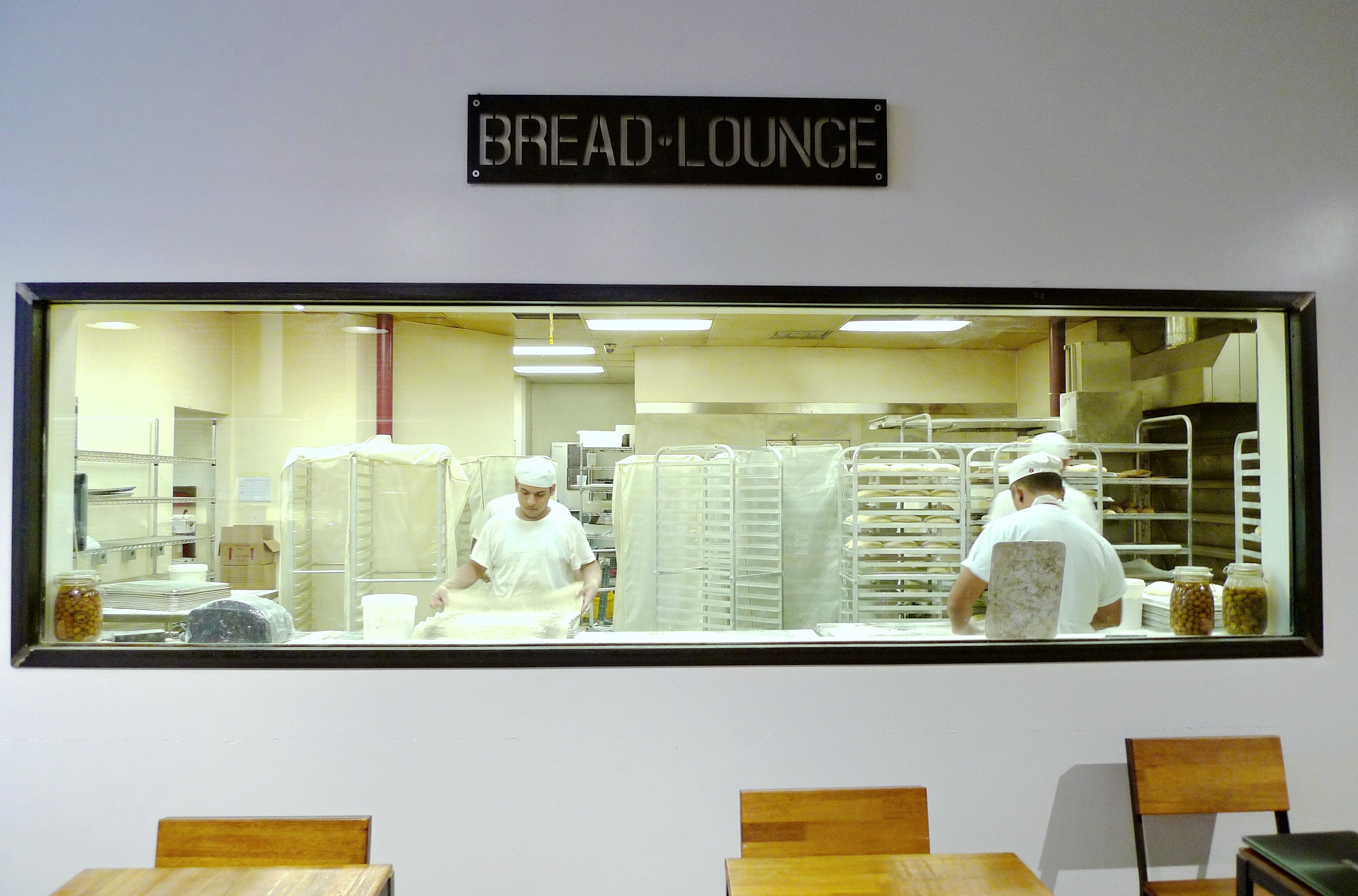 If you live anywhere within a five mile radius of Venice, no doubt you know that the folks behind Gjelina and Gjelina Take Away just opened Gjusta, a gorgeous, 5,000-square-foot bakery located less than a mile from the beach. But it's not just the aesthetics that are bringing in the crowds: some have already pronounced Gjusta's rustic breads as among the best in the city. Which is not a claim made lightly: true, there was a time here, not too long ago, when the most reliable place for great bread was your own sourdough starter, your own banneton, your own copy of Tartine Bread.
But over the last few years, Los Angeles has become as fanatical about great bread as it has become about great coffee — and Gjusta is only the latest in this new wave of bakeries focused on the art of the dough. From bakers who got their start with little more than a home oven to the newest boule on the block, this roundup takes you through some of the places that are changing the L.A. bread game.
1. Republique
Lest you doubt how seriously Republique takes its bakery program, look no further than the entrance to the restaurant: the plants right outside the door are potted in huge mixing bowls. And then there's the bread oven, a Bongard, which would be "an old oven company from France, and the standard for French bakers," as co-owner and executive chef Walter Manzke explains. Co-owner and pastry chef Margarita Manzke bakes fantastic bread with this oven; you'll find a variety of breads here, including multigrains and country loaves. But perhaps the pièce de résistance is Republique's beautiful baguette, which has such a wonderfully crispy crust and a soft, airy crumb that you will be forgiven if you buy two: one to nosh with butter and jam or honey — which is how it's served if you order "This Morning's Bread" off the breakfast and lunch menu — and another for making the banh mi sandwich of your dreams. 624 S. La Brea Avenue, (310) 362-6115, republiquela.com
2. Roan Mills
Regulars at the Sunday Hollywood and Wednesday Santa Monica farmers markets already know about Kenter Canyon Farms, the stand stocked with your weekly supply of lettuce and herbs. As it happens, the farm grows not only ingredients for your salad, but also wheat. Fifty acres of Glenn, Red Fife and Sonora wheat, to be exact, from which it harvested 80,000 pounds during the 2013 season. The farm mills the wheat into flour, and transforms the flour into terrific batards, boules and baguettes that it sells at the Hollywood and Santa Monica farmers markets under the moniker Roan Mills. If you're so inspired, the stand also sells wheat berries and bags of its freshly milled flour. As far as eating local goes, you cannot beat this. roanmills.com
3. Superba Food + Bread
The emphasis on bread at Paul Hibler's massive Venice eatery is obvious from the start: there's the name. There's a bright outline of a batard adorning an exterior wall. There's head baker Jonathan Eng and his crew pulling loaves — between 250 and 400 daily — out of the enormous Bassanina bread oven. The freshly baked baguettes, pains au levain, panes francese and other creations are available daily on the counter next to the pastries; the kitchen also produces the breads for toasts and sandwiches and other fine things on the menu here and at Hibler's other restaurants, Superba Snack Bar and East Borough. Come next summer, Superba Food + Bread will add a location in El Segundo. Your future pre- and post-LAX carb stop awaits. 1900 S. Lincoln Blvd., (310) 907-5075, superbafoodandbread.com
4. Gjusta
Gjusta opened in late October and already is the destination of choice for most every resident west of the 405. And with very good reason: here you'll find a beautiful pastry counter and shelves lined with beautifully bronzed rounds of sourdough and rye, plus buckwheat and rye baguettes to boot. And that's not nearly all: in the open kitchen, beyond the enormous stacks of King Arthur and the bakers shaping doughs to proof on the back counter, you'll see cooks putting together all sorts of dishes that take full advantage of all this stellar bread (smoked fish and porchetta sandwiches, anyone?). There are some wonderful things happening at Gjusta, so much so that it's almost enough to make someone living east of the 405 wish she lived on the Westside. Almost. 320 Sunset Boulevard, Venice, (310) 314-0320.
5. Clark Street Bread
Another serious contender for the best bread in Los Angeles might be one that has its origins in a small West Hollywood apartment. Zack Hall's small West Hollywood apartment, specifically. A 30-year-old former musician, Hall worked at Proof Bakery and Kenter Canyon Farms before setting out to bake bread on his own, in said apartment, using a slow fermentation process that he says develops flavor. And flavorful his breads are, with a shattering crust, a superb, moist crumb and a lovely chew. Recently, Hall upgraded from his home oven to a larger deck oven to increase his production; eventually, he hopes to have his own shop. Until then, follow him on Instagram and find his boules, country loaves, miches, Danish ryes and whatever else he's baking at FarmShop, Grand Central Market on Fridays and Saturdays, the Melrose Farmers Market on Sundays and online at Good Eggs. And for something slightly different: Chef Ludo Lefebvre has been known to serve Clark Street Bread at Petit Trois and Trois Mec. Bon appetit.
6. Bread Lounge
The vicious rumor that L.A. is allergic to carbs arguably was put to rest in 2012, when Bread Lounge opened its doors. Because not only was this Arts District bakery producing fine artisanal bread, it was doing so to packed crowds, eager for a baguette or two, carbs be damned. Indeed, the deeply golden baguettes here, with their decidedly pointed ends, are so popular that owner Ran Zimon says the bakery makes 400-800 baguettes a day. His bread is made with a wild yeast starter; in total, the process from starter to dough to baguette takes more than 24 hours. Which might sound like a long process, but most every good bread takes a good amount of time. Or, as Zimon says, putting our need for speed in perspective: "Bread hasn't changed. We changed." Indeed. 700 S. Sante Fe Ave., (213) 327-0782, breadlounge.com
7. Red Bread
Rose Lawrence and her crew bake up all sorts of great bread at Red Bread, including Russian black breads, focaccias, whole wheats and especially fantastic ryes, all made using a wild yeast sourdough starter and organic flour. At the moment, you can find Red Bread at the Santa Monica farmers market and online at Good Eggs; if you're keen on picking up your loaf from the market, though, best follow the trail of Red Bread crumbs to the Westside soon. Come late November, the bakery will fold up its market stand to focus on building out a bakery that is expected to open in 2016. There's also a Red Bread cookbook in the works. As is wont these days, keep up to date on the bakery's many activities on Instagram. (424) 272-5752, thebreadisred.com
Read more about Los Angeles food and drink on Food Republic: